How to stop smoking
The best way for smokers to reduce their risk of cancer, and improve their overall health, is to stop smoking completely. How you chose to quit is up to you but prescription medication and support from a specialist at your local Stop Smoking Services gives you the best possible chance of stopping successfully.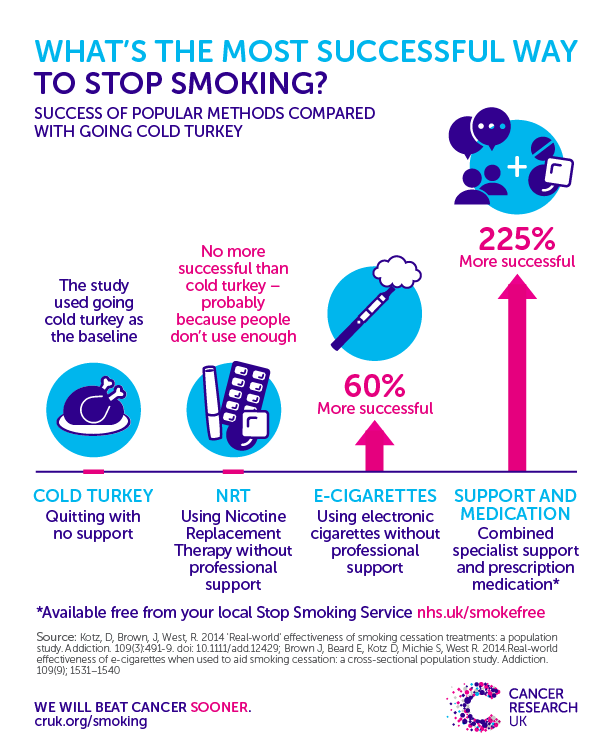 How do I get help to quit?
Stopping smoking can be hard, but free services and treatments are available to help and these have been shown to roughly triple the chances of success compared to going "cold-turkey" alone.
To show you what it might be like, we filmed Brian's experiences with his local Stop Smoking Service. 
NHS Smokefree helps thousands of people stop smoking every year, so if you are looking to stop, talk to your doctor or pharmacist, visit www.nhs.uk/smokefree or call the NHS Smokefree Helpline to find your way out of smoking:
England: 0800 022 4 332
Wales: 0800 085 2219
Scotland: 0800 84 84 84
Northern Ireland: 0808 812 8008
They have a range of free services on offer to help keep you on track, including:
Stop smoking groups or one to one counselling – a trained advisor will talk to you about your smoking habits and give you tailored advice and support
Prescription medication to help you control the withdrawal symptoms – this could be nicotine replacement therapy (NRT) or non-nicotine stop smoking medications- varenicline (Champix) or bupropion (Zyban), find out more here
Email and text support programmes
An app for smartphones.
E-cigarettes are far safer than cigarettes and could help you quit
Electronic cigarettes produce vapour from nicotine dissolved in propylene glycol or glycerine but do not contain tobacco. Low levels of other, potentially dangerous chemicals have been found in e-cigarettes but usually at far lower levels than in cigarettes. All the evidence so far suggests e-cigarettes are far safer than tobacco cigarettes.
Growing evidence shows e-cigarettes may have the potential to help smokers move away from tobacco. But it's not yet possible to know the long-term impact of these products.
There are answers to the most common questions about e-cigarettes on our blog.
Is nicotine itself harmful?
The main reason smoking is addictive is because tobacco contains nicotine. Nicotine causes addiction in much the same way as heroin or cocaine and it is just as addictive as these 'harder' drugs. But using nicotine itself (for example in NRT) won't make a difference to your risk of cancer.
Cigarettes are deliberately designed to give you a fast nicotine hit - it takes less than 20 seconds for the drug to reach your brain from inhaled cigarette smoke. Nicotine replacement therapy and e-cigarettes can deliver nicotine but not as much, as quickly. Swapping to these cleaner sources of nicotine or using them to wean yourself off nicotine entirely is far safer than continuing to smoke and you don't need to worry about using them too much. The most important thing is to stop smoking. 
Advice for going it alone
We know that using Stop Smoking Services still gives you the best possible chance of stopping and their specialist support can make a big difference whether you chose to use prescription medication, an e-cigarette, or nothing.
If you do decide to try stopping by yourself, NRT can increase your chances of success – as long as it is used properly. Talk to your GP or local pharmacist to make sure you're using enough to wean yourself off nicotine without falling back into smoking. Combining a slow release product (the patch) with a fast release one (such as the inhalator, gum, microtab or nasal spray) can also increase your chances of quitting.  You can also read more about quit aids on our blog.