Wales, pledge to leave a gift in your Will
Writing a Will can be confusing, so we've made it easy for you to get free information to help
Get your free Guide
Our guide will give you confidence in how to start thinking about your Will.
We recommend this for anyone who's thinking about what they want to leave to the people and causes they care about.
 
Contact Julie
Julie is you local Relationship Manager in Wales.
Get in touch with Julie if you want to speak to someone about your Will.
Call: 07770 544789
Email: julie.george@cancer.org.uk
Write your Will for free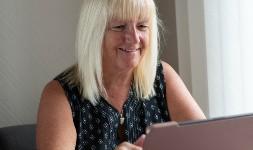 Our Free Will Service allows anyone 18+ to easily write or update a simple Will for free. We partner with local solicitors across Wales who can offer guidance
 
7,119* supporters in Wales have left a gift in their Will to Cancer Research UK
Liz has pledged to leave a gift in her Will 
"My youngest brother Clive died of leukaemia in 1996 when he was only 37 and I joined the local Cancer Research UK committee soon after that.   
In 2003 I had a melanoma removed - luckily it was a very shallow one and needed no follow up treatment after it was removed. I had a biopsy and then a wide excision afterward.   
Over the years I have lost several friends to breast cancer but on the plus side I also have several friends who have had successful treatment and are still enjoying life 15+ years on thanks to research.   
I am determined to carry on raising funds to help support the work of Cancer Research UK in whatever way I can." 
Our research in Wales  
Focusing on using the immune system to tackle cancer 
Stopping cancer cells in their tracks 
Engineering viruses to target cancer 
*This figure relates to all gifts in Wills from this area up to 2019-20