Wales, pledge to leave a gift in your Will
Linda from South Wales has pledged to leave a gift in her Will to Cancer Research UK
"My son was diagnosed with testicular cancer when he was 26. That was 19 years ago, and he and his wife now have two children. Since then, my dad died from cancer, and then my husband was diagnosed with prostate cancer six years ago. All three experiences are the reasons why we need to support research.   
After my son's treatment, I wanted to say, 'Thank You'. He had benefited from research, treatment, and training which had taken place sometime before his diagnosis. I wanted to help pass that gift on to others in the future so that they could benefit in the same way.  
I see a legacy as a celebration of the progress which has been made by research, while it also recognises how much more work needs to be done."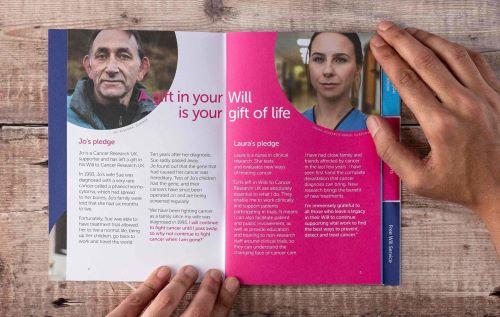 1 in 2 people will get cancer in their lifetime*. Our research saves lives. We've come a long way, but we cannot rest while people still suffer. That's why we're committed to ensuring 3 in 4 people in the UK diagnosed with cancer will survive for 10 years or more by 2034 and, beyond that, even more.
Cancer Research UK receives no government funding, and gifts in Wills account for over a third of our life-saving research. Without them we simply would not be able to undertake all the vital research we do which could one day beat cancer.
​Make a pledge right now to leave a gift in your Will together we will beat cancer for future generations.
To find out more get your free gifts in Wills guide or contact your local Community Legacy Manager
(*born after 1960)