Involving people affected by cancer in CRUK's 10-year strategy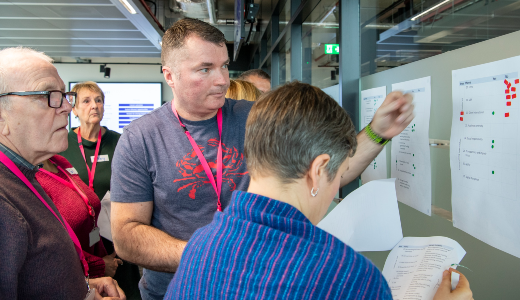 Pictured: Ally (Centre) was one of the people involved in the strategy development.
Cancer Research UK launched its new strategy in March. This sets out our vision for the next 10 years and the commitments we're making towards creating a world where people can live longer, better lives, free from the fear of cancer.   
The Strategy team consulted people with lived experience of cancer throughout the development of the strategy. In 2019, they asked for initial ideas from our patient Cancer Insights Panels and in focus group sessions specifically with people affected by cancer from underrepresented backgrounds. Patients and carers shared their concerns and hopes for the future in open discussions. They also commented on specific areas of our work and what CRUK could do differently over the next ten years.  This allowed the team to understand what mattered most to the patient community and their families. Reducing inequalities and living with and beyond cancer were two themes that came through strongly and are now reflected in the new strategy.
Ally Boyle, Cancer Insights Panel member: Being involved in the strategy development has been another reminder of how determined CRUK are. They want to keep people affected by cancer at the heart of their thinking. As a cancer patient I think the Strategy is exciting and offers that one thing we all seek…hope.
After a pause in work due to the COVID pandemic, work on developing the strategy started up again and the Strategy team continued to work closely with people affected by cancer at different stages. By collaborating with them, the team heard that they wanted to see a world where:
Some types of cancer are effectively eliminated (e.g. cervical cancer).
Many more are prevented from developing it in the first place.
Cancers that do develop are diagnosed at the earliest possible stage so they can be successfully treated. 
Treatments are more effective, kinder and more targeted, so people can lead better, more fulfilling lives.
Everyone shares in this progress equally, regardless of who they are, where they're from or what type of cancer they have.

 
Cancer Research UK exists to beat cancer and bring hope to all those affected by it. Our new strategy includes a commitment to 'put people affected by cancer at the heart of what we do and to involve them in shaping our work as partners'. We want to make sure people's lived experience of cancer guide, shape and inform everything we do.
Claire James, CRUK Involvement Network member: "I am very excited to see how CRUK's new strategy, with its strengthened focus on discovery research, will benefit people diagnosed with, and still living with, cancer."
Further Information
Our strategy renews our focus on making discoveries, driving progress and bringing hope to those affected by cancer.
Rosie Hart (Senior Strategy Manager) worked with some of CRUK's patient panels throughout 2021: 
Hearing the perspective of people affected by cancer was important. Their lived experience helped us to draw out the key messages. They told us how fundamental hope is to people affected by cancer. We've woven this into the strategy, including in the headline, 'Making discoveries, driving progress, bringing hope'.
Andrew Savill (Senior Planning Manager) helped to lead these early consultations and remembers: 
I enjoyed partnering with members of the Cancer Insight Panels throughout the development of our new strategy. The sessions were thought-provoking and engaging. I remember the impact of sharing the views of people affected by cancer with our directors and the influence it had.