Christina's story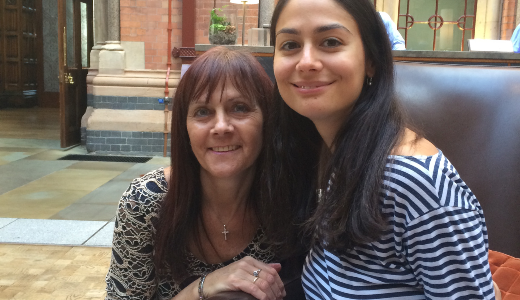 Pictured: Christina and her Mum
Christina is part of a big Cypriot family; she lives in South East London with her boyfriend. In July 2016, Christina's mum was diagnosed with stage 4 stomach cancer and sadly passed away in May 2017, aged 58.
"Mum's diagnosis was difficult to take in and was a real shock to process. Because of how difficult stomach cancer is to treat and the stage of her cancer, her treatment was palliative. She began chemotherapy and responded well but then it stopped working. She then began immunotherapy until she became too unwell to have further treatment.
When I saw the Cancer Insights Panel advert it felt like the perfect fit. I was keen to get involved in CRUK's work and play a part in supporting what the charity does. It's given me the opportunity to meet and learn from other people affected by cancer. We get to contribute to many different projects that teams across CRUK are working on. I value the follow up on how they've incorporated our contributions into the project. 
The team who runs the panel are supportive and helpful. They're sensitive to our circumstances and respect the feedback that we provide. They encourage everyone to contribute in a friendly and warm way.  
Although I sometimes work long hours, I don't find the time commitment of being on the panel a burden. We get sent pre-reads in advance which aren't too long and are easily digestible. I find it helpful that the meetings are online as I don't need to use any hours for travel time.
My hope for the future is we start to see survival rates improve for cancers with poor diagnosis outcomes, such as stomach cancer. Mum would have been very proud of me sharing my experience in this way and giving a voice to hers too.  
Cancer doesn't discriminate; anyone can get it and be affected by it. It's important to hear everyone's voice and represent all groups. I'd recommend getting involved in the panel. It's a great way to give back and play a small part in helping to beat cancer."
If you've been affected by cancer, directly or as a loved one, and are looking for an opportunity to do something different and develop new skills. Find out how your experience of cancer can influence work taking place across Cancer Research UK
Have you or a loved one been affected by cancer? Are you looking for an opportunity to do something different and develop new skills? Use your experience of cancer to influence work taking place across Cancer Research UK