Patient and Public Involvement in cancer research conference, Switzerland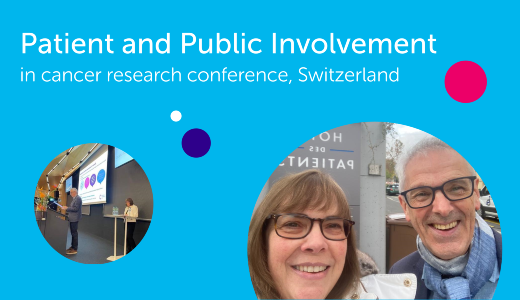 Alison Reeve, our Senior Patient Involvement Officer for Research and Patrick McGuire, one of our patient representatives, were invited to speak at the '1st International Workshop on Patient and Public Involvement in Cancer Research', in Lausanne, Switzerland.
Patient involvement is relatively new in Switzerland, and this was the first event of its kind. The focus of the day was to showcase and promote Patient and Public Involvement (PPI) in cancer research. There were interesting presentations about how patients are being involved in research from around Europe and the USA, with an emphasis on research conducted "with" or "by" members of the public rather than "for' or "about' them.
Patrick said "I had the great privilege to speak alongside Alison Reeve at this event. It was rewarding and heartening to see so many good examples of patient involvement but, clearly, this is still far from systematic. Talking and listening to the conference organisers, presenters and delegates, CRUK is seen as a leader in this field. Continuing to put people affected by cancer at the centre of everything we do will ensure that together, we really will make a difference, transform lives and beat cancer."
Organisers were keen to hear about how we involve people affected by cancer in our research at CRUK. Alison and Patrick's presentation talked about the importance and benefits of patient involvement in research, such as improving its quality and relevance, helping to tailor lay summaries for funding applications and ensuring that research is being done in the best interests of the public. Patrick shared his personal story and spoke about research bringing hope to people affected by cancer.
Alison said: "It was really inspiring to hear about all the patient involvement work going on in the different countries, and to see how motivated the teams in Switzerland are to develop and embed patient involvement in their research work. I look forward to continuing our relationship with the organisers and sharing learnings and achievements going forward."
Similar messages came through many of the presentations and discussions, including:
Involvement should fit the user - it's always possible

The importance of stakeholder involvement - the patient/public are all stakeholders whether through donation or taxation

Developing effective relationships with stakeholders take time

Above all else - simply listen!
Thanks to Alison and Patrick for sharing their account of the conference.
To stay up to date and get involved with our work sign up and become a member of our network. We'll send you a fortnightly newsletter, full of similar stories and updates in patient involvement at Cancer Research UK. You'll also find lots of ways to get involved in our work.
Read more stories about patient involvement from our members and projects we've helped shape with your involvement.