Meet Salena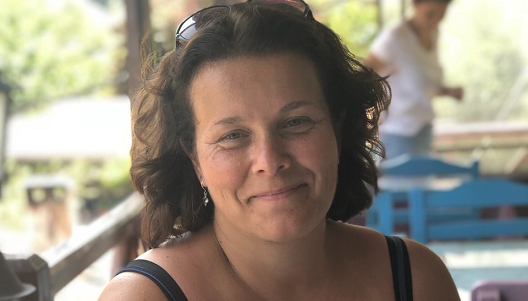 Salena, a 41-year-old mother of 3, works as a policy and governance manager for a Local Authority. Her husband Tony died in 2016 of metastatic kidney cancer a year after diagnosis, aged 43.  She wanted to be involved in the Cancer Insights Panel as both she and Tony were very interested in research and trials.
What motivated you to join a panel of people affected by cancer and to get involved in Cancer Research UK's work?
Since my husband died so quickly and at such a young age, one of my strongest desires is to do anything I can to support effective research and to try and help make sure less families are shattered in the way mine was. I want the experiences that my husband went through to count for something wider to also inform research, change and best practice in any way I can help. That, for me, is part of his legacy. It isn't the same as being a researcher or clinician, but it is the little that I can do.
As a working professional and parent, how do you find time to be involved?
As someone with a full-time job and a widowed parent of pre-school and secondary school aged children, managing my time to ensure I can contribute effectively to the Cancer Insights Panel was something that concerned me when I considered applying for the role. However, I discussed my commitment to this role with my line manager at work. The number of days per year and the specific dates for meetings are agreed in advance which enables me to book the necessary leave and arrange my work commitments around those days. Like most parents who work, I do my meeting preparation and reading in the evenings once the little one is in bed and then I often refresh my memory on the train on the way to the meeting too.
How do you find being involved in the charity's work?
I have enjoyed it very much! It is nice being part of a small group who come together every few months to consider the consultations and questions from teams across Cancer Research UK. We have different experiences and different views but we all want to do our best to help.
The staff really are interested in our opinions and sometimes hadn't thought about some of the points of view that we put forward. We receive regular feedback as to what has been changed thanks to our input and that makes taking part in the Cancer Insights Panel feel like it is truly having an impact.
What's your hope for the future, if more people affected by cancer help to influence our work? 
My vision for the future of CRUK, is that as a result of the increased input of people affected by cancer, it becomes ever better at supporting and delivering research and information that meets the wide and varied needs of people dealing with cancer.  And that it moves us even closer to eradicating or managing cancer in all its forms.
Join our network
Use your experience of cancer to make an impact by joining our patient involvement network