Meet Patrick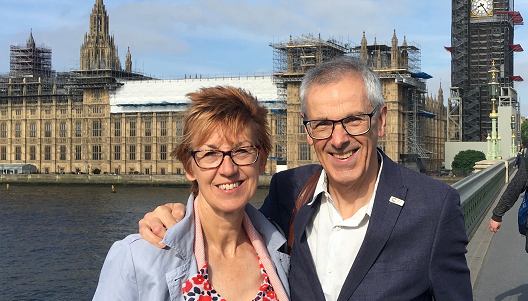 This is Partrick with his partner Sue, on Westminster Bridge.  After losing his wife, Pam, to bowel cancer in 2007, Patrick wanted to shed more light on the importance of early diagnosis, and share his experience to benefit others. As one of our Campaigns Ambassadors, he now campaigns in his local constituency of Wantage alongside Sue.  He's also a member of our patient involvement network.  
As a Campaigns Ambassador, Patrick plays a key role in ensuring that cancer is kept on the political agenda. Within a supportive network, he actively persuades his local MP of the importance of our latest campaigns. He tells us about his motivation for campaigning and how he feels it's making a difference. 
What inspired you to volunteer?
"I started volunteering as a Campaigns Ambassador in May 2013. Alongside the memory of my wife, Pam, who passed away at just 52, further inspiration comes from the memory of other friends and loved ones who have died from cancer. I'm also motivated by seeing just how effective campaigning is, and the difference it makes to help beat cancer. Seeing constantly improving survival rates, improved diagnoses and treatments, and better preventative measures is extremely motivational. I also gain huge personal satisfaction and pride from being just a small part of such a wonderfully committed, professional and determined organisation."
What would you say to people thinking about becoming a Campaigns Ambassador?
"Becoming an ambassador is a hugely rewarding way to volunteer. Persuading politicians and decision makers to adopt policies that will improve the lives of so many people and reduce the tragedy that families face when a loved one dies prematurely is, emotionally and professionally, enormously satisfying. 
It's also helped me to maintain and further develop a range of skills since retiring, including clear, concise communication, organisational skills, critical, analytical thinking, improved knowledge and understanding of science and research." 
How has your volunteering made a difference?
"Over the years I've become involved in an increasing range of volunteering opportunities with CRUK, including focus groups, advisory boards, working parties, Legacy campaigns, on-line forums and providing feedback on research proposals. The more I've volunteered the more I understand CRUK, its vision and impact and the more I want to get involved as a volunteer and fundraiser. The more I've got involved the closer I've become to the charity, the more personally fulfilled I am and clear that I really can make a difference to people's lives.
My volunteering experiences have convinced me of two things in particular. Firstly, the value CRUK places on the voices of people affected by cancer and, secondly, the impact this involvement has on improving cancer outcomes. I can't do the research myself but I can stand alongside the researchers and become a part of the progress that is being made. "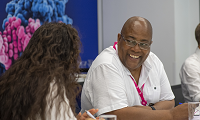 Read more stories from people affected by cancer who have choosen to get involved in our work; how it felt for them and the positive impact it has on our work.
Become a Campaign Ambassador