Black in Cancer conference 2022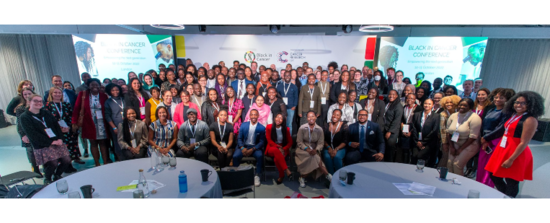 Last week, Cancer Research UK was excited to collaborate with Black in Cancer to host the inaugural Black in Cancer conference at the Science Museum in London, bringing together leading Black cancer doctors, researchers, and patient advocates from across the world.
Anne-Sophie Kleczewski and Talia Macauley, both part of Cancer Research UK's Patient Involvement Team, attended the conference and agreed they had both learnt a huge amount at the conference.
Anne-Sophie reflected "What struck me was the need for a space for Black cancer research, where people can be who they are and are encouraged to share their honest experiences as researchers or as a person affected by cancer."  
This is the UK's first academic conference for Black cancer researchers, the event is an important step towards improving low numbers of ethnic minority scientists and empowering the next generation by celebrating, collaborating, and showcasing Black excellence in cancer research.
Matimba Swana, a PhD student at Bristol University is already actively engaged in patient involvement and has a current ask on our network 'what do you think future cancer therapies should look like?' hadn't anticipated how powerful the conference would be for her and was totally inspired.
Matimba says "It's hard to put into words because Black in Cancer was more than a conference it was incredible in every way. I've never been to a conference where most of the researchers are black, there was a mix of presentations from pharma, clinicians, academia, charities, and patients which is rare to have in one place.
There's still a lot that needs to be done across research, diagnosis, treatment, care, and policy to improve health disparities, but this conference made me feel motivated and I think we will get there if we all work together. A big thank you to Black in Cancer and Cancer Research UK!"
The conference hopes to engage the Black community more widely on health issues and welcomes non-Black scientists focused on cancers that disproportionately affect ethnic minority communities.
Black in Cancer's aim is to strengthen the network between Black people in the cancer space whilst highlighting Black excellence in cancer research and medicine.
Find out more at www.blackincancer.com.