Shine Night Walk Birmingham
Shine Night Walk Birmingham 2024
On 7 September, Birmingham's streets are ours. Stride by stride we will soak up the city's lights and get closer to beating cancer.
Get 30% off the entry fee using code: SNW2024
Offer valid until Sunday 31 December 2023. T&C's apply
Birmingham 10k 2024

Birmingham 10k 2024
From 19:20 - Centenary Square
What you get for your entry fee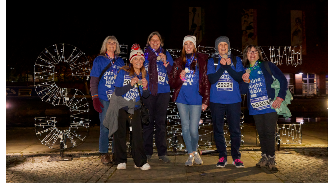 Nina's Shine Night Walk
"A friend asked if anyone would like to join her at Shine Night Walk Manchester I jumped at the chance. I have been treated for cancer twice so know how important Cancer Research UK is in helping those affected by cancer. We formed a team of six- our ages span every decade from 30 to 70. The night was well organised with plenty of stewards giving encouragement and making sure the route was clear. So many people out enjoying their Saturday night clapped and congratulated us as we walked past. This added to an already great atmosphere. We all thoroughly enjoyed ourselves and were pleased to have raised over £2,000 for such an important charity. We came away with a real buzz. I'd definitely recommend taking part"
We're with you every step of the way
Your fundraising makes an impact
Facilities
Please bring your own reusable water bottle filled. We have removed our single-use plastic bottles of water at the finish and pit stop stations and instead are providing water re-fill stations for you to top up and stay hydrated!
If you require any further information on the accessibility of a Shine Night Walk event or wish to bring a carer/helper to accompany you, please contact our Supporter Hotline on 0300 123 1022 (Opening hours are 8 am - 6 pm Monday to Friday and on Wednesdays, we are closed between 11 am and 11:30 am for staff training) or email us at supporter.services@cancer.org.uk
Travel
The start area is located at Centenary Square on Broad Street and is directly infront of The Library of Birmingham.
Journey Planner - Transport for West Midlands
Car - Due to the city centre location of the event we are unable to provide onsite parking. There are several NCP car parks in the city centre nearby to the start location, as well as other parking alternatives in the area. Car parking charges will apply. The nearest Electric Car charging point is Q Park Brindleyplace, B1 2JF (7 points) This is an 8 min walk from the Event Site 
Clean Air Zone timing and charges - You can find out if you will be charged by inputting your vehicle registration details into the Government vehicle checker. Full details and how to pay are available at www.brumbreathes.co.uk and on the Birmingham City Council website
Please check your journey to the event to see if it falls within the Clean Air Zone.
Bus - Buses run frequently into the City - please visit www.nxbus.co.uk for further information.
Train - The nearest train station is at New Street (10 minute walk) and Snow Hill (10 minute walk). Trams run frequently to the city - please visit https://westmidlandsmetro.com.
Cycle - If travelling by bike there are plenty of bike racks outside Birmingham Library which is next to the event site. Electric Scooters are available in Birmingham City Centre - please visit Transport for West Midlands for more information.
If you have any queries please contact the Shine Night Walk helpline on 0300 123 6624.
*Ahmad AS et al, British Journal of Cancer, 2015.