Summer Superdraw 2021
Play our Superdraw today and you'll have the chance to win from a £21,000 prize pool. With every £1 ticket bought you'll be supporting our life-saving work, helping to prevent, detect and treat over 200 types of cancer.
You must be 18 or over and live in Great Britain to play or claim a prize.
Please play responsibly. Visit www.begambleaware.org.
The top prize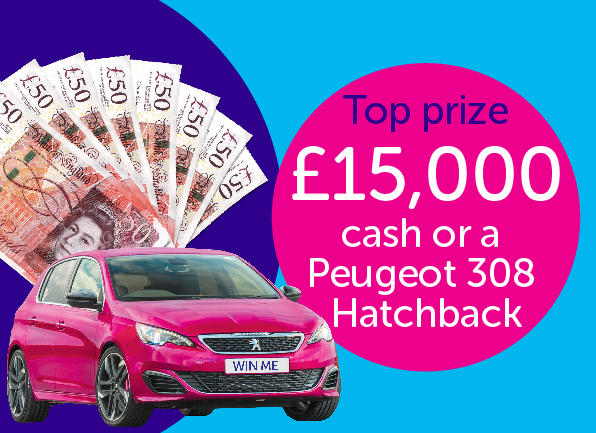 Which first prize would you choose? With £15,000 you could renovate your house or splash out on designer clothes. Or, why not treat yourself to a new set of wheels?
What else could you win?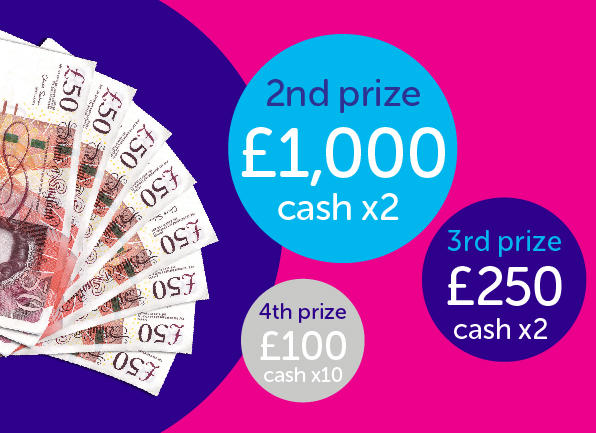 There are also lots of other cash prizes up for grabs! £1,000 for 2 winners, £250 for 2 winners, £100 cash for 10 winners, £10 for 35 winners and £5 for 450 winners.
How your support helps
Catharine's story
Catharine, 53, was diagnosed with triple negative breast cancer in 2016. She had a grade-three tumour in her breast measuring nearly 5cm and growing fast.
Analysis of Catharine's tumour and DNA revealed that she was likely to benefit from a clinical trial called PARTNER at Addenbrooke's Hospital, funded by CRUK and AstraZeneca. The trial involved receiving chemotherapy in combination with the drug olaparib, which doctors think can stop the cancer cells from repairing themselves.
By the halfway stage of her treatment, Catharine's tumour had shrunk so much that she was able to have a lumpectomy instead of the mastectomy she'd expected.
"This kind of personalised medicine means they can treat my cancer more effectively," Catharine explains. "I feel lucky that I'm still here, but I know that not everyone is as fortunate. That's why we need to keep going with research."
By playing our Superdraw today you can help bring forward the day when all cancers are cured. Enter today to help save more lives like Catharine's.
Did you know?
In 2020 we raised £5.9 million from the sale of entries to our Lottery. 35% of these proceeds were used to help support our vital work. We used 61% to grow and administer our Lottery and 4% to pay prizes. 
Are you a winner?
Check here to see if you're a winner of the Cancer Research UK Weekly Lottery or Superdraw — good luck!
 
Responsible Gambling
We are committed to ensuring our Superdraw activity is operated in a fair and socially responsible manner. For more information, including advice on responsible gambling, please read our Social Responsibility Policy.
However, if you are worried that you are gambling more than you want to and wish to self-exclude, please email weeklylottery@cancer.org.uk  so that we can exclude you from all Cancer Research UK Lottery and Superdraw activity with immediate effect.
Cancer Research UK is licensed and regulated in Great Britain by the Gambling Commission under account number 5026.
Promoter: Cancer Research UK, 2 Redman Place, London, E20 1JQ. Reponsible Person: Kathryn Toner