Debbie, Volunteer of the Month - December 2016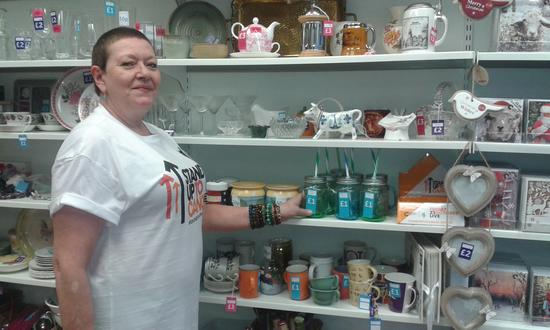 "One day we can make the whole world free of cancer"
"I'd describe volunteering for Cancer Research UK like Christmas, as it's that feeling of every day being new and exciting. I never know what donations are going to come into the store or what surprises the day holds!
I started volunteering at the Cancer Research UK Fishponds shop in 2010. I was inspired to start volunteering with the charity as I wanted to help beat cancer however I could, so that one day we can make the whole world free of cancer.
I volunteer on Wednesday mornings and all day on a Saturday, and am in charge of our home-ware department. I make sure the shop is up to date and piled high with good items at reasonable prices, as well as running the till and shop floor on my shift. I've learnt so much more about Cancer Research UK and how our charity shops work behind the scenes to ultimately raise as much money as we possibly can for life saving research. 
"There's no secret to being a great volunteer"
If anyone is thinking about volunteering with Cancer Research UK, I would encourage them to give it a try! It makes you feel so good inside and can give your life a whole new meaning. There's no secret to being a great volunteer, I just try to make our customers laugh which keeps them coming back to buy more!
I was over the moon when I found out I was Volunteer of the Month. It was great to know I was thought of in this way and has been like an early Christmas present!"
Debbie's nominator and Shop Manager, Lyndie, said:
"I have recently taken over Fishponds as manager and Debbie has helped make me feel part of the team, as many of our volunteers have been volunteering with the shop for a number of years.
Debbie goes above and beyond. Her customer service is wonderful, she is well liked by the community and is often one of the reasons people pop in and buy things. She is a strong, helpful, amazing, inspirational & giving woman and has become more then a volunteer to me.
I am proud to say she is my 'colleague' and is now also a friend to me as she is to the team and the community."
Thank you and congratulations Debbie!
Do you know a volunteer who has been particularly brilliant recently?