Keeping you updated
Thank you for the kind support you give to Cancer Research UK.

We're really looking forward to welcoming you back soon. In the meantime, stay safe and look after yourselves.
Together we will beat cancer.
Ways to stay involved and connected with us
Although many of our volunteering opportunities have sadly been stopped temporarily due to the impact of Covid-19, there are other ways you can support our life-saving work. During this uncertain time, we also want to let you know about available resources and sources of information which may help you. Here you'll find ways you can support us from home, details of support organisations and external training opportunities that may be useful to you and your families.
Race for Life at Home
Race for Life at Home is a reminder that even though we're apart, we're still together and beating cancer.
We're delighted that we've been able to rearrange many of our Race for Life events to later in the year. With the summer approaching however, many of our volunteers are keeping active and united by participating in Race for Life at Home. 
The Big Quiz for Cancer Research UK
Our amazing volunteers raise vital funds to beat cancer in lots different ways but sadly, many of their events have been postponed or cancelled because of the Covid-19 outbreak. Some of our volunteers however, are seizing new opportunities to fundraise for us whilst having fun with friends and family. One way they're supporting us is by organising a virtual Big Quiz from home.
Coronavirus and Cancer Information
People with cancer and their families might feel especially worried about the coronavirus outbreak. We want to make sure you have the guidance and support you need if you or your loved ones are affected by cancer. To find out more about support available, you can find gudiance about cancer and coronavirus here. To talk to others affected by cancer, you can use our Cancer Chat forum or if you have questions about cancer, you can speak to one of our nurses on freephone, Monday to Friday 9am - 5pm, 0808 800 4040. 
Cancer Research UK's Coronavirus science blog
Keep in touch with our scientific progress, find out how our researchers are helping to beat Covid-19, and hear stories of how the outbreak is impacting people affected by cancer,  by visiting our Coronavirus Science Blog.
Hear from our volunteers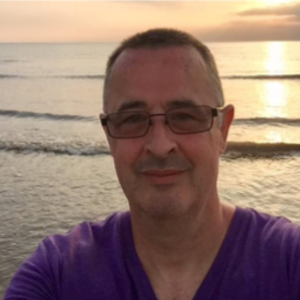 Robin's volunteer journey with Cancer Research UK started in 2012. "I was inspired to start volunteering after losing my father to prostate cancer. At the time I was also supporting a very good friend who was undergoing treatment for testicular cancer. Helping Cancer Research UK to beat cancer means I won't have to witness more friends and family having their lives cut short."
Usually found promoting events and out on the course as a marshal during the Race for Life season, Robin has been busy volunteering to support the homeless in his hometown of Liverpool. "The homeless community don't always have access to news or radio, so when the coronavirus outbreak began it was difficult for them to understand why shops were closing and why we were wearing gloves and face masks. As volunteers, we're able to talk to them about what was going on. We've been able to take donations of perishable foods from restaurants which have been forced to close and distribute them to homeless shelters across the city."

With his passion for event organisation and engaging with the public, Robin is looking forward to returning to his volunteer role soon. "Being a volunteer for Cancer Research UK is such a rewarding experience. You meet some truly inspiring individuals and have the satisfaction of knowing that you are making a difference."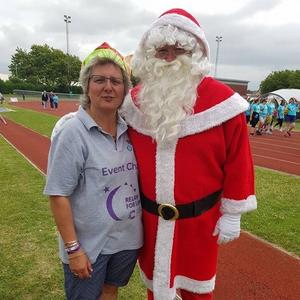 Jayne, Relay For Life Volunteer
Jayne is the chairperson of the Portsmouth Relay For Life Committee. She felt moved to volunteer for Cancer Research UK after her mum was diagnosed with stage IV uterine cancer 14 years ago. "Mum was given a 5% chance of surviving two years. She started chemotherapy and then surgery became an option, followed by more chemotherapy. 10 years later, she was told she was cancer free!"
Although Jayne can't volunteer at the moment, she's still working as a Laboratory Manager at Portsmouth Hospital NHS Trust. "It's my job to ensure that the drugs manufactured within the NHS are fit for patient use, including medical gases such as Oxygen and Medical Air. Hospitals are making changes to ward areas to enable them to become COVID-19 areas, and so I've been travelling to various hospitals ensuring that they have enough supplies.
"Work is extremely busy, but I am making the time to ensure that both our elderly neighbours and my mum are OK and am shopping for them as and when they need."
Jayne can't wait to return to volunteering. "I love talking to people, raising awareness of the charity and all the fun we have along the way. For me, volunteering is an opportunity to give something back. I want to help people celebrate more birthdays and prevent other families going through what my family went through."