Triathlon
Join the Outlaw Half Holkham
Join the Outlaw Triathlon Nottingham
2022 UK Ultimate Triathlon, 1/2 & 1/4
Join us at the UK Ultimate Triathlon, 1/2 & 1/4, and help fund our life-saving research.
2022 North West Triathlon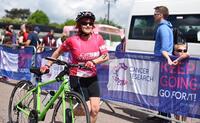 Join us at the biggest pool-based triathlon in the North West and help us to beat cancer sooner.
London Triathlon 2020
Join our team and take part in the 2020 London Triathlon the world's biggest and most iconic triathlon.