Football Shirt Friday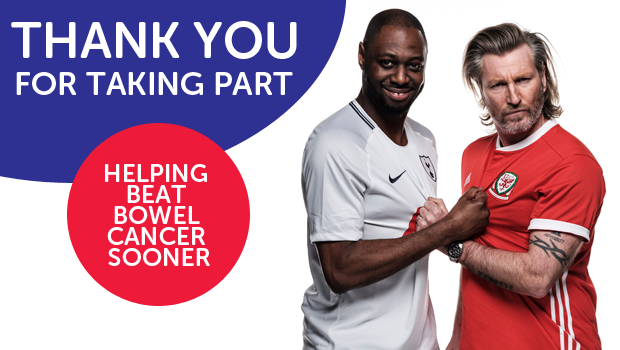 DONATE TO THE BOBBY MOORE FUND
Football Shirt Friday may be over but you can still make a difference to beating bowel cancer sooner by making a quick and easy donation online. 
HOW TO RETURN YOUR MONEY
Thank you to everyone that took part in this year's Football Shirt Friday. There's still time to pay in donations and make a difference to life-saving research using the simple methods below.
If you decided to set up a Giving Page to fundraise then you don't need to go a thing, these donations will pay in automatically.
Donate Online
Use our donation form to pay in online. Don't forget to add Gift Aid to your donation to boost your £5 by an extra £1.25!
Text to Donate
Just text 'SHIRT' to 70200 to donate £5*
Send a Cheque
Make it payable to The Bobby Moore Fund and send to: Football Shirt Friday, The Bobby Moore Fund for Cancer Research UK, PO Box 1561, Oxford, OX4 9GZ
Football Shirt Friday is on 27 April. A day for football fans wear their football shirt to work, snap a selfie and support ground breaking bowel cancer research.
Bobby Moore was just 51 years old when he died. The Bobby Moore Fund for Cancer Research UK was set up 25 years ago by Stephanie Moore MBE, Bobby's widow, in his memory to fund pioneering, life-saving bowel cancer research.
Since the fund was set up, mortality rates have fallen by more than 30% and over £23.5 million has been raised for research. But there's still more we have to do. Wear your shirt on 27 April and do your bit in bringing forward the day when all cancers are cured. 
No problem! If you can't wear it to work, why not wear it down the pub, in the gym or at the weekend?
You can still donate to our life-saving research by texting 'SHIRT' to 70200 to donate £5* or donating online. 
Top Tip: Try getting the gaffer involved. Kit them out in their rival team's football shirt if you smash your fundraising goal.