Football Shirt Friday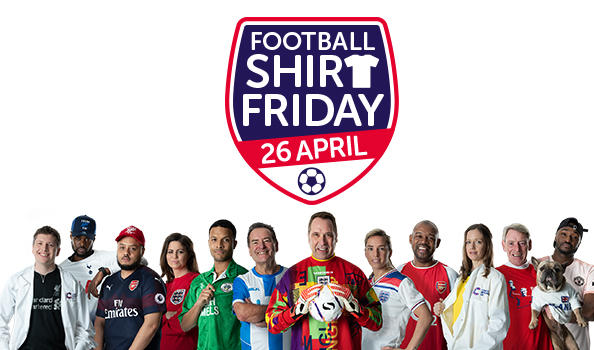 FOOTBALL SHIRT FRIDAY IS BACK
If you give a shirt about beating bowel cancer, support the Bobby Moore Fund this April
April is Bowel Cancer Awareness Month, so the Bobby Moore Fund needs you to get behind us and raise funds for our pioneering bowel cancer research. Whether you fundraise at work, your school, your local sports club or go solo, we have lots of materials to help get you started.
Most importantly, don't forget, Football Shirt Friday is back on 26 April. If you give a shirt about beating bowel cancer, make sure you donate £5 to the Bobby Moore Fund.
Football Shirt Friday is on 26 April. A day for fans to wear their football shirt to work, snap a selfie and support ground breaking bowel cancer research.
Bobby Moore was just 51 years old when he died. The Bobby Moore Fund for Cancer Research UK was set up 25 years ago by Stephanie Moore MBE, Bobby's widow, in his memory to fund pioneering, life-saving bowel cancer research.
Since the fund was set up, mortality rates have fallen by more than 30% and over £26 million has been raised for research. But there's still more we have to do. Wear your shirt on 26 April and do your bit and together we will beat bowel cancer.
No problem! If you can't wear it to work, why not wear it down the pub, in the gym or at the weekend?
You can still donate to our life-saving research by donating online, sign up and set up a CRUK Giving page or using our text code (coming soon). 
Top Tip: Try getting the gaffer involved. Kit them out in their rival team's football shirt if you smash your fundraising goal. You can smash you're goal through a variety of challenges detailed in our fundraising packs including: a simple bake sale, a keepy uppy challenge or even organising a sweepstake. 
Partners
​