How we spend your money
Get the annual report
Review our performance for the year, the progress we're making against our objectives and our aims for the future.
See how your donations make a lasting impact. Every year, Cancer Research UK's annual report is published. It hosts a wealth of information about how we strive to bring forward the day when all cancers are cured. The report also includes how we spent money raised through donations and support. It's available for everyone to download, but if you're looking for a quick breakdown of where your donation goes, this page has got you covered.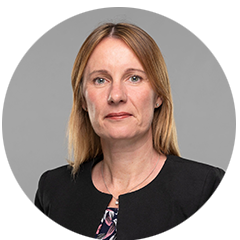 This has not been a normal financial year. And while we have a harder job to do now in light of COVID-19, we are absolutely determined to continue our research to create better treatments for tomorrow.
      - Michelle Mitchell, Chief Executive
Our income
In 2019/2020, we raised a total of £656m
We couldn't have done this without our amazing supporters, volunteers and campaigners. This includes:
£423m from donated income, including legacies (£184m) and events (£48m)
£108m from trading activities such as our shops
£7m from our portfolio of investments
£118m from royalties and grants, including our share of sales from innovations developed from our research

Our expenditure
Every pound is important. So we think very carefully about where we spend our income and what we commit our money to. 
We committed £511m of our income towards our charitable activities
We committed £468m towards cancer research projects that will run for up to five years
We spent £42m on our information and influencing work
We also invested £193m in raising funds, including:
£93m raising donated income
£98m running our shops and other trading activity
£2m managing our investments
The research we fund
We fund cancer research into all types of cancer
The amount we spend varies year to year as we don't allocate all of our resources ahead of time.
In 2019/2020, we committed £468m to cancer research, that will fund new projects that will run for many years. We spent £455m on ongoing research activity, including projects started in previous years.
The graphics below show that we spent:
£203m on research into specific cancers
£86m on research into cancer's fundamental biology
£81m on research relevant to all cancers, including our network of centres and clinical trials units
£43m passed on to other research organisations, as their share of the royalties we received from sales of innovations developed from previous research
£42m on research administration and support, including the systems and processes that allow us to fund world-class research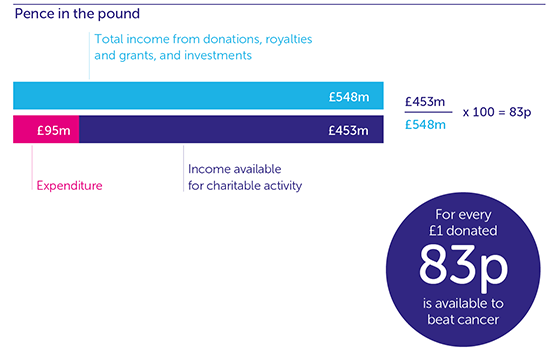 Pence in the pound
The graphic to the left shows that for every pound of income from donations, investments and royalties, 83p was available to beat cancer. The amount available varies from year to year, but we aim to keep it around the 80p mark.
We don't include our trading activities in this calculation, as our shops operate like other retail businesses, raising funds through selling merchandise. According to the 2018 Charity Shops Survey, our network of shops delivered the best profit ratio of any large UK charity retailer.
[Source: Charity Shops Survey 2018]
Our CEO's salary
We know it's important for our supporters to know how we spend your donations, and that we're transparent in all areas of our work.  That's why we've shared details of our CEO's salary on our website here.
Our CEO, Michelle Mitchell, was paid £244,000 between April 2019 and March 2020.
Cancer Research UK employs nearly 4,100 staff around the UK in a wide range of roles, including to raise funds and to carry out cutting-edge research. This is a complex organisation to lead.
We also supported the work of more than 4,000 scientists, technicians and other cancer research staff throughout the UK with research grants between April 2019 and March 2020.
Cancer Research UK is the world's leading charity dedicated to saving lives through research. We've been at the heart of the progress that has already seen survival in the UK double in the last 40 years. Every step we make towards beating cancer relies on vital donations from the public.
We promise to spend your donations wisely. We aim to make sure that at least 80p in each £ we receive from donations is available to help beat cancer. For a more detailed breakdown of staff pay at Cancer Research UK, please see page 71 of our Annual Report and Accounts.
We employ people who make a real difference and will help us achieve our ambition of seeing 3 in 4 people surviving their cancer by 2034.
Supporting documents
We are committed to supporting high-quality cancer research that will have the greatest impact for patients and help save more lives. The host institution list is an analysis of grant costs by host institution which forms part of our audited accounts.
Some of our scientists both serve on our grant-making committees and lead research projects that receive grant funding from Cancer Research UK during the year.
Our previous annual reports