Foreign Sisters UK
Royal Opera House - Foreign Sisters Lunch 2019
Foreign Sisters Annual Lunch
Foreign Sisters was founded by Lady Palumbo in 2007 under the umbrella of Cancer Research UK's National Events Committee. The objective of the group is to mobilise a dynamic and powerful group - high profile foreign women in the UK - to increase awareness of the work and international standing of Cancer Research UK, and to support the outstanding and vital work of its scientists and doctors.
Over the past 14 years, Foreign Sisters has raised over £1.8m for Cancer Research UK through an annual luncheon attended by women from over 60 countries based or living in London. Their greatest achievement has been raising £1m since 2012 for the Francis Crick Institute, a biomedical research institute in King's Cross, where the Foreign Sisters have been able to fund a laboratory of their own. The Foreign Sisters now raise vital funds for CanTest to improve and develop new ways of diagnosing cancer in GP surgeries.
This year's event will be held on 17th May 2022 at the beautiful Paul Hamlyn Hall at the Royal Opera House and is generously sponsored by Pomellato.
Foreign Sisters Committee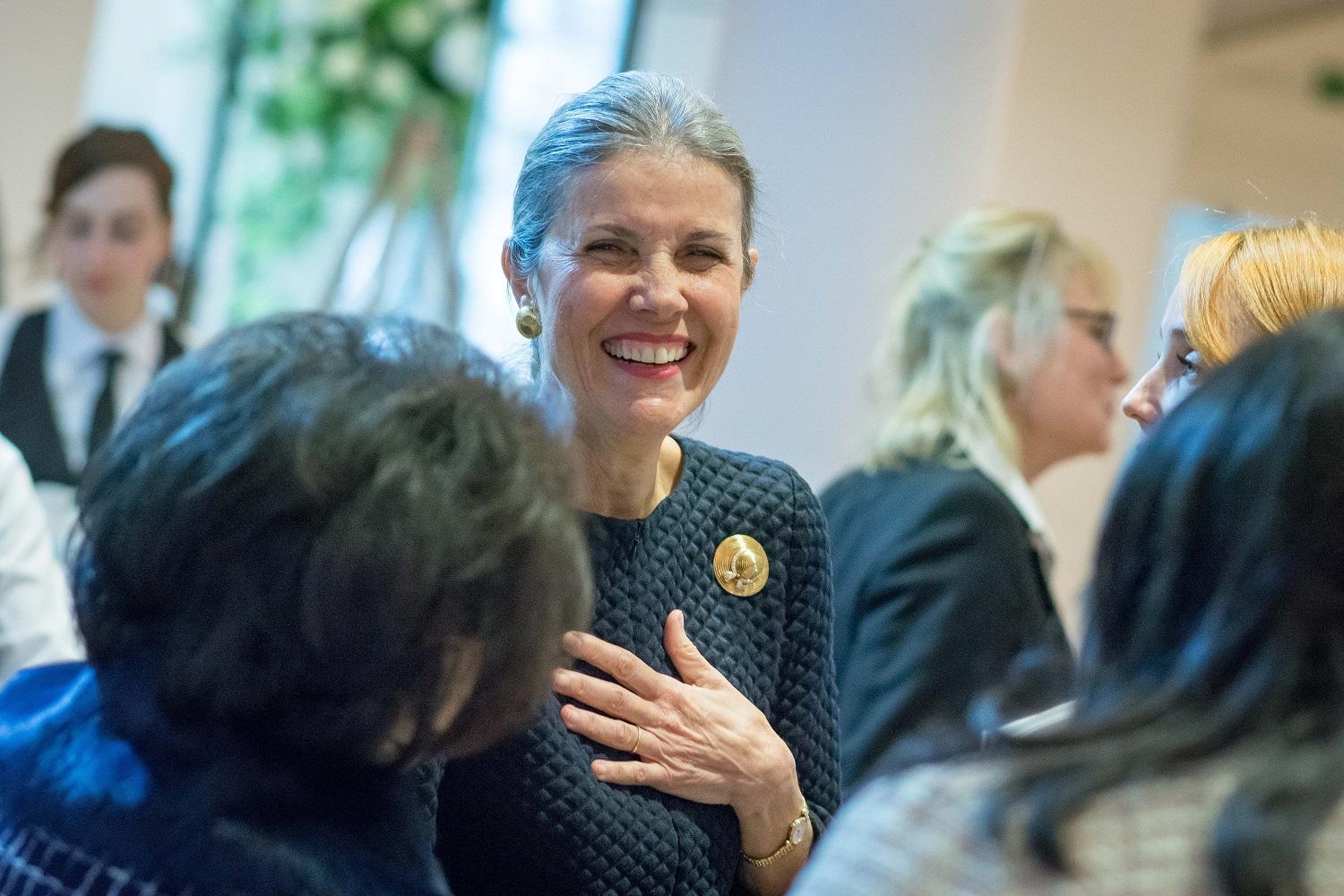 Founder: Lady Hayat Palumbo
2022 Chairs: Kathryn Raphael & Debora Staley
2022 Committee: Lavinia Gilbey, Marie Kluth, Arabella van Niekerk, Gena West, Ileana Vidaurri, & Polyana Santos
Foreign Sisters 2022
Date: Tuesday 17 May 2022
Venue: The Royal Opera House
Tables of 10 available at £2,000
Please get in touch with a member of our Special Events team by clicking on the link below.
The Lily of the Valley
The Lily of the Valley is the emblem of the Foreign Sisters. This May flower represents the renewed hope that Cancer Research UK offers each time a breakthrough is achieved, and symbolises the friendship and community of Foreign Sisters.
This year's lunch is generously sponsored by Pomellato
Brief History of Previous Events
Lunch 2007: hosted at the River Café, sponsored by Harry Winston, £18,000 raised
Lunch 2008: hosted at Nobu Berkeley, sponsored by Harry Winston and Hardy Amies, £48,000 raised
Lunch 2009: hosted at the home of Doris Riachy, £19,000 raised
Lunch 2010: hosted at Bluebird, £48,000 raised
Lunch 2011: hosted at The Savoy, sponsored by N.OOR Jewellery, Noor Fares and Liza Bruce, £134,000 raised
Lunch 2012: hosted at The Dorchester, sponsored by Avakian, £120,000 raised
Lunch 2013: hosted at The Dorchester, sponsored by House of Worth, £90,000 raised
Lunch 2014: hosted at Phillips, Howick Place, sponsored by DIOR, £160,000 raised
Lunch 2015: hosted at the Royal Opera House, sponsored by DIOR, £220,000 raised
10th Anniversary Celebration Dinner 2016: hosted at Banqueting House, Whitehall, sponsored by DIOR, £300,000 raised
Lunch 2017: hosted at One Marylebone, sponsored by Chanel, Phillips and Value Retail, £237,725 raised
Lunch 2018: hosted at Landmark London, sponsored by Pomellato, £203,000 raised
Lunch 2019: hosted at the Royal Opera House, sponsored by Pomellato, £160,000 raised