Top tips for your Great Hike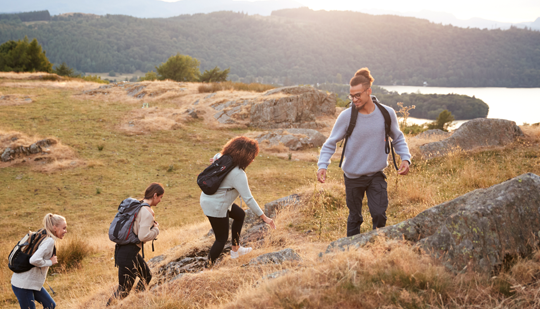 Do your research
Search trusted websites for route information to familiarise yourself with the trail and prepare for what to expect.
Plot out your route
Find watering holes, cafes and points of interest along the way so you know exactly where you'll take a rest break.
Check the weather
So you can decide how to dress and what to pack. If the weather is set to be awful, you may need to rearrange your date.
Pack the essentials
Appropriate footwear, extra pair of walking socks, warm clothing for layering, waterproofs, backpack with water and snacks, mobile phone, sun cream, sunglasses, hat, first aid kit, walking poles (if using).
Dress for success
Wear a comfortable pair of hiking shoes and socks and break these in before your hike. Avoid cotton clothing, it gets damp, and can you leave you feeling clammy - go for synthetics instead. Wear layers so you can add or remove as needed.  
Pace yourself
You may feel like powering forward when you begin your hike but make sure you pace yourself, so you make it through to the end. Remember to take a break if you feel you need to reenergise.
Let others know your itinerary
It's important that someone not on the hike knows the itinerary and roughly what time you should be done incase you don't get signal on your phone.
Snap the ultimate selfie
Take pictures along your Great Hike and share across social media using #MyGreatHike
Escape everyday life, discover breathtaking views and take on a hike anywhere in the UK or abroad to fund life-saving cancer research.