You support life-saving research
Because of regular givers like you, we're funding life-saving research.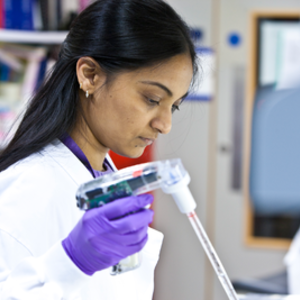 Your donations are helping to find the right treatment combination for men with prostate cancer.
Thanks to regular supporters like you, we've been funding a trial called STAMPEDE to find the best treatment for newly diagnosed advanced prostate cancer. Led by Professor Nick James at the University of Birmingham, the trial's flexible 'multi-arm' design can test many different treatments at the same time, speeding up the process to ensure promising treatments reach the clinic as quickly as possible.
A treatment called abiraterone, which was developed by Cancer Research UK-funded researchers in the 1990s, was tested within this trial, and in July 2017 results showed that combining abiraterone with other hormone therapies at the start of treatment dramatically improves five-year survival by 37%. This has already led to a change in how men are treated. STAMPEDE has now recruited more than 10,000 patients and will continue adding new treatment combinations to go on refining care for men with prostate cancer.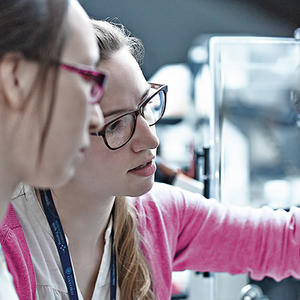 You're helping us to revolutionise the way we conduct clinical trials in pancreatic cancer.
Led by Professor Andrew Biankin, PRECISION-Panc is a multi-trial initiative that involves a number of leading scientists with the shared aim of finding the right treatment for the right patient with pancreatic cancer, one of the hardest cancers to treat.
The team uses state-of-the-art technology to characterise the molecular make-up of pancreatic cancer tumours with the goal of using this information to match patients to the clinical trial that best suits their tumour type.
Projects like PRECISION-Panc deepen our biological understanding of cancer and help to accelerate the transition into precision medicine, as well as paving the way for a more efficient and effective approach to clinical trials.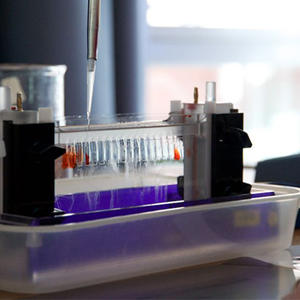 Thanks to donations like yours, we're trialing a new type of immunotherapy.
Thanks to regular supporters like you, our Centre for Drug Development has recently launched a clinical trial of a new class of therapeutic antibody (MOv18 IgE) – this trial will be testing the drug in humans for the first time.
Therapeutic antibodies are a form of immunotherapy developed in the lab that mimic the antibodies found naturally in our blood which help us fight infection. The therapeutic antibodies currently available belong to the IgG class, but MOv18 belongs to the IgE class, which evolved to play a key role in resisting parasitic infections and may trigger a more powerful immune response to tumour cells. If the treatment is found to be safe, the dose will be gradually increased to find the most effective amount to give patients. Investing in drugs like this could increase our cancer-fighting arsenal by tapping into natural defences that have been previously neglected.