Daily Mail Appeal
Donate to help us beat cancer
Donate today and rewrite the future for children and young people with cancer

Every year around 4,200 children and young people in the UK get cancer, that's around 12 families each day being told their child has cancer. Sadly, around 500 children and young people each year will lose their life to cancer, and those that do survive can face life-long side effects.
But enough is enough. We need to make sure that every child in the UK has access to the best treatments so they can survive cancer with a good quality of life. And we know that new treatments aren't possible without hard-working scientists having access to the tools and funds they need to make new discoveries.
It's a crucial cause, and one that so many of us feel strongly about. So, the Daily Mail are launching an appeal to raise money for Cancer Research UK for Children & Young People. 
All money raised will support Cancer Research UK's work into cancers affecting children and young people.
Donate today to make a difference for children and young people affected by cancer.
Your donation will help children and young people like Mikail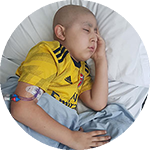 10-year-old Mikail was first diagnosed with Hodgkin lymphoma in August 2020 after finding a lump in his neck. He had tough chemo to shrink the cancer in his neck. Mikail developed many side effects such as losing his hair, struggling to walk and was really emotional because of the steroids he was on. He got through his treatment, alongside the challenges of COVID-19, but the cancer came back in early 2022. He has just finished another course of high dose chemo, plus stem cell transplant, but remains a source of inspiration to those around him. Mum Arzu is so proud of how he has coped, "He is still brave and strong, giving support and advice to other children in hospital." 
We urgently need to improve treatment options for children and young people with cancer, so that in the future children like Mikail have access to better treatments with fewer side effects. Your donations can help make that happen.   
What your donation can fund
£10 could shake up treatment options for a type of children's brain tumour
Ependymoma is a type of brain tumour most common in children under five years old. Tragically, most children with ependymoma won't survive their disease – our scientists are testing new treatments that could change this. If 40 people give £10, we could fund this clinical trial for one day.
£20 could help us find out if new cancer treatments work
£20 could fund one of our statisticians for one hour. Statisticians are key to interpreting the data from our clinical trials and proving that new treatments for children's cancers work.
£30 could help a real-life superhero bring new treatments to children
£30 could fund a senior research nurse for one hour, helping get more children on trials and improving how we treat children's and young people's cancer. Our incredible nurses make sure patients' voices are heard and help researchers with the nuts and bolts of clinical trials.
Science is the answer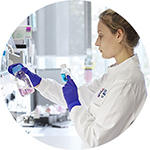 Your money will help to rewrite the future for children and young people with cancer – giving them the hope that they and their families so desperately need. 
Daily Mail readers will help make possible almost all children's and young people's trials in the UK – giving those who will benefit from them access to new life-saving treatments. 
There is also an urgent need for better treatments, and research is the answer. Daily Mail readers will help to fund the very best cancer scientists and give them access to the tools and resources they need. This work is critical and will provide the science behind tomorrow's clinical trials.
Cheque
Make your cheque payable to 'Cancer Research UK (Daily Mail)' 
Cancer Research UK
PO Box 1561
OXFORD
OX4 9GZ
Text
Text MAIL10 to 70180 to donate £10 or use MAIL20 to donate £20* 
*Texts are charged at the amount of your donation (£10 or £20)  plus a standard rate text (age 16+, UK mobiles only). Cancer Research UK will receive 100% of this donation, to support its work into cancers affecting children and young people. Query? Call 0300 123 1861. Cancer Research UK is a registered charity in England and Wales (1089464) and Scotland (SC041666).