Working with patient representatives in your research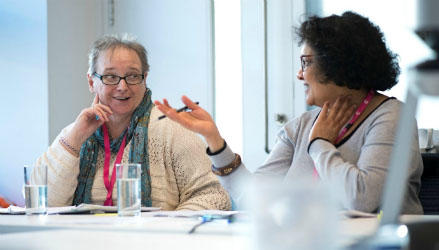 Collaborating with patients, by appointing patient representatives to your research steering group, is a great way to get ongoing feedback. Over time you'll build strong relationships and a better understanding of patient experiences. The patients you involve in one project may also spark ideas for future research.
 We benefited from having an informed lay person who could see the bigger picture amongst the group of scientists
- Cancer Research UK Grand Challenge Big Think Workshop attendee
Expectations agreement
An expectations agreement is a two way commitment between you and the patient representative. It sets out what ongoing behaviours and support is needed to enable everyone to succeed in their roles. We recommend developing a core list and then adding to this with the patient representatives at the induction. Once agreed, this becomes a 'contract' that you both sign and adhere to. 
Here's a template and example expectations agreement you can use and amend.
Set ground rules
Ground rules can help you run a smooth meeting by defining what behaviours are expected of everyone. Having ground rules makes it easier to moderate disruptive behaviour and ensure everyone gets a chance to contribute.
Here's a template set of ground rules you can use and amend.
You can send these to all steering group members in their pre-read materials and give everyone the opportunity to comment or add to at the start of the meeting.
Role of the Chair
The Chair of the steering group has an important role in ensuring everyone behaves according to the ground rules. The Chair, or another nominated group member, should work with the patient representatives to ensure they understand all relevant meeting materials. Offer patient representatives the opportunity to talk to the Chair in advance of each meeting. This way they can ask any questions they may have about what will be covered in the meeting and feel prepared.
Personal development
Becoming a patient representative may be a new experience for those you involve. It's important to make sure they feel like have the knowledge and skills needed to fulfil their role. Learning needs could range from understanding more about research to presentation skills. Check in at key points and ask if they feel there is something they would benefit from. Investing in patients' personal development will also help you build trust and their commitment to your work.
Build trust
Just with any working relationship, building trust is crucial.
Members of trusting teams:
are more likely to raise new ideas
provide constructive and thoughtful feedback
ask for help when they need it
offer help to those who need it
look forward to opportunities to work together
Building trust takes time but these are some good first steps:
try to get to know each other
be empathetic
communicate regularly
adhere to the INVOLVE principles and your expectations agreement
Upskill the rest of the group
Take the time to make sure everyone understands:
what patient involvement is
why it's important
what the role of the patient representative is
what everyone's role is in supporting and welcoming them
This will help create an environment where patient representatives can contribute effectively.
Soft skills like active listening and providing constructive feedback may also be areas for additional training.
Be objective
When you are talking with patients they shouldn't be able to tell your opinion. Make sure questions are balanced, neutral, and don't lead respondents to answer in a certain way. You should watch out for any non-verbal cues that might make the patients feel like you approve or disapprove of certain answers.
Be aware of groupthink
Groupthink is where individuals agree with the groups' or individuals' opinions, often without voicing their own. This is sometimes an effort to maintain harmony or a belief that their idea isn't as good. There are many techniques to help you avoid groupthink. One is asking people to write their ideas on post it notes individually before sharing with the wider group for discussion.
Be sensitive
The people you involve may be very close to their cancer experience. Sensitivity is important. Try not to ask questions that have risk of offending or upsetting your audience. It can be difficult discussing cancer experiences so it's important all attendees and staff are being sensitive and respectful to each other's personal experiences.
Recruiting to your patient involvement activity
Once you've planned your method, read on for more information about recruiting patients to your patient involvement activity.