Pre-doctoral Research Bursary
About this scheme
Key information
Career level
Clinician
Nurse
Health professional
Pre-PhD
Research area
All research areas
Clinical trials
The Research Bursary provides short-term funding to allow clinicians and other health professionals to get involved in research projects early in their career.
The bursary should be used to give you a greater understanding of research before deciding whether to undertake a PhD or MD, and/or give you the time and resources to obtain preliminary data before applying for a PhD or MD.
You should be:
a clinician, nurse or other medical professional
working in any area of our funding remit
based in the UK
You should not have:
completed a PhD or MD
already received Fellowship funding to allow you to undertake research, except if you hold an NIHR Academic Clinical Fellowship or equivalent.
Funding support is provided for:
Up to £25,000 to cover salary and/or research expenses
Funding support is not provided for:
Funding Masters courses
Supporting costs of research that will contribute towards a PhD or MD
Salary costs for applicants who have already registered for a PhD or MD.
CRUK-Pathological Society Predoctoral Research Bursary

Funding support up to a total of £45,000 for 12 months can be requested if your medical speciality is pathology, thanks to our partnership with the Pathological Society. Applicants claiming this increased funding must be members of the Society.
How to apply to this scheme
Overview of the application process
Applications for Research Bursaries are considered twice a year by the Research Careers Committee. Timelines typically follow this schedule, but may vary:
| | | |
| --- | --- | --- |
| Applications open     |  Application deadline     |  Funding decision     |
| 12 January 2023 | 10 March 2023 | May 2023 |
| 14 June 2023 | 21 September 2023 | November 2023 |
If you are a pathologist, please contact us before starting your application as you may be eligible for the "CRUK-Pathological Society Pre-doctoral Research Bursary" scheme
Before making your application
If you have questions about the eligibility of your proposal for this scheme, or require any assistance with your application, please contact a Research Grants Manager.
Applications are considered on the basis of:
Your research achievements to date.
The scientific merit of your proposal.
The research environment provided by the host department.
The relevance to cancer research and our research strategy.
The 5 year rolling success rate  (financial year 2017-2022) from application to funding for this scheme is 55%.
Cancer Research UK contact details
Please contact the relevant Research Grants Manager if you have questions about your eligibility or require any assistance with your application or active award.
For London (except for QMUL and UCL), Oxford, Southampton, and The South of England
Dr Victoria Walker, Research Grants Manager: fellowships@cancer.org.uk
For London (QMUL and UCL only), Manchester, The North of England, Scotland, and Northern Ireland
Dr Catherine Cremona, Research Grants Manager: fellowships@cancer.org.uk
For Cambridge, Birmingham, The Midlands, and Wales
Eve Riley, Research Grants Manager: fellowships@cancer.org.uk
Please contact Dr Marjolein (Lein) Schaap, Research Programme Manager, if you would like to hear more about the support we offer e.g. CRUK Fellow meetings, activities and training, and to share any potential challenges you might face: fellowships@cancer.org.uk
Please refer to the 'How to apply to this scheme tab' for further details and dates for the current funding round.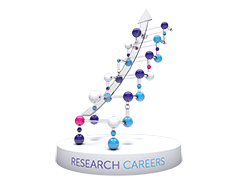 We offer a range of fellowships, bursaries and other support to help outstanding scientists and clinicians develop their independent research careers.
Related guidance to download