Research Travel Award
About this scheme
Key information
Supports postdoctoral researchers to travel and gain skills from other research groups that will help them develop their independent cancer research careers.
You must be:
Based in the UK, and

A postdoctoral researcher with a salaried position
You must not be:
A PhD student (clinical or non-clinical) or MD student
A previous recipient of a CRUK Research Travel Award
You do not need to have existing CRUK funding to be eligible.
Your proposed work should fit within our Research Strategy. We particularly welcome applications for research into cancers of unmet need (brain, lung, oesophagus and pancreas) and early detection. You can already be working in those areas, or can use the award to explore and develop research into these areas.
Travel, accommodation and research expenses to visit a collaborating research group in the UK or overseas
Attendance at skills-based training
Funding will not be provided for:
Salary costs
Equipment costs
Attendance of conferences or lectures
Visits or training courses that have already taken place
Visits to research groups in the same city/town as your current host institution
How to apply to this scheme
Overview of the application process
Applications for Research Travel Awards are considered twice a year.
The application process has just one stage: a full application on eGMS reviewed by the Research Travel Award Panel.
If your application is successful you will be notified within a month of the funding decision.
All applications must be made through our electronic Grants Management System (eGMS)
Applications should be submitted by the postdoctoral researcher who will be travelling to the collaborating group or attend the skills-based training.
Timelines
| Application deadline | Funding decisions |
| --- | --- |
| 18 January 2018 | March 2018 |
| 9 August 2018 | October 2018 |
Before you begin
your application
You must read:
If you have any questions about the eligibility of your proposal for this scheme, or require any assistance with your application, please contact the funding manager.
Your application will be assessed on:
How the visit or training course will help you become an independent cancer researcher
Suitability of the proposed research environment
Scientific excellence
Cancer relevance.
We prioritise funding for projects of sufficient scientific quality that focus on the areas highlighted in our Research Strategy, including early detection research and research into cancers with substantial need (brain, lung, pancreas and oesophagus).
Cancer Research UK contact details
If you have any questions about the eligibility of your proposal for this scheme, or require any assistance with your application, please contact:
Dr Lorenzo de la Rica
Research Funding Manager
Tel: +44 (0)20 3469 5215
More career development opportunities for researchers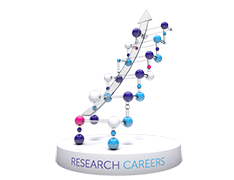 We offer a range of fellowships, bursaries and other support to help outstanding scientists and clinicians develop their independent research careers.
Related guidance to download