A trial looking at treatment for children and young adults with an ependymoma (SIOP Ependymoma Program II) Pathway 3
Coronavirus and cancer
We know it's a worrying time for people with cancer, we have information to help. If you have symptoms of cancer contact your doctor.
Cancer type:
Brain (and spinal cord) tumours
This trial is looking at adding valproic acid to chemotherapy after surgery to treat ependymoma. It is open to children younger than 1 year old and those with an ependymoma who can't have radiotherapy after surgery to remove their tumour. Cancer Research UK supports this trial.
There are 2 parts to this trial. In the 1st part the trial committee looks at the results of your tests and scans. The 2nd part is looking at treatment pathways. 
There are 3 treatment pathways in this trial. This information is about pathway 3. We have information on pathway 1 and pathway 2.
More about this trial
Ependymoma is a type of brain tumour that mostly affects children and young people. We use the term 'you' in this summary, but if you are a parent, we are referring to your child. 
Doctors usually treat ependymoma by removing it with surgery. After surgery if you can't have radiotherapy you have chemotherapy instead.
In this pathway researchers want to find out if adding a drug called valproic acid to chemotherapy improves treatment. 
Valproic acid is a drug that blocks substances (enzymes) in the body called histone deacetylases (pronounced dee-as-et-isle-azes). Cells need these to grow and divide. Blocking them may stop cancer growing. Drugs that block these enzymes are called histone deacetylase inhibitors or HDAC inhibitors.
We know from research that valproic acid can help people with other types of brain tumours. 
The aims of this pathway are to find 
how well chemotherapy with valproic acid works for young children and those who can't have radiotherapy to treat ependymoma
what the side effects of valproic acid and chemotherapy are
how safe it is to give valproic acid with chemotherapy
Who can enter
The following bullet points list the entry conditions for this trial. Talk to your doctor or the trial team if you are unsure about any of these. They will be able to advise you. 
You may be able to join this trial if all of the following apply. You
Have been diagnosed with an ependymoma in the brain that is grade 2 or 3 
Have satisfactory blood test results 
Are able to have chemotherapy
Are under 1 year old or you are older but not able to have radiotherapy
You cannot join this trial if any of these apply
You have been diagnosed with an ependymoma called a subependymoma, ependymomablastoma or myoxopapillary ependymoma
Your ependymoma started in the spine 
You have already had chemotherapy 
You have already had radiotherapy
You are already having treatment with another anti tumour drug
You are already taking part in another clinical trial looking at treatment for ependymoma
You have severe damage to your liver or kidneys 
There is a family history of severe epilepsy
You are unable to have any of the drugs used in the trial for any reason 
There is a medical or other reason why you can't have the amounts of fluids you need as part of the treatment in this trial
You have another medical problem that the trial team think could affect you taking part
Trial design
There are 2 parts to the SIOP Ependymoma Program II. 
Part A
In part A you have all the tests and scans that are normally done to diagnose your tumour. A national committee looks at the results of the tests and scans. This is to confirm your diagnosis and consider the most appropriate pathway for you. 
The team want to find out more about ependymoma and its treatment. With your permission you will be entered on to a national registry even if you aren't offered a treatment pathway. They will look at your hospital records to find out what treatment you have.  
The trial team need 480 children and young people from the UK and Europe to join part A.
Part B
This is an international phase 2 trial. The researchers need 100 children and young people from the UK and Europe to take part.
It is a randomised trial. After your surgery you are put into 1 of 2 treatment groups by a computer. Neither you nor your doctor will be able to decide which group you are in
vincristine, carboplatin, methotrexate, cyclophosphamide and cisplatin (standard chemotherapy)
standard chemotherapy and valproic acid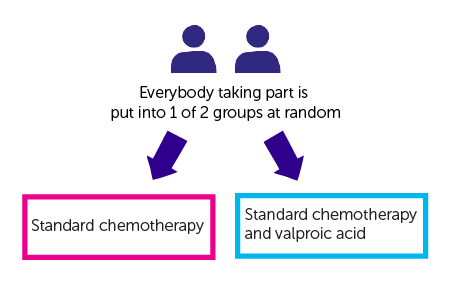 Before starting chemotherapy you will have a central line put in. You have all your chemotherapy as a drip through the central line. All blood samples will be taken through the central line. 
Week 1 you have vincristine and carboplatin on 1 day
Week 2 you have no chemotherapy
Week 3 you have vincristine and methotrexate. You have methotrexate over 24 hours through a pump (syringe driver) attached to the central line. After methotrexate you have folinic acid for 2 to 4 days afterwards. You have it at regular times as a drip through your central line. Folinic acid helps reduce the side effects of methotrexate.
Week 4 you have no chemotherapy
Week 5 you have vincristine and cyclophosphamide on 2 days
Week 6 you have no chemotherapy
Week 7 you have cisplatin on 2 days
Week 8 you have no chemotherapy
Each 8 week period is called a cycle of treatment. You have 8 cycles of treatment. 
Valproic acid is a liquid you take every day. Your doctor will tell you how much to take. After 2 weeks your doctor might need to change the dose. To check the dose the doctor will take blood samples
before having valproic acid
1 hour 
2 hours 
4 hours
6 hours after
Depending on the amount of valproic acid in your blood the dose might be increased. It is gradually increased over 3 weeks if needed. Your doctor will talk to you about this. 
For your safety every time the dose is increased blood samples are taken. This is to measure how much valproic acid is in the blood. 
With your permission the team will use the blood samples to 
test how valproic acid works
what effect it has on the body
what happens to it in the body
After finishing chemotherapy, as long as your tumour hasn't got worse, you can continue taking valproic acid for another year.
You keep a diary while taking valproic acid. In the diary you write down the daily dose and any side effects or symptoms you have.  
Quality of life studies
Depending on how old you are, the trial team will ask you to fill out a few questionnaires 
•    before you start treatment
•    2 years after your diagnosis
•    5 years after your diagnosis
The questionnaires ask about side effects and how you've been feeling. This is called a quality of life study. 
For children and teenagers diagnosed under the age of 18 they will ask you to do the same questionnaires again when you are 18 years old.
Tissue and blood samples
With your permission the researchers will ask for a sample of your cancer that was removed when you had surgery. They will also ask to take extra blood and CSF samples. They will use these samples to find out more about ependymoma. You don't have to agree to give these samples if you don't want to. You can still take part in the trial. 
Hospital visits
You see the doctor to have some tests before taking part. These tests include
A physical examination
Blood tests
Urine test
MRI scan of the head and spine
Hearing test
Tests to see how your brain works (neurological tests)
You might need to stay in hospital for 1 night when the central line is put in.
On the days you have chemotherapy you stay in hospital. Blood tests will be taken regularly. The doctor will see you regularly to see how you are doing.
You have an MRI scan after cycles 2, 4, 6 and at the end of chemotherapy. 
After treatment you see the doctor 
every 3 months for 2 years
every 4 months for 3 years
then at least once a year up to 18 years old
You have a physical examination and an MRI scan at every visit for 5 years. You have a hearing test every 6 months for 2 years. Then another 5 years after you finish treatment. 
After the age of 18 your doctor will tell you how often they want to see you.
Side effects
A side effect of valproic acid can be liver damage. You will have a blood test done regularly while taking valproic acid to check how well your liver is working. 
The most common side effects of the chemotherapy drugs used in this trial are
Vincristine can also cause 
constipation with tummy (abdominal) pains
nerve pain
reduced sense of touch
Cisplatin can also cause changes to the way the kidneys work and changes to hearing.  
We have more information about the side effects of 
We have information about the side effects of radiotherapy to the brain. 
How to join a clinical trial
Please note: In order to join a trial you will need to discuss it with your doctor, unless otherwise specified.
Please note - unless we state otherwise in the summary, you need to talk to your doctor about joining a trial.
Supported by
Cancer Research UK
Centre Léon Bérard
University of Birmingham
Other information
This is Cancer Research UK trial number CRUK/12/036.
CRUK internal database number:
Please note - unless we state otherwise in the summary, you need to talk to your doctor about joining a trial.
Around 1 in 5 people take part in clinical trials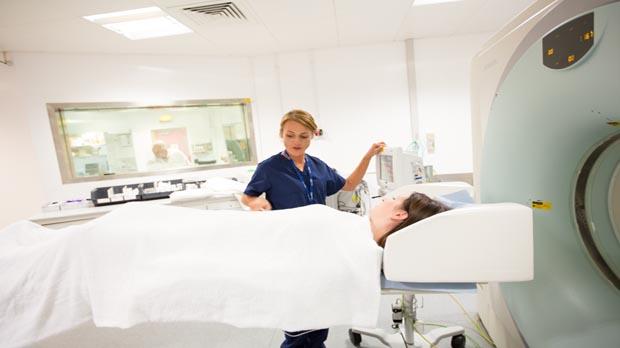 Around 1 in 5 people diagnosed with cancer in the UK take part in a clinical trial.