A study looking at nivolumab with temozolomide and radiotherapy for people with a glioblastoma (CA209548)
Please note - this trial is no longer recruiting patients. We hope to add results when they are available.
Cancer type:
Brain (and spinal cord) tumours
This study is for people with a newly diagnosed glioblastoma who have not had any treatment apart from surgery. Glioblastoma is the most common type of brain tumour in adults. 
People will be asked to take part in this study if they have already agreed to take part in another study (CA209-498). But they were not eligible to continue with the CA209-498 study. 
More about this trial
Surgery followed by radiotherapy and the chemotherapy drug temozolomide is the usual treatment for glioblastoma. Doctors want to see if they can improve this treatment. 
Nivolumab is a drug called a monoclonal antibody. It works by blocking a body substance called PD-1. This may help the body's immune system to work against brain cancer cells.
In this study doctors want to see if giving nivolumab alongside chemotherapy and radiotherapy is better than chemotherapy and radiotherapy alone. 
They will compare 2 groups of people:
one group has nivolumab with radiotherapy and temozolomide
the other group has a dummy drug (placebo) with radiotherapy and temozolomide
The aims of the study are to
see if nivolumab improves people's symptoms
see what affect nivolumab has on the immune system
learn more about the side effects of nivolumab with radiotherapy and temozolomide
see if nivolumab is a useful treatment for people with newly diagnosed glioblastoma and how well they cope with it
Who can enter
The following bullet points list the entry conditions for this study. Talk to your doctor or the study team if you are unsure about any of these. They will be able to advise you. 
You may be able to join this study if all of the following apply
You have a brain tumour called a glioblastoma (GBM)
You already agreed to take part in the CA209-498 study but were not eligible
Your doctor thinks you are able to have radiotherapy and chemotherapy together (chemoradiotherapy)
You have satisfactory blood test results
You are able to care for yourself, even if you aren't able to carry on with all your normal activities (Karnofsky performance status score of 70 or more)
You are at least 18 years old
You are willing to use reliable contraception during the trial and for up to 7 months afterwards if there is any chance you or your partner could become pregnant
You cannot join this trial if any of these apply
You have had any treatment for your glioblastoma apart from surgery
You only had a sample of the tumour (a biopsy ) taken during your surgery (less than 20% of the tumour removed)
You have not recovered from your surgery
You have surgery less than 7 days before starting treatment in this study
You have a type of GBM called an MGMT-unmethylated GBM
Your tumour has come back after previous treatment (a recurrent GBM)
Your tumour was previously low grade (slow growing) and has changed to a high grade (fast growing) brain tumour
Your tumour has grown into the tissue covering your brain (leptomeningeal disease) or has spread outside your skull
You have had a serious bleed in your central nervous system (CNS) that can be seen on a scan and that has not got better
You have had chemotherapy wafer implants
You are taking high doses of steroids on a long term basis, or your dose is being increased
You have a condition affecting the lungs called interstitial lung disease if it is causing symptoms or the study team think this could affect you taking part
You have other problems affecting your central nervous system such as fits (seizures) that aren't related to your tumour, unless these are controlled with medication
You have or are suspected to have an autoimmune disease that needs to have treatment that affects your whole body (systemic treatment)
You are HIV, hepatitis B or hepatitis C positive
You are not able to swallow tablets or capsules or you have any condition that would affect the drug being absorbed
You have (or have had) any other medical condition that the study team think could affect your taking part
You can't have an MRI scan for any reason (this could be because you have metal or a pacemaker in your body)
You have had a bad reaction to another monoclonal antibody
You are known to be allergic to the drugs in this study (or anything they contain)
You are pregnant or breastfeeding
Trial design
This is an international phase 2 study. Doctors need around 320 people to take part worldwide and about 12 people in the UK.  
The study is randomised. You are put into 1 of 2 treatment groups by a computer. Neither you nor your doctor can choose which group you are in. And neither of you will know which group you are in (it is a double blind study). 
You have either: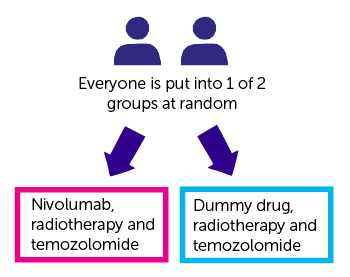 You have nivolumab or the dummy drug as a drip into your vein. They take about 30 minutes to have. 
To start you have nivolumab or the dummy drug once every 2 weeks for 16 weeks. You then have it every 4 weeks. You continue to have the drug for as long as it is helping you. 
Temozolomide is a capsule. How many you have depends on your height and weight. 
You take it every day for around 6 weeks during the time you have your radiotherapy. When you finish radiotherapy you have a break for 28 days. Then you have 
it once a day for 5 days
a break for 23 days
The time you have treatment and the time off is 28 days. Each 28 day period is called a cycle of treatment. You have up to 6 cycles of treatment. If the temozolomide is helping you, you might be able to continue taking it. Your doctors will talk with you if this applies. 
You have radiotherapy for around 6 weeks. You have it once a day Monday to Friday for 30 treatments. 
Blood and tissue samples
You need to have some additional blood tests as part of this study. This is to look for substances in your blood called biomarkers

. These could be used to see who could benefit most from having drugs like nivolumab. 
You also have some blood tests so the doctors can measure the level of nivolumab in your blood. They also want to see what action the drug is having on your immune system. 
Where possible these blood tests are done at the same time as any routine blood tests. 
You may need to have another biopsy or further surgery to your brain tumour during the time you are in this study. If that is the case the study doctors may ask if they can have a sample of the tumour. They would use this sample to
get a better understanding of glioblastomas
see why your cancer did, or did not, respond to nivolumab
look for proteins on the surface or in the tumour cells and to see if certain white blood cells called lymphocytes are present
Questionnaires
You complete some paper questionnaires before and during your treatment. These ask about any symptoms you have and how the treatment is affecting your daily life. These questionnaires are called quality of life studies. 
You will also be asked to complete a series of computer based mental response and activity tests. These are completed using a laptop. The study team will show you what to do. You do these:
before you start treatment
every 6 months for 2 years
3 years after starting in the study
Hospital visits
You see the doctors and have some tests before starting treatment. The tests include:
a physical examination
blood tests
completing a series of computer based mental response and activity tests 
MRI scan of your brain (this should be done 1 to 2 days after your surgery)
You go to hospital to have the nivolumab or dummy drug and to have your radiotherapy. You should not need to stay overnight. You see the doctors regularly during the time you have treatment. 
You have an MRI scan within 72 hours of your surgery, 4 weeks after you finish your radiotherapy, then:
every 8 weeks for 2 years
every 3 months until your brain tumour gets worse
When you stop having treatment in this study, the doctors see you after 1 month and then 2 ½ months later. 
The doctors can then either contact you by phone or see you in clinic. This will probably be around every 3 months. 
Side effects
As nivolumab is a new drug, there may be side effects we don't know about yet. Your doctor or nurse will give you a number to contact them if you are worried about anything.  
In trials so far, the most common side effects have been:
We have more information about nivolumab. 
We also have information about the side effects of 
How to join a clinical trial
Please note: In order to join a trial you will need to discuss it with your doctor, unless otherwise specified.
Please note - unless we state otherwise in the summary, you need to talk to your doctor about joining a trial.
Supported by
Bristol-Myers Squibb
Ono Pharmaceuticals Co. Ltd
CRUK internal database number:
Please note - unless we state otherwise in the summary, you need to talk to your doctor about joining a trial.
Rhys was only four years old when he was diagnosed with a brain tumour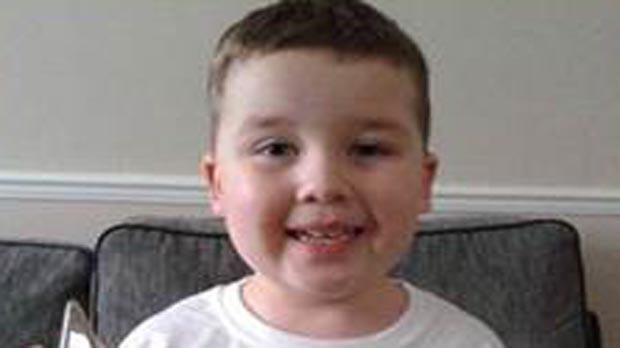 "He went through six operations and was placed on a clinical trial so he could try new treatments."