A trial of nivolumab and temozolomide with radiotherapy for people with brain cancer (CA209498)
Please note - this trial is no longer recruiting patients. We hope to add results when they are available.
Cancer type:
Brain (and spinal cord) tumours
This trial is for people recently diagnosed with a type of brain cancer called glioblastoma (GBM) who have not yet had any treatment apart from surgery. 
It is for people who have a change in the MGMT gene

 called unmethylated MGMT.
More about this trial
GBM is the most common type of primary brain cancer (cancer that started in the brain).
Surgery followed by chemotherapy and radiotherapy is the main treatment for GBM. You often have a chemotherapy drug called temozolomide (Temodal).
But researchers are looking at new ways to help people in this situation. In this trial, they are looking at a drug called nivolumab (Opdivo).
Nivolumab is a drug called a monoclonal antibody. It works by blocking a body substance called PD-1. This may help the body's immune system to work against brain cancer cells.
In this trial, people will have 1 of the following:
temozolomide with radiotherapy
nivolumab with radiotherapy
The aims of the trial are to:
find out how well nivolumab with radiotherapy work as a treatment
learn more about the side effects of nivolumab with radiotherapy and temozolomide with radiotherapy
learn how well people cope with side effects  
find out how nivolumab works and what happens to it in the body  
Who can enter
The following bullet points list the entry conditions for this trial. Talk to your doctor or the trial team if you are unsure about any of these. They will be able to advise you. 
You may be able to join this trial if all of the following apply.
You have a newly diagnosed GBM  
Your cancer has a change in the MGMT gene (unmethylated MGMT) – your doctor will check for this 
You have had treatment with surgery  
Your doctor thinks you are able to have radiotherapy 
You have had an MRI scan within 72 hours of your surgery
You have satisfactory blood tests results 
You are able to care for yourself, even if you aren't able to carry on with all your normal activities (Karnofsky performance status of 70 or more)
You are at least 18 years old
You are willing to use reliable contraception during treatment and for 23 weeks after the final dose of nivolumab if you are a woman, or 31 weeks if you are a man, if there is any possibility you or your partner could become pregnant. If you have temozolomide, you must use contraception for 6 weeks if you are a woman or 6 months if you are a man. 
You cannot join this trial if any of these apply.
Cancer related
You have had treatment for GBM apart from surgery  
You have a GBM that has come back after previous treatment (recurrence) 
You have a type of GBM called MGMT methylated, partially methylated, indeterminate GBM or with a change in the IDH gene  (IDH mutated GBM) 
Your cancer has spread outside your skull or the tissues surrounding your brain (leptomeningeal disease) 
Your GBM has changed from a low grade (benign tumour) or anaplastic glioma to a high grade (malignant tumour)
You only had a small amount of cancer removed during surgery (less than 20%)
You still have side effects from your surgery
You have had a moderate or serious bleed in your central nervous system (CNS) that hasn't got better  
You have had drugs that affect certain proteins called PD-1, PD-2, CTLA-4 or certain immune cells called T-cells  
Medical conditions
You have an autoimmune disease unless it is vitiligo, type 1 diabetes, thyroid problems that are controlled by medication, hair loss (alopecia) or a skin condition called psoriasis that doesn't need treatment  
You take more than 20 mg of a drug called prednisone every day (3 mg if it is dexamethasone) or you have had any other drug to damp down the immune system in the last 2 weeks (unless it is a cream or an inhaler)
You have lung problems such as interstitial lung disease and it's causing symptoms 
You have (or have had) problems that affect your central nervous system such as fits (seizures) that aren't related to your brain cancer, unless these are controlled with medication
You have HIV
You have hepatitis B or hepatitis C
You have any other serious medical condition that the trial team think could affect you taking part
Other
You have had a surgery in the past 7 days (unless it was to place a central line )
You are known to be allergic to the drugs in this study, anything they contain, to any other drug that increases the amount of antibodies in the body (immunoglobulin) or the chemotherapy drug dacarbazine 
You are not able to have an MRI scan for any reason, for example you have metal implants such as a pacemaker, surgical clips, pins or plates or cochlear implants (for deafness), you have a fear of being in closed spaces (claustrophobia) or you are sensitive to the injection given during an MRI scan (known as contrast medium )
You are unable to swallow and absorb tablets 
You are pregnant or breastfeeding  
Trial design
This is an international phase 3 trial. The researchers need about 550 people worldwide and around 20 people from the UK to take part.
This trial is randomised. The people taking part are put into 1 of the following treatment groups by computer:
temozolomide with radiotherapy
nivolumab with radiotherapy
Neither you nor your doctor will be able to decide which group you are.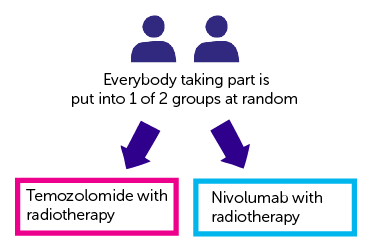 Everyone has radiotherapy. You have it every day, Monday to Friday, with a break at weekends. You have 30 treatments (around 6 weeks).  
Temozolomide 
You have temozolomide as capsules. The dose you have depends on your height and weight. You have it once, every day. 
You take it during the time you have radiotherapy (about 6 weeks). Then you have a break of 28 days. 
After the break, you start temozolomide again. You have it once every day, for 5 days. Then you have a break of 23 days. This is called a treatment cycle.  
You continue having temozolomide for as long as it is helping you and the side effects aren't too bad. You can have up to 6 treatment cycles. 
Nivolumab 
You have nivolumab as a drip into a vein. It takes about 30 minutes. You have it every 2 weeks, for the first 16 weeks. Then every 4 weeks.  
You continue to have nivolumab for as long as the side effects aren't too bad and it is helping you. 
Questionnaires and brain function tests
Everybody taking part in this trial completes quality of life questionnaires. You complete them before the start of your treatment and every time you have an MRI scan. 
 
It asks about how you have been feeling and what side effects you have had. 
You also have some brain function tests. You have the tests on a computer. You complete them before the start of your treatment and then after: 
6 months 
12 months 
18 months
The trial team can show you how to complete them. They are a way of finding out how well your brain works and processes information. 
 
Blood tests 
You have some extra blood tests as part of this trial. The researchers want to look for substances called biomarkers

. This is to see why treatment works better for some people than others.
You have the extra blood tests on the 1st day of your treatment and then after:
If you have nivolumab, you also have blood tests to find out the amount of it in your body. You have the blood tests before starting treatment and then:
at set times during treatment
when you finish treatment 
at set times after stopping treatment 
Tissue samples
You might need to have another biopsy or further surgery to your brain tumour during the time you are in this study. If that is the case, the trial doctors may ask if they can have a sample of the tumour. They would use this sample to:
get a better understanding of glioblastomas
see why your cancer did, or did not, respond to nivolumab
look for proteins on the surface or in the tumour cells and to see if certain white blood cells called lymphocytes are present
Hospital visits
You see a doctor and have some tests before taking part. These tests include: 
a physical examination
an MRI scan of the brain (within 3 days of your surgery)  
blood tests
urine test
computer tests of your brain function  
You see the trial doctor for blood tests and a physical examination every 2 weeks. If you have nivolumab, after the first 16 weeks you then see the doctor every 4 weeks when you have your treatment.  
You have an MRI scan of your brain:
after 4 weeks of finishing radiotherapy
then every 8 weeks
This continues for as long as your cancer doesn't get worse and the side effects aren't too bad. If your cancer gets worse, you stop having treatment. 
When you finish treatment you see the trial team:
after 1 month 
after 3 ½ months 
then every 3 months (this can be by phone or at the hospital)  
Side effects
The trial team monitor you during the time you have treatment and you will be given a phone number to call them if you are worried about anything. The team will tell you about all the possible side effects before you start the trial.
The most common side effects of nivolumab are:
We have more information about nivolumab.
We also have information about:
How to join a clinical trial
Please note: In order to join a trial you will need to discuss it with your doctor, unless otherwise specified.
Please note - unless we state otherwise in the summary, you need to talk to your doctor about joining a trial.
CRUK internal database number:
Please note - unless we state otherwise in the summary, you need to talk to your doctor about joining a trial.
Rhys was only four years old when he was diagnosed with a brain tumour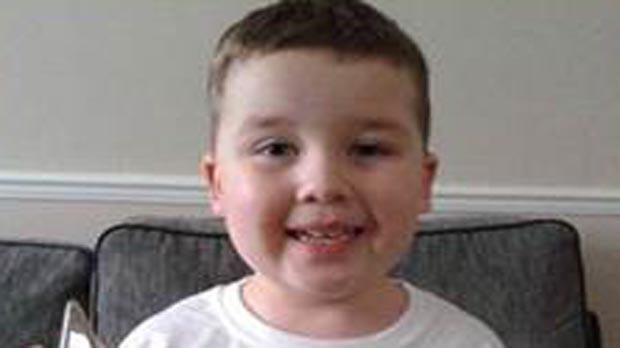 "He went through six operations and was placed on a clinical trial so he could try new treatments."