A trial of a vaccine called rindopepimut for glioblastoma (ACT IV)
Please note - this trial is no longer recruiting patients. We hope to add results when they are available.
Cancer type:
Brain (and spinal cord) tumours
This trial is looking at a new treatment vaccine called rindopepimut alongside temozolomide for people with a type of brain tumour called glioblastoma.
If you are diagnosed with a glioblastoma, you usually have surgery followed by radiotherapy and chemotherapy at the same time. Temozolomide is a chemotherapy drug that doctors often use. It is a standard treatment

. After you finish radiotherapy, you may have temozolomide on its own. This is called adjuvant or maintenance treatment.
In this trial, researchers are looking at a new treatment vaccine called rindopepimut alongside temozolomide. Rindopepimut (also known as CDX-110) is a type of biological therapy called a cancer vaccine.
Between a quarter and a third of all glioblastomas may contain a particular protein called EGFRvIII. Rindopepimut is being tested to see if it can train the immune system to recognise this protein and kill the glioblastoma cells. Everybody taking part in this trial will have a test first to confirm if their glioblastoma contains the protein. The aim of the trial is to see if rindopepimut alongside temozolomide helps this group of people. The researchers want to
Find out if rindopepimut helps to shrink the glioblastoma or delays it starting to grow again
See if people having this treatment live longer
Learn more about the side effects and how it affects peoples' quality of life
See how rindopepimut affects the immune system
Who can enter
You may be able to enter this trial if
You have recently been diagnosed with a glioblastoma and have had surgery to remove as much of the tumour as possible, followed by radiotherapy and temozolomide chemotherapy
Your glioblastoma cells contain the EGFRvIII protein – the trial team will get sample of your tumour removed when you had surgery to check for this
Scans shows that your glioblastoma hasn't got worse since you had surgery
You are well enough to be up and about for at least half the day (performance status 0, 1 or 2)
You are at least 18 years old
You are willing to use reliable contraception if there is any chance you or your partner could become pregnant
You cannot enter this trial if you
Have a tumour that started in your hind brain or brain stem, a tumour affecting more than 1 part of your brain, or a tumour that may have spread to other parts of your body
Have had stereotactic radiosurgery
Have had treatment with Gliadel wafers or any other treatment directly into the brain
Have had any chemotherapy drugs other than temozolomide, a drug called bevacizumab or any other experimental drugs
Have had any other cancer in the last 3 years, unless it was a very early stage and has been successfully treated – the trial team can advise you about this
Are planning to have major surgery
Have an infection that needs treatment or any other medical condition that could affect you taking part – the trial team can advise you about this
Need to take steroids unless this is now only a low dose
Use drugs or alcohol and this is a cause for concern
Are known to be allergic or very sensitive to substances called keyhole limpet haemocyanin (KLH) or polysorbate 80, products made from yeast or a drug called GM-CSF
Have ever had a bad reaction to shellfish
Are pregnant or breastfeeding
Trial design
This phase 3 trial will recruit about 700 people. Everybody taking part has had radiotherapy and chemotherapy after surgery. And scans must show that their glioblastoma has not got bigger during this time.
The trial is randomised.The people taking part are put into treatment groups by a computer. Neither you nor your doctor will be able to decide which group you are in.  And neither of you will know which group you are in. This is called a double blind trial.
Rindopepimut is made by attaching a piece of the glioma protein (EGFRvIII) to a compound called keyhole limpet haemocyanin or KLH. This is then mixed with a drug called granulocyte-macrophage colony stimulating factor (GM-CSF). Both KLH and GM-CSF help to activate the immune system.
In this trial, people in one group have injections containing rindopepimut, KLH and GM-CSF. People in the other group have injections that only contain KLH.  The injections are given in the same way, just under your skin.
People in both groups take temozolomide tablets for 5 days every 4 weeks. Each 4 week period is called a cycle of treatment.
You start by having the injections twice, 2 weeks apart. About 2 weeks later, you start taking temozolomide. You then have the injections in the 3rd week of each 4 week treatment cycle.
Most people have 6 cycles of temozolomide, though some people may be able to carry on having it for longer. When you finish taking temozolomide, you can continue to have the injections every 4 weeks. As long as you don't have bad side effects, you can carry on having them  until your glioblastoma starts to get worse.
The trial team will ask you to fill out a questionnaire before you start treatment, every month during treatment and after you finish treatment. The questionnaire will ask about side effects and how you've been feeling.  This is called a quality of life study.
Hospital visits
You see the trial team and have some tests before you start the trial treatment. The tests include
Physical examination
Blood tests
Urine tests
The trial team will also take a sample of cells from the inside of your cheek. They will use these samples to look for certain genes that affect your immune system. This may help them to work out who is most likely to benefit from the trial treatment.
You go to hospital
Twice in the first 2 weeks
Twice every 4 weeks while you are having temozolomide and the injections
Once every 4 weeks when you are having the injections on their own
You have blood tests at each visit. You have regular MRI scans throughout your treatment.
When you stop having the injections, you have another hospital visit 4 weeks later. Then you see the trial team every 3 months for the next 6 months. After that, they will contact you by phone every 3 months to see how you are.
If your glioblastoma gets worse and you have another biopsy or more surgery, the trial team will get a sample of the tissue that is removed.
Side effects
Both rindopepimut and the injections containing only KLH can cause a skin reaction such as redness, itching and swelling. There is also a possibility that either injection could cause a more serious allergic reaction.
As rindopepimut is a new treatment, there may be side effects we don't know about yet. In an earlier trial, the most common side effects were
Tiredness (fatigue)
Rash
Itching
Headache
Rarely, rindopepimut can cause swelling in the brain leading to symptoms such as headache, confusion, fits (seizures), muscle weakness, unsteady walking, a lack of coordination or slurred speech. If this happens, you may have drugs such as steroids to reduce the swelling, or you may have surgery.
We have more information about the side effects of temozolomide in our cancer drugs section.
How to join a clinical trial
Please note: In order to join a trial you will need to discuss it with your doctor, unless otherwise specified.
Please note - unless we state otherwise in the summary, you need to talk to your doctor about joining a trial.
Supported by
Celldex Therapeutics
Experimental Cancer Medicine Centre (ECMC)
NIHR Clinical Research Network: Cancer
CRUK internal database number:
Please note - unless we state otherwise in the summary, you need to talk to your doctor about joining a trial.
Rhys was only four years old when he was diagnosed with a brain tumour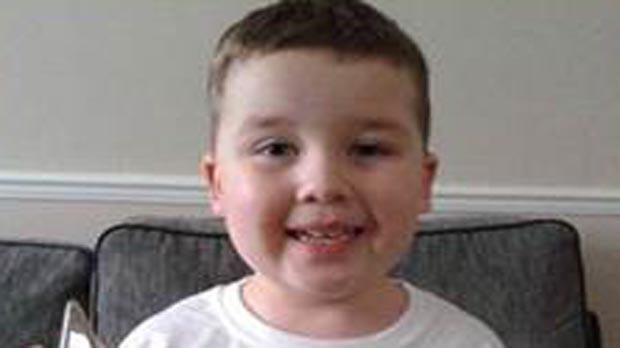 "He went through six operations and was placed on a clinical trial so he could try new treatments."