A trial of Lugol's iodine during surgery to remove abnormal cells from the mouth (LISTER)
Coronavirus (COVID-19)
We know that this is an especially worrying time for people with cancer and their family and friends. We have separate information about coronavirus and cancer. Please read that information alongside this page. We will update that information as guidance changes.
Please note - this trial is no longer recruiting patients. We hope to add results when they are available.
This trial is for people having surgery to remove abnormal cells from the lining of their mouth or part of the throat behind the mouth (oropharynx). This abnormal cell growth is called dysplasia

.
More about this trial
Dysplasia can range from being slightly abnormal to very abnormal. Cancer is more likely to develop in very abnormal cells. 
We know that removing these abnormal cells can reduce the risk of cancer developing. But it is often difficult for surgeons to clearly see where the abnormal cells end and normal cells begin. 
Lugol's iodine has been used in other parts of the body to show where abnormal cells are. Researchers think it might help surgeons during surgery to remove dysplasia from the mouth and part of the throat behind the mouth. Areas of dysplasia can be called lesions. 
To find this out researchers need to do a clinical trial with a large number of people. But before a large clinical trial can be done they need to find out if people are willing to take part. This is called a feasibility study.
Who can enter
The following bullet points list the entry conditions for this trial. Talk to your doctor or the trial team if you are unsure about any of these. They will be able to advise you. 
You may be able to join this trial if all of the following apply. You
Have abnormal cell growth (dysplasia) of the lining of the mouth or part of the throat behind the mouth (oropharynx)
Are having surgery under a general anaesthetic  to remove the dysplasia
Are at least 18 years old
You cannot join this trial if any of these apply. You
Have already had surgery or radiotherapy for a head and neck cancer
Have been diagnosed with a head and neck cancer that is a squamous cell cancer  in the past 5 years
Have had another type of cancer in the past 2 years apart from basal cell carcinoma  or carcinoma in situ of the cervix
Trial design
This is a feasibility study. The team need 40 people to take part. 
The study is randomised. Everyone taking part is put into 1 of 2 groups. 
Neither you or your doctor can choose which group you are in. You will not know which group you are in. This is called a blinded trial.
The 2 groups are:
standard surgery with Lugol's iodine
standard surgery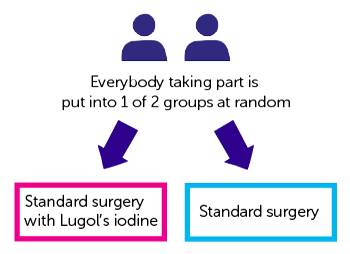 For people whose surgeon is using Lugol's iodine they use it to stain the lesion and the area around it. This shows any abnormal cells that may be around the edge of the lesion. The surgeon will then decide how much surrounding tissue to remove.
For people having standard surgery the surgeon takes out the lesion as usual. They won't use the stain to look for any more abnormal cells. Instead they'll remove some tissue from around the lesion, which they normally do.
The researchers will ask you to fill in a questionnaire before surgery and then after at:
6 weeks
3 months
6 months​​
The questions ask about your general health and wellbeing and if surgery has affected your ability to talk, chew and swallow. This is called a quality of life study. You don't have to agree to do this. You can still take part in the trial.
Hospital visits
There are no extra hospital visits if you take part.
Side effects
There are no expected side effects from using Lugol's iodine.
Do tell your doctor if you think you may be allergic to iodine.
How to join a clinical trial
Please note: In order to join a trial you will need to discuss it with your doctor, unless otherwise specified.
Please note - unless we state otherwise in the summary, you need to talk to your doctor about joining a trial.
Supported by
NHS Greater Glasgow and Clyde
Oracle Cancer Trust
Questions about cancer? Contact our information nurses
CRUK internal database number:
Please note - unless we state otherwise in the summary, you need to talk to your doctor about joining a trial.
Around 1 in 5 people take part in clinical trials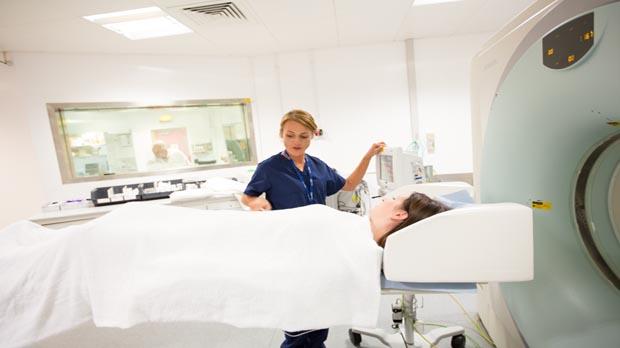 Around 1 in 5 people diagnosed with cancer in the UK take part in a clinical trial.