A trial looking at Intensity Modulated Radiotherapy (IMRT) to treat cancer of the cervix (DEPICT)
Please note - this trial is no longer recruiting patients. We hope to add results when they are available.
This trial is looking into increasing the radiation dose when giving radiotherapy for cancer of the cervix. This trial is supported by Cancer Research UK.
More about this trial
If you have cancer of the cervix, you may have surgery, radiotherapy or chemotherapy. If you have radiotherapy, your doctor will carefully plan your dose, and exactly where to aim the radiotherapy beam to treat your cancer. Doctors always try to give the highest dose to the cancer, while missing as much nearby healthy tissue as possible. But when healthy tissue is exposed, it can become damaged and cause side effects. So doctors have to limit the strength of the dose they give.
This trial is looking at a type of radiotherapy called intensity modulated radiotherapy (IMRT). IMRT shapes the radiation beams to closely fit the shape of the cancer. But it also alters the radiotherapy dose, according to the shape of the cancer. This means that the central part of the cancer receives the highest dose of radiotherapy and a surrounding area of tissue gets lower doses. So you may have fewer side effects. Because of this, doctors want to find out if they can safely increase your radiotherapy dose.
The aim of this trial is to see if doctors can increase the radiation dose to the cancer, without causing more side effects than standard radiotherapy treatment.
Who can enter
You can enter this trial if
You have either squamous cell cancer or adenocarcinoma of the cervix, or the cancer cells look very abnormal under a microscope (they are 'poorly differentiated')
You have cervical cancer that is stage 1B2 or 2A with cancer cells in the lymph nodes in your pelvis OR your cancer is anywhere between stages 2B and 4A, with or without cancer cells in the lymph nodes in your pelvis – you can check this with your doctor
Doctors can measure your cancer on an MRI scan
Your kidneys are working well (you have a satisfactory kidney function blood test (GFR) result)
You have other satisfactory blood tests
You are well enough to carry out light physical tasks (performance status 0 or 1)
You are at least 18 years old
You are willing to use reliable contraception if there is any chance that you could become pregnant
You cannot enter this trial if
Your cancer has spread to lymph nodes close to nearby arteries ('common iliac' or 'para aortic' lymph nodes), or to distant parts of your body
You have had any other cancer except non melanoma skin cancer that has been successfully treated
You have had surgery or radiotherapy to the area between your hip bones (your pelvis) - if you have had a procedure called 'laparoscopic node dissection' you can still take part
You have diabetes
You have any condition which causes inflammation in your pelvis or bowel
You have a condition where body tissue in your pelvis sticks together (pelvic adhesions)
You are pregnant or breastfeeding
Trial design
This is a phase1/2 trial. It will recruit up to 44 women. Everyone will have radiotherapy and chemotherapy. This is called 'chemoradiation', and would be the standard treatment if you were not taking part in this trial. The only difference is that you will have a type of radiotherapy called 'intensity modulated radiotherapy (IMRT)', which shapes the beam to your cancer. This allows a slightly higher total radiation dose to the cancer, without increasing the dose to normal tissues nearby.
You will be in one of 3 groups. The group you are in depends on when you join the trial. The first group of women taking part will have the lowest dose of IMRT. If they don't have any serious side effects, the next group of women will have a higher dose. And so on, until they find the best dose to give. This is called a 'dose escalation trial'.
Before you start treatment, you will have a session to plan your radiotherapy. You then have IMRT radiotherapy every day for either 27, 29 or 30 days, depending on your group. Each session will last about 10 minutes.
You will also have cisplatin chemotherapy once a week. You have cisplatin through a drip into a vein over an hour. You have extra fluid through a drip before and after your cisplatin. This helps your kidneys to flush the chemotherapy out of your body. On the days you have cisplatin, you have your radiotherapy at least half an hour after your chemotherapy.
The trial team also wants to find out how this treatment is affecting your daily life. They will ask you to fill out a questionnaire before you start treatment, and then 4 times in the 2 years after your treatment. The questionnaire will ask you about any side effects you have had and about how you have been feeling. This is called a quality of life study and will take about 15 minutes to complete.
Hospital visits
Before you start the trial, you will see the doctor and have some tests. These test include
A physical examination and medical history
Examination under general anaesthetic , including a cystoscopy, and biopsy of any abnormal areas
Blood tests
MRI scan of your pelvis
CT scan or MRI scan of your tummy (abdomen)
CT scan or X-ray of your chest
Kidney function test (glomerular filtration rate or GFR test)
Pregnancy test (if appropriate)
You will come to hospital to plan your radiotherapy, and then to have radiotherapy every week day for about 6 weeks. You also have your chemotherapy once a week during this time.
During your course of radiotherapy you will see the doctor every week and have a blood test. You may have other tests if your doctor thinks you need them.
After your radiotherapy, you will see the doctor
After one month
After 3 months
Every 3 months after this until you finish the trial
You will have a blood test and MRI scan at your 3 month and 12 month appointments.
Altogether, you will take part in the trial for 2 years. If you agree, the trial team will monitor your progress for the next 5 years or so, according to the normal practice at your hospital.
Side effects
Common side effects of cisplatin chemotherapy include
A drop in blood cells causing an increased risk of infection, bleeding problems, tiredness and breathlessness
Risk of hearing loss
You can find out more about the side effects of cisplatin on CancerHelp UK.
Side effects of radiotherapy to the pelvis include
Sometimes side effects can happen months or years after treatment. Your medical team will keep a close eye on this when you see them for follow up appointments. You can find out more about immediate and delayed side effects of cervical cancer radiotherapy on CancerHelp UK.
How to join a clinical trial
Please note: In order to join a trial you will need to discuss it with your doctor, unless otherwise specified.
Please note - unless we state otherwise in the summary, you need to talk to your doctor about joining a trial.
Supported by
Barts Cancer Institute
Barts Health NHS Trust
Cancer Research UK
Experimental Cancer Medicine Centre (ECMC)
NIHR Clinical Research Network: Cancer
Other information
This is Cancer Research UK trial number CRUK/10/002.
CRUK internal database number:
Please note - unless we state otherwise in the summary, you need to talk to your doctor about joining a trial.
Charlie took part in a trial to try new treatments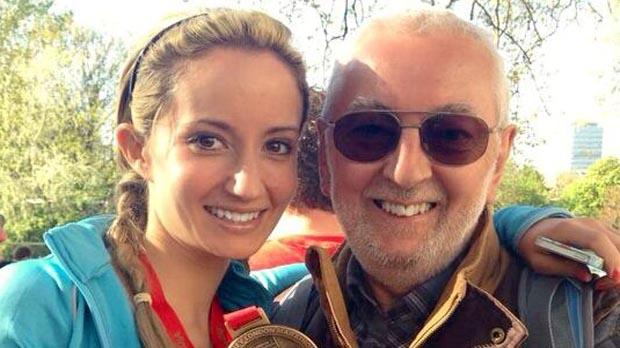 "I think it's really important that people keep signing up to these type of trials to push research forward."