A trial looking at using ultrasound and biomarkers in treatment for pleural effusion (SIMPLE)
Please note - this trial is no longer recruiting patients. We hope to add results when they are available.
This trial is for people who have a pleural effusion caused by cancer. A pleural effusion is a build up of fluid in the space between the sheets of tissue that cover the outside of the lung and the lining of the chest cavity. These sheets of tissue are called the pleura.
More about this trial
A pleural effusion can cause
shortness of breath
an aching chest
discomfort and heaviness
There is treatment to stop fluid from building up and help relieve symptoms. This treatment is called pleurodesis. It seals the space between the tissues covering the lung by using sterile talc to make them inflamed so they stick together. Then there is no space for the fluid to collect.      
In this trial doctors want to see if there is a way they can improve pleurodesis treatment. They want to
see if using an ultrasound scan as well as a chest X-ray can show how well the treatment is working
test any fluid they drain from the pleura to see if there are any biomarkers that could tell them how well this treatment will work 
Who can enter
You may be able to join this trial if all of the following apply. You
Have pleural effusion caused by your cancer
Have been recommended to have pleurodesis by your doctor because of symptoms such as shortness of breath
Are aged 18 or older
You cannot join this trial if any of these apply. You
Are not able to have a tube put in to drain the pleural effusion
Trial design
The doctors need 262 people to take part in this trial.
It is a randomised trial. Before you have your pleurodesis treatment you are put into 1 of 2 treatment groups. Neither you nor your doctor can choose which group you are in.
One group has daily chest X-rays
The other group has a daily ultrasound scan of their chest and a chest X-ray
Both groups have these tests until they go home.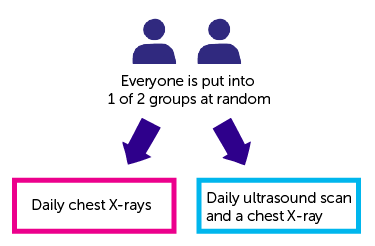 There are 2 main types of pleurodesis treatment. Your doctor will explain which treatment they think is best for you. 
You have either thoracoscopy and talc poudrage or a chest drain and talc slurry. 
You have a blood test and the doctor takes some pleural fluid about 2 to 4 hours after they have put the talc into your pleural space. The researchers use these samples to look for biomarkers. 
Hospital visits
Once you agree to take part in the trial you will be given an appointment for your treatment, unless you are already in hospital.
You see a trial doctor or a research nurse before you have treatment.  They ask you questions about your health and the symptoms you have.  You also have
a physical examination
a chest X-ray
blood test
some fluid drained from the pleural space
They will ask you to complete a questionnaire. This has questions about how your condition affects your day to day life (a quality of life questionnaire)
You need to be in hospital to have your pleurodesis treatment. How long depends on which type of treatment you have.
Thoracoscopy and talc poudrage- you are in hospital for around 2 to 3 days
Chest drain and talc slurry- you are in hospital for around 5 to 7 days
You'll complete daily scores to record how breathless you are and if you have any pain each day. You need to complete these scores for 7 days after you have had your procedure.
Before you go home the doctor or research nurse will give you 2 booklets to fill in. One is for you to continue to record your pain and how short of breath you are. You need to fill it in once a week for 4 weeks.
The other booklet is for you to record any contact you have with your GP, hospital or any other medical service after you go home.
The trial doctors see you 1 and 3 months after you go home. You need to bring the booklets to these appointments.  At these appointments you 
complete a quality of life questionnaire
have an ultrasound scan and a chest X-ray
Where possible the trial doctors will arrange these appointments to be at the same time as other routine appointments you might have. 
Side effects
There are no specific side effects from taking part in this trial.
Your trial doctor or research nurse will explain what you can expect during and after your pleurodesis treatment. 
How to join a clinical trial
Please note: In order to join a trial you will need to discuss it with your doctor, unless otherwise specified.
Please note - unless we state otherwise in the summary, you need to talk to your doctor about joining a trial.
Supported by
European Respiratory Society
Marie Curie Cancer Care
NIHR Clinical Research Network: Cancer
Slater & Gordon Research Fund
University of Oxford
CRUK internal database number:
Please note - unless we state otherwise in the summary, you need to talk to your doctor about joining a trial.
Charlie took part in a trial to try new treatments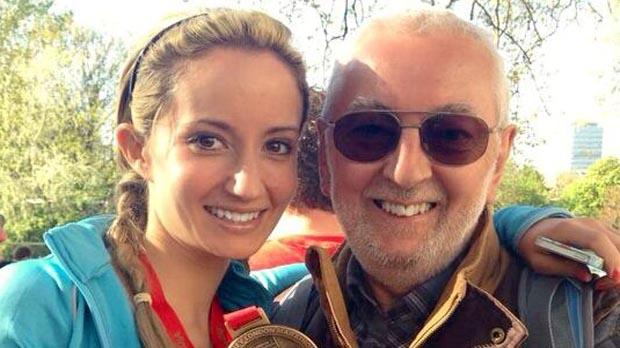 "I think it's really important that people keep signing up to these type of trials to push research forward."