A trial looking at targeted drugs for mesothelioma (MiST)
Please note - this trial is no longer recruiting patients. We hope to add results when they are available.
This trial is looking at different targeted cancer drugs for mesothelioma that has continued to grow during chemotherapy or came back after chemotherapy. 
More about this trial
One of the standard treatments

 for mesothelioma is chemotherapy. But there is no standard treatment if the mesothelioma continues to grow during chemotherapy or comes back after. 
Targeted cancer drugs work by targeting the differences that help a cancer cell to grow and divide. 
In this trial researchers want to know if certain targeted drugs can treat mesothelioma that continues to grow or come back after chemotherapy. 
There are 3 stages to this trial. 
In the 1st stage the team looks at a piece of tissue from your mesothelioma. They are looking for certain substances (biomarkers

) in the mesothelioma cells. You might be offered treatment as part of the MiST trial if your mesothelioma cells have 1 or more of these biomarkers. 
In stage 2 the researchers are looking at different treatments for mesothelioma. Which treatment you have as part of the trial depends on which biomarkers are in your mesothelioma cells.
 
In the 3rd stage researchers are looking at the tissue samples (biopsies

) taken as part of the MiST trial. They are looking at the genes of these samples to try and work out why some drugs work and why some drugs stop working. 
The aims of the trial are to find out:
how well these treatments work for mesothelioma
how safe these treatments are 
what the side effects are of these treatments
Who can enter
The following bullet points list the entry conditions for this trial. Talk to your doctor or the trial team if you are unsure about any of these. They will be able to advise you. 
Who can take part
You may be able to join this trial if all of the following apply. You:
have mesothelioma and there is mesothelioma tissue (biopsy ) available for the trial team 
have had chemotherapy that included a platinum drug , such as carboplatin or cisplatin. 
have a CT scan  that confirms your mesothelioma has grown or spread 
are fully active, can do most everything apart from heavy physical work (performance status 0 or 1)
are willing to use reliable contraception during treatment and for 6 months after if there is any chance you or your partner could become pregnant 
are at least 18 years old 
Who can't take part
You cannot join this trial if any of these apply:
you have mesothelioma spread to the brain or spinal cord, you might be able to join if the spread has been treated with radiotherapy more than 28 days before starting treatment in this trial  
you have had another cancer apart from successfully treated prostate cancer  or cervical cancer  that hasn't come back, basal cell skin cancer  or superficial (early) bladder cancer
you have moderate to severe congestive heart failure
your liver isn't working very well
your kidneys aren't working very well
you are having long term oxygen
you have any other medical or mental condition your doctor or the trial team think will affect you taking part  
Trial design
This is a phase 2 trial. The trial team are looking at different treatments arms. 
The 1st treatment arm (MiST1) looked at rucaparib. This arm is now closed.  
The 2nd treatment arm (MiST2) looked at abemaciclib. This arm is now closed.
The 3rd treatment arm (MiST3) looked at bemcentinib and pembrolizumab. This arm is now closed.  
The 4th treatment arm (MiST4) looked at atezolizumab and bevacizumab. This arm is now closed. 
MiST5
In MiST5 dostarlimab and niraparib. 
Dostarlimab is a targeted drug called a cancer growth blocker. It works by blocking a protein called PDL1. Cancer cells need PDL1 to grow. By blocking PDL1 dostarlimab might slow the growth of mesothelioma. 
You have dostarlimab as a drip into a vein. You have it once every 3 weeks for 12 weeks. You then have it every 42 days. 
Niraparib is a targeted drug called a PARP inhibitor. PARP is a protein that helps cells to repair damaged DNA. Blocking PARP means that cancer cells cannot repair their DNA. This causes the cancer cells to die and so  controlling the cancer's growth. 
Niraparib is a capsule. You have it once a day every day. Your doctor will tell you how many to take. You can take them with or without food. 
You continue to have treatment for 2 years. This is as long as it is helping and the side effects aren't too bad. 
Samples
The team will ask your permission to obtain a piece of cancer tissue from when you were diagnosed. If this isn't available you must agree to give a fresh sample (biopsy

). 
You might be asked to give another sample of tissue if your treatment stops working. You don't have to agree to this if you don't want to. You can still take part in the trial. 
You also give blood samples during the trial. 
Researchers will use these samples to find out more about mesothelioma and how to treat it. 
You also give a poo sample before the start of treatment and at  times during treatment. Researchers use these samples to help them understand more about the effect immunotherapies have on the natural bacteria

found in your bowel. 
Hospital visits
You have some tests before taking part. These tests include:
a physical examination
blood tests
heart trace (

ECG

)
chest x-ray if needed
urine sample
poo sample
You see the doctor often while having treatment. This is to see how you are and for blood tests. 
You have a CT scan every 6 weeks for 24 weeks and then every 12 weeks.
After treatment you see the doctor at:
30 days
6 months 
then once a year for up to 5 years
Side effects
You have an emergency card (like a business card) that has the contact details of the trial team. You should contact them if you have any side effects.
The most common side effects of dostarlimab are:
a drop in the red blood cells causing tiredness and breathlessness
changes to how well your liver works
The most common side effects of narparib are:
a drop in blood cells causing an increased risk of infection, bruising and bleeding
high blood pressure
changes to the heart beat such as missing a beat or beating harder
urine infection causing pain and needing to pass urine more often
shortness of breathe
runny or stuffy nose
cough
headache
dizziness
feeling weak and lack of energy
difficulty sleeping
joint and muscle pain
stomach pain and indigestion
feeling or being sick
diarrhoea or constipation
Your doctor or a member of the research team will talk to you about the side effects of atezolizumab and bevacizumab before you agree to take part. 
How to join a clinical trial
Please note: In order to join a trial you will need to discuss it with your doctor, unless otherwise specified.
Please note - unless we state otherwise in the summary, you need to talk to your doctor about joining a trial.
Supported by
Asthma + Lung UK
Experimental Cancer Medicine Centre (ECMC)
University of Leicester
If you have questions about the trial please contact our cancer information nurses
Freephone 0808 800 4040
CRUK internal database number:
Please note - unless we state otherwise in the summary, you need to talk to your doctor about joining a trial.
Cara took part in a clinical trial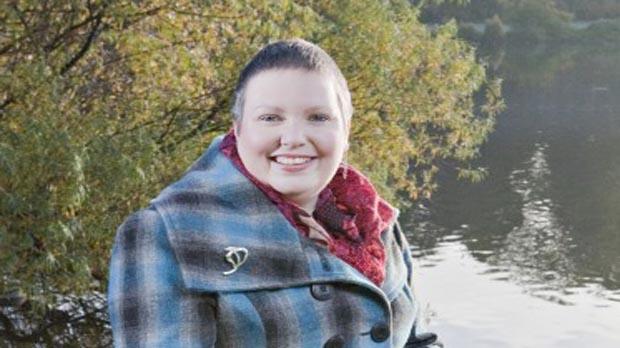 "I am glad that taking part in a trial might help others on their own cancer journey."