A trial looking at stents to relieve breathlessness for non small cell lung cancer (RESTORE - AIR)
Cancer type:
Non small cell lung cancer
This trial was looking at a tube called a bronchial stent to see if it could relieve breathlessness. It was for people with a type of lung cancer called non small cell lung cancer (NSCLC).
More about this trial
Sometimes, lung cancer can partly or completely block the main airways of the lungs (the windpipe or main bronchus). This can cause shortness of breath.
Doctors can give radiotherapy or chemotherapy to control the growth of the cancer. But these may not work well, or you may not be able to have these treatments. 
Another way to unblock the airway is to have a bronchial stent. You have a bronchoscopy and a stent put in the blocked airway to open it up.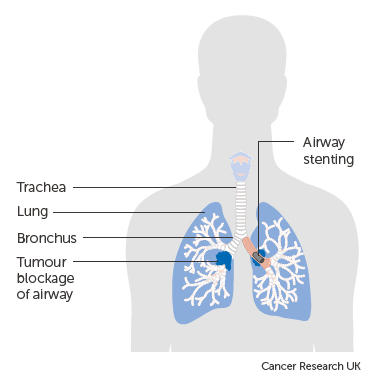 Putting in a stent is not usually the first treatment offered. But doctors think using a stent before any other treatment may relieve breathlessness.
In this trial, some people had a bronchoscopy and stent and some people didn't.
 The aims of the trial were to find out if using a stent 
Helped to relieve breathlessness 
Made it easier to cope with other cancer treatment 
The researchers also looked at whether having a stent improved the quality of life of those taking part. For example, if it helped with daily activities such as walking.
Summary of results
The trial team found no difference in symptoms between those people who had a bronchial stent and those who didn't. The team also found that it was difficult to find people who wanted to take part in this trial.
This was a phase 3 trial. The trial was randomised. This means the people taking part were put into 1 of 2 groups by a computer. Neither they nor their doctor chose which group they were in. But people were told which treatment they were going to have.
10 people were planned for a bronchoscopy and stent
11 people did not have a bronchoscopy, (this was the control group )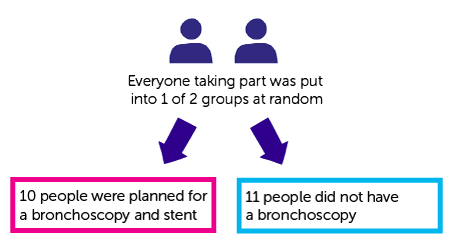 Out of the 10 people who were due to have a bronchoscopy
1 person became too unwell to have the procedure
3 people had a stent put in place 
4 people did not have a stent but had other treatments, such as removing some of the cancer or laser treatment
2 people did not need a stent or other treatment because their airway was not blocked
People in both groups had various tests and assessments at different points during the trial. The researchers looked at 
breathlessness
walking – the distance walked over 6 minutes 
quality of life – for example, people's symptoms and daily activities
The researchers did not find any significant difference between the 2 groups. 
19 of the 21 people who took part went on to have further treatment after the trial. This suggests that most remained reasonably fit and well during the treatment and for a period of time afterwards.
In total 52 people were assessed to take part in the trial. But for various reasons, 31 did not go on to take part in the randomisation.  
Some people
decided they did not want a stent
had other treatments such as chemotherapy or biological therapy
had a stent outside of the trial
were not well enough to have a stent
did not have a significant enough blockage in their airway when assessed using a CT scan
The researchers thought it was important to record the reasons for people not taking part. They believe this can help doctors to plan trials in the future. 
This trial team tried to compare stenting with no stenting. They recommend that a future trial could look at the benefits of any treatment that helps to unblock an airway.  For example, surgery to remove the cancer or laser treatment. 
It is not always possible for a doctor to know which treatment is going to help until a bronchoscopy is carried out. In a future trial, if people know that they may have 1 of a range of treatment options, the trial may be able to get more people to take part.
We have based this summary on information from the research team. The information they sent us has been reviewed by independent specialists (peer reviewed

) but may not have been published in a medical journal. The figures we quote above were provided by the research team. We have not analysed the data ourselves.
How to join a clinical trial
Please note: In order to join a trial you will need to discuss it with your doctor, unless otherwise specified.
Please note - unless we state otherwise in the summary, you need to talk to your doctor about joining a trial.
Supported by
Marie Curie Cancer Care
NIHR Clinical Research Network: Cancer
St George's Healthcare NHS Trust
The Royal Marsden NHS Foundation Trust
If you have questions about the trial please contact our cancer information nurses
Freephone 0808 800 4040
CRUK internal database number:
Please note - unless we state otherwise in the summary, you need to talk to your doctor about joining a trial.
Cara took part in a clinical trial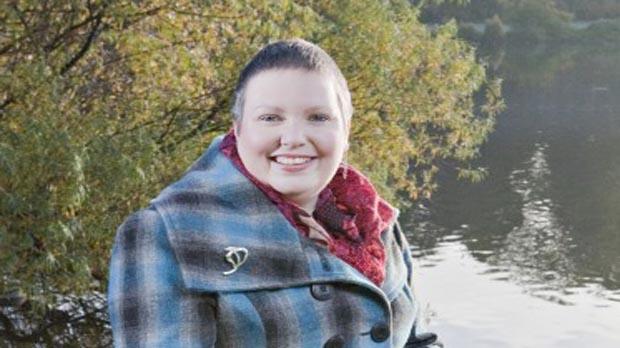 "I am glad that taking part in a trial might help others on their own cancer journey."