A trial looking at nelfinavir and chemoradiotherapy for pancreatic cancer (SCALOP-2)
This trial looked at a higher dose of radiotherapy and a drug called nelfinavir for pancreatic cancer. It was for people whose cancer couldn't be removed with surgery. But it hadn't spread to another part of the body.
The trial was supported by Cancer Research UK. It was open for people to join between 2016 and 2020. The research team presented the results at a conference in 2022.
More about this trial
Doctors usually treat pancreatic cancer that can't be removed with surgery with chemotherapy, or chemotherapy and radiotherapy together (chemoradiotherapy). 
In this trial, researchers wanted to look at 2 treatment options:
a higher dose of radiotherapy 
a drug called nelfinavir 
Nelfinavir is a type of drug called an antiretroviral. When this trial was done, it was already being used to treat human immunodeficiency virus (HIV). Research had shown that it may be able to increase the oxygen supply to cancer cells. The researchers hoped this would make cancer cells more sensitive to radiotherapy. 
The main aims of this trial were to find out:
if a higher dose of radiotherapy can help people live longer
if adding nelfinavir to chemoradiotherapy can help delay the cancer growing
more about the side effects of having nelfinavir, capecitabine and higher dose radiotherapy
Summary of results
The research team found that having nelfinavir and higher dose radiotherapy didn't help people with pancreatic cancer live longer.
Trial design
This trial was for people with pancreatic cancer that had grown outside of the pancreas but had not spread. This is called stage 3 cancer, or locally advanced cancer.
Everyone taking part had chemotherapy to begin with. They then went in to 1 of 5 treatment groups (A to E) at random. 
People in the first 4 groups had capecitabine and radiotherapy. Those in groups A and C also had nelfinavir. And those in groups C and D had a higher dose of radiotherapy. People in group E had chemotherapy, but not radiotherapy or nelfinavir.
Results
A total of 106 people joined this trial. There were:
19 people in group A
26 people in group B
19 people in group C
27 people in group D
15 people in group E
The researchers looked at several factors including:
how long it was before the cancer started to grow
how many people were living, 12 months after joining the trial
They compared those who had nelfinavir with those who didn't. And those who had standard dose radiotherapy with those who had higher dose radiotherapy. They found there was very little difference between the groups. 
Researchers measure something called median progression free survival. This means the length of time before the cancer started to grow in half of the people in the trial. This was between 10 and 11 months for all the groups in this trial.  And about 7 out of 10 people in all groups were living a year after joining the trial.
Side effects
The research team looked at how many people had side effects. But they are not sure yet whether these were caused by the treatment people had. They could have been a coincidence and not related to the treatment. These are called adverse events, rather than side effects.
Most people taking part had at least 1 adverse event. Many were mild or didn't last long, but some were more serious.
About 3 in 10 patients had a serious adverse event during chemotherapy. And about 1 in 10 people had a serious adverse event during radiotherapy. This was similar in all the groups. 
Conclusion
The research team concluded that neither a higher dose of radiotherapy or nelfinavir helped people with pancreatic cancer live longer. But even when a trial shows a treatment isn't useful for a particular cancer, it adds to our knowledge and understanding of cancer and how to treat it.
More detailed information
There is more information about this research in the reference below. 
Please note, the information we link to here is not in plain English. It has been written for healthcare professionals and researchers.
SCALOP2: A multicenter randomized trial of RT dose escalation and nelfinavir in pancreatic cancer
S Mukherjee and others
ESTRO conference, Copenhagen, May 2022. Presentation number OC-0103.
Where this information comes from
We have based this summary on the information in the article above. As far as we are aware, it has not been reviewed by independent specialists (peer reviewed)

 or published in a medical journal yet. We have not analysed the data ourselves. 
How to join a clinical trial
Please note: In order to join a trial you will need to discuss it with your doctor, unless otherwise specified.
Please note - unless we state otherwise in the summary, you need to talk to your doctor about joining a trial.
Chief Investigator
Professor Somnath Mukherjee
Supported by
Cancer Research UK
Celgene Ltd
Experimental Cancer Medicine Centre (ECMC)
National Radiotherapy Trials Quality Assurance Group (RTTQA) 
NIHR Clinical Research Network: Cancer
Oxford Clinical Trials and Research Unit (OCTRU)
University of Oxford
Other information
This is Cancer Research UK trial number CRUK/07/040.
If you have questions about the trial please contact our cancer information nurses
Freephone 0808 800 4040
CRUK internal database number:
Please note - unless we state otherwise in the summary, you need to talk to your doctor about joining a trial.
Around 1 in 5 people take part in clinical trials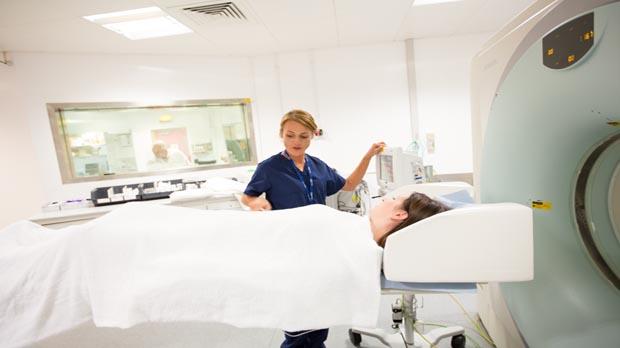 Around 1 in 5 people diagnosed with cancer in the UK take part in a clinical trial.