A trial looking at chemotherapy before a stem cell transplant for children with acute myeloid leukaemia (MyeChild01)
Coronavirus and cancer
We know it's a worrying time for people with cancer, we have information to help. If you have symptoms of cancer contact your doctor.
Cancer type:
Acute myeloid leukaemia (AML)
Myelodysplastic syndrome (MDS)
This trial is for children and young people with leukaemia that has a high risk of coming back after treatment. It is open to children and young people with:
This summary is 1 of 3 summaries of the MyeChild01 trial. We have information on:
 Cancer Research UK supports the MyeChild01 trial.
This study is for children and young people who haven't reached their 18th birthday. We use the term 'you' in the summary but if you are a parent we are referring to your child.
More about this trial
When treating AML with chemotherapy there are 2 stages. The 1st stage is to get rid of the leukaemia cells in the bone marrow. This is called induction chemotherapy. The 2nd stage is to stop it coming back. This is called consolidation chemotherapy. 
After each stage doctors do some tests to work out the risk of your leukaemia coming back. Your doctor might suggest you have a stem cell transplant if you are at high risk. 
You have a combination of chemotherapy drugs before the stem cell transplant. This is called conditioning chemotherapy. 
The standard treatment

for this is called myeloablative conditioning (MAC). This works but it has many side effects. 
Reduced intensity conditioning (RIC) is another combination of chemotherapy drugs that doctors might use. 
Research suggests that RIC might be as good as MAC. And because it isn't as severe as MAC it has fewer side effects. But there haven't been any large randomised clinical trials to show this. 
In this trial researchers want to compare MAC with RIC. The combination of chemotherapy drugs they will use is: 
The aims of the trial are to find: 
if RIC is as good a conditioning chemotherapy as MAC before a stem cell transplant to treat AML 
if RIC has fewer side effects
Who can enter
The following bullet points list the entry conditions for this trial. Talk to your doctor or the trial team if you are unsure about any of these. They will be able to advise you. 
You may be able to join this trial if all of the following apply. You have one of the following:
And all of the following must apply:
you have had induction chemotherapy as part of the MyeChild01 trial or you have had 2 courses of mitoxantrone and cytarabine as induction chemotherapy outside of the MyeChild01 trial
you are considered able to have a stem cell transplant
you have a matched donor 
your heart works well enough, you have a test for this
you have satisfactory blood test results
you are willing to use reliable contraception if you are sexually active and there is any chance you or your partner could become pregnant
you are under 18 years old
You cannot join this trial if any of these apply. You:
have AML that has come back after treatment (relapsed) or continued to get worse during treatment (refractory) 
have acute promyelocytic leukaemia (APL)
have chronic myeloid leukaemia (CML) that is in blast crisis
have a disease where your bone marrow can't make blood cells (bone marrow failure syndromes)
have already had treatment with chemotherapy or a biological therapy that could affect you taking part in this study for example previous treatment with an anthracycline chemotherapy drugs such as doxorubicin and idarubicin 
have Down's syndrome
are pregnant or breastfeeding
Trial design
This is an international phase 3 trial. In the UK the trial team need 60 children and young people to join this part of the MyeChild01 trial. 
This is a randomised trial. People taking part are put into treatment groups by a computer. Neither you nor your doctor can choose which group you are in. 
There are 2 groups:
busulfan and cyclophosphamide (MAC)
busulfan and fludarabine (RIC)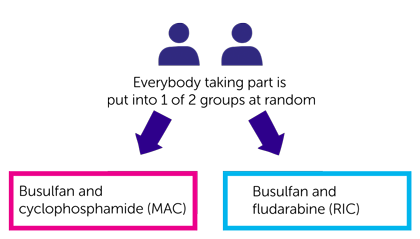 You have all your treatment as a drip through a central line. You have the treatment  given over 10 days before your transplant. 
Tissue and blood samples
The trial team will ask for extra blood samples and bone marrow samples

. These might be taken at the same time as the routine samples are taken.
They use some of the samples to look at different ways to measure how the leukaemia has responded to treatment. They hope this will help them identify people who are at a greater risk of their leukaemia coming back after treatment. 
Hospital visits
You have all your treatment as an inpatient in the hospital. 
Before starting treatment you have the following tests:
a physical examination
blood tests
a test to see how much oxygen is in your blood 
After you have completed all your treatment you see the doctor:
every 3 months for a year 
every 6 months in year 2
once a year for at least another 3 years
And have the following tests:
a physical examination
blood tests
echocardiogram (ECHO ) 1, 3, 5 and 10 years after diagnosis
Side effects
The side effects of having a stem cell transplant include:
a drop in blood cells causing an increased risk of infection, bruising and bleeding 
tiredness
shortness of breath
feeling or being sick
sore mouth
diarrhoea
a change to the way your liver, kidneys, lung and heart works
not been able to have children (infertility)
graft versus host disease
We have more information on the side effects of a stem cell transplant. 
Your doctor will talk to you about the side effects and risks of having a stem cell transplant before you agree to take part.
How to join a clinical trial
Please note: In order to join a trial you will need to discuss it with your doctor, unless otherwise specified.
Please note - unless we state otherwise in the summary, you need to talk to your doctor about joining a trial.
Supported by
Cancer Research UK
Pfizer
University of Birmingham
Other information
This is Cancer Research UK trial number CRUK/14/013.
You can read more information about the trial on the MyeChild01 website.
CRUK internal database number:
Please note - unless we state otherwise in the summary, you need to talk to your doctor about joining a trial.
Cara took part in a clinical trial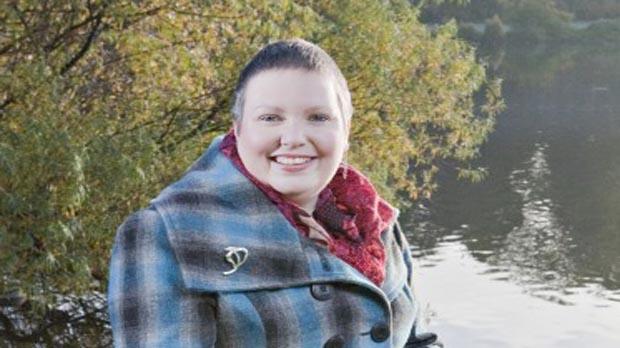 "I am glad that taking part in a trial might help others on their own cancer journey."