A trial looking at chemotherapy after surgery for small bowel cancer (BALLAD)
This trial is comparing different types of chemotherapy with no chemotherapy after surgery for small bowel cancer. The trial is supported by Cancer Research UK.
More about this trial
If possible doctors usually treat small bowel cancer with surgery first. Doctors aren't sure if it is best to give chemotherapy after surgery to reduce the risk of the cancer coming back or not. So they want to find out more. Chemotherapy has side effects and it is important that patients don't have treatments they don't need.
In this trial, researchers are looking at 3 different chemotherapy drugs called fluorouracil (also known as 5FU), capecitabine and oxaliplatin after surgery. There are 2 different parts to this trial. So depending on which part you join,
Some people don't have chemotherapy
Some people have 5FU or capecitabine
Some people have 5FU or capecitabine alongside oxaliplatin
The aims of the trial are to
Find out if having chemotherapy after surgery reduces the risk of the cancer coming back
Find out if adding oxaliplatin to chemotherapy is a useful treatment after surgery
Learn more about the side effects
Who can enter
You may be able to join this trial if all of the following apply. You:
Have a type of small bowel cancer called adenocarcinoma 
Have had an operation to remove your cancer – your cancer may or may not have spread elsewhere in the body 
A scan shows you don't have any signs of cancer after surgery 
Can start chemotherapy with 16 weeks of having your operation
Are well enough to carry out all your normal activities, apart from heavy physical work (performance status 0 or 1)
Have satisfactory blood test results
Are at least 16 years old
Are willing to use reliable contraception during the trial if there is any chance you or your partner could become pregnant.
You cannot join this trial if any of these apply:
Your tissue sample (biopsy ) shows that you have any cancer cell other than adenocarcinoma
You have cancer that started in the appendix or large bowel 
You had chemotherapy  or radiotherapy before surgery
You have a condition called dihydropyrimidine dehydrogenase deficiency (the trial team can tell you more about this). Some people with partial dihydropyrimidine dehydrogenase deficiency may be suitable to take part. 
You have coeliac disease that isn't well controlled
You have inflammation of the bowel that you have had for a long time
You have a blocked bowel or problems absorbing tablets
You have moderate to severe tingling or numbness in your hands or feet (peripheral neuropathy)
You are known to be sensitive to platinum salts (the trial team can tell you more about this)
You have an active infection or any other medical condition that means you can't have chemotherapy
You have certain heart problems (the trial team can tell you more about this)
You don't have enough of a vitamin in your body called B12
You have significant hearing loss so can't have oxaliplatin. You still may be able to take if your doctor thinks you are suitable to have fluorouracil or capecitabine instead. You doctor can tell you more about this.
You have had experimental treatment as part of a clinical trial in the last month
You have had another cancer in the last 3 years apart from successfully treated early cancers  or any other cancer that has been treated with the aim to cure and there hasn't been any sign of it for at least 3 years
You are pregnant or breast feeding
Trial design
This phase 2 trial aims to recruit more than 500 people worldwide. Everyone taking part will have had surgery to remove their small bowel cancer.
At the beginning of the trial, your doctor will talk to you about whether or not you are likely to benefit from having chemotherapy. If you and your doctor agree that it is uncertain whether you will benefit from chemotherapy, you join part 1.
If they think you are likely to benefit, you join part 2 and definitely have chemotherapy.
For both part 1 and 2, you and your doctors decide before randomisation which type of chemotherapy is best for you. The 2 treatment options are capecitabine or fluorouracil.
Part 1 of the trial is randomised. You are put into 1 of 3 treatment groups by a computer. Neither you nor your doctor will be able to decide which group you are in.
One group have no chemotherapy
One group have 5FU or capecitabine
One group have 5FU or capecitabine with oxaliplatin
Part 2 of the trial is for people likely to benefit from chemotherapy. You are put into one of the following groups at random.
One group have 5FU or capecitabine and oxaliplatin
The other group have 5FU or capecitabine
Some people may have thought about taking part in the trial but decided not to. The trial team may ask this group of people for a blood sample and to test a sample of tissue taken from when you had surgery.
If you are having 5FU, you have it as a continuous infusion via a small pump over 2 days every 2 weeks.
If you have capecitabine, you take this as tablets twice every day for 2 weeks. Then a week with no treatment.
If you have oxaliplatin, you have it through a drip into a vein once every 3 weeks. It takes about 2 hours each time.
Everyone has treatment for up to 6 months.
You have extra blood tests as part of this trial. Where possible you have these at the same time as your routine blood tests. The researchers want to look for substances called biomarkers

to find out why treatment might work for some people and not for others.
The researchers may also ask to look at a tissue sample (biopsies)

that was taken when you had surgery. They will look for biomarkers and they may use it for other tests in the future. If you don't want to give these samples for research, you don't have to. You can still take part in the trial.
Everybody taking part will be asked to fill out a questionnaire before starting treatment, at set times during the trial and after finishing treatment. The questionnaire will ask about any side effects you have had and about how you have been feeling. This is called a quality of life study.
Hospital visits
You see the doctor to have some tests before taking part in this trial. These tests include
Physical examination
Heart trace (ECG )
Blood tests
If you have chemotherapy, you see the trial team for a check up 3 months after you finish chemotherapy and then 3 months after that.
If you didn't have chemotherapy, you see the trial team for a check up 3 months after joining the trial and 6 months after that.
After that everyone sees the trial team
Every 6 months in the 2nd and 3rd year of the trial
Every year after that for 7 years
Everyone has a CT scan every year for 3 years after joining the trial unless your cancer gets worse.
Side effects
The most common side effects of 5FU include
The side effects of capecitabine are similar to 5FU. As well as the above, another common side effect of capecitabine includes sore hands and feet (hand-foot syndrome).
The most common side effects of oxaliplatin include
Numbness and tingling in your hands and feet and around your mouth
Being more sensitive to the cold
Tightness in the muscles around your throat when having the drug or just afterwards
Diarrhoea
Feeling or being sick
Tiredness
How to join a clinical trial
Please note: In order to join a trial you will need to discuss it with your doctor, unless otherwise specified.
Please note - unless we state otherwise in the summary, you need to talk to your doctor about joining a trial.
Chief Investigator
Professor Jeff Evans
Professor Richard Wilson
Supported by
Cancer Research UK
Experimental Cancer Medicine Centre (ECMC)
International Rare Cancers Initiative (IRCI)
NHS Greater Glasgow and Clyde
The University of Glasgow
Other information
This is Cancer Research UK trial number CRUK/12/04.
CRUK internal database number:
Please note - unless we state otherwise in the summary, you need to talk to your doctor about joining a trial.
Charlie took part in a trial to try new treatments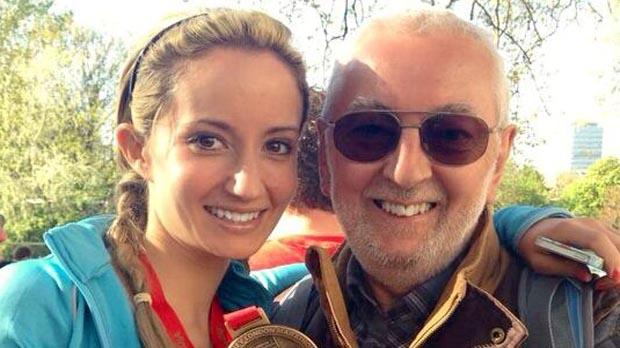 "I think it's really important that people keep signing up to these type of trials to push research forward."