A trial looking at AZD2014 and selumetinib for advanced cancer (TORCMEK)
Please note - this trial is no longer recruiting patients. We hope to add results when they are available.
This trial is looking at AZD2014 and selumetinib for people with advanced cancer and for some people with non small cell lung cancer (NSCLC) and breast cancer. It is for people whose cancer has spread into the surrounding tissues or elsewhere in the body and who don't have any standard treatment

available to them. This trial is supported by Cancer Research UK.
AZD2014 and selumetinib are both types of biological therapies, they are cancer growth blockers. AZD2014 works by blocking the action of a protein called mTOR. Selumetinib blocks the action of a protein called MEK. These proteins normally help to control how cells grow. But in cancer cells, the proteins can behave abnormally and the cells grow out of control.
More about this trial
Both drugs have been looked at in trials as a treatment on their own, or with other drugs. We know from laboratory studies

that the combination of AZD2014 and selumetinib work better than either drug on its own. This is the first time the 2 drugs have been given together in people.
There are 2 parts to this trial. The first part will recruit people with advanced cancer. The second part will recruit people with non small cell lung cancer and breast cancer that does not have receptors for oestrogen, progesterone, or HER2 (triple negative breast cancer). The aims of the trial are to
Find the best and safest dose of AZD2014 and selumetinib when given together
Find out how well it works for NSCLC and triple negative breast cancer
Who can enter
To join the 1st part of the trial you must have both of the following
You have a solid tumour cancer that has spread into surrounding tissues (locally advanced) or elsewhere in the body and there is no standard treatment available for you
Your cancer cells have certain changes to a cell signalling pathway called the P13K pathway or MPAK pathway OR your cancer cells have changes to certain genes (the trial team can explain this to you in more detail)
To join the 2nd part of the trial, you must have one of the following
As well as the above, to join part 1 or part 2, all of the following must apply
You are well enough to carry out all your normal activities, apart from heavy physical work (performance status of 0 or 1)
You have at least one area of cancer that has not been treated with radiotherapy, measures at least 10mm across (or 15mm across if it is a lymph node) by a CT scan or MRI scan and it will be possible for the doctors to take repeat measurements
A sample of your cancer is available for the trial team to test (if not, you must be willing to have a sample taken of your cancer before you start treatment in this trial)
Your cancer has continued to grow despite treatment
You are willing to use reliable contraception 2 weeks before treatment, during treatment and for 3 months afterwards if there is any chance that you or your partner could become pregnant
You have satisfactory blood test results
You are at least 18 years old
You cannot join this trial if any of these apply. You
Have cancer that has spread to your brain or spinal cord and is causing you symptoms. You can take part if cancer spread to your brain has been treated, has not got worse in the last month and if you are not taking steroids
Have had any other cancer treatment in the last 2 weeks (you may be able to take part if you have had recent radiotherapy to treat symptoms)
Have had treatment in a trial in the last 4 weeks
Have significant side effects from previous treatment (apart from hair loss)
Are unable to swallow tablets, or you have had surgery to remove a large part of your bowel and so you are not able to absorb tablets properly
Have taken any medicine that damps down the immune system (immunosuppressants) in the last 4 weeks. You can take certain medicines such as steroid creams, eyedrops or inhalers (the trial can tell you more about this)
Have certain heart problems (the trial team can advise you about this)
Have certain eye problems (the trial team can advise you about this)
Take other medication that affects body substances called CYP enzymes (you may be able to take part if you stop taking these medicines a number of weeks before starting treatment in this trial, the trial can advise you about this)
Have another type of cancer (apart from non melanoma skin cancer) that needs to be treated
Have any other serious medical condition or mental health problem that the trial team think could affect you taking part
Are pregnant or breastfeeding
You cannot join part 2 of the trial if you have already had treatment with drugs that block the action of certain proteins called P13K, AKT, mTOR, MEK, Pas or Raf. Your doctors can confirm this for you.
Trial design
This is a phase 1/2 trial. It has 2 different parts. You will join part 1 or part 2. The researchers need between 18 and 54 people to join part 1 and 64 people to join part 2.
The first part of the trial is trying to find the best dose of each drug and the best way (or schedule) of giving it. For example, how often you have each drug.
The first few patients joining will have the lowest dose of each drug. If they don't have any serious side effects, the next few patients will have a higher dose. And so on, until the doctors find the best dose to give. This is called a dose escalation study.
The dose you have and how often you have it depends on when you join part 1.
You have AZD2014 as a tablet. You have this twice a day every day, or twice a day for 3 days, then 4 days with no AZD2014.
Selumetinib is also a tablet. You have this twice a day every day, or twice a day for 2 days, followed by 5 days with no selumetinib.
When you are due to take tablets, you take them in the morning and the evening about 12 hours apart and at about the same time each day. Take your tablets with a glass of water, but do not eat or drink anything else 2 hours before or 1 hour after each dose.
In the second part of the trial, everybody will have the best dose and best schedule found in the first part of the trial. The trial doctor or nurse will tell you how and when to take your drugs.
Everyone in part 1 and 2 will be asked to keep a diary of when they take their drugs. Please bring this diary to your appointments with any remaining tablets and empty tablet bottles.
You have treatment for as long as it is helping you and you don't have bad side effects. If you are having side effects the doctor may suggest that you stop treatment for a while, or have a reduced dose.
You have extra blood tests as part of this trial during your first cycle of treatment. The researchers want to find out what happens to the drugs in the body (pharmacokinetics

).
In order to take part in this trial you need to give your permission for a stored sample of your cancer to be looked at by the trial team. If a sample is not available, you will need to have a biopsy

before you can begin treatment. As well as this sample, you may be asked to have a biopsy of your cancer after you start and when you finish your treatment.  These biopsies are optional.
The researchers will look at this tissue to try to find out why AZD2014 and selumetinib might work for some people and not for others. If you don't want to give these extra samples for research, you don't have to. You can still take part in the trial.
Hospital visits
You will see the doctors and have some tests before you start treatment. The tests include
Blood tests
Physical examination
Eye examination
Tests to find out how well your lungs are working (Lung function tests )
Heart trace (ECG )
Heart scan (echocardiogram ) or MUGA scan
During treatment you go to hospital every 3 weeks. You will see a doctor, have blood tests and they will ask you if you are having any side effects. They will check that you are taking your drugs correctly and ask about any other medicines you are taking.
You have an ECG and further scans again on the first day of treatment, every 6 weeks after that and when you finish treatment.
After you finish treatment you go to hospital to see by a doctor and have blood tests. You then visit hospital every 3 months for 18 months. The trial team will collect some information about how well you are and about your cancer.
Side effects
The most common side effects of AZD2014 include
The most common side effects of selumetinib include
Diarrhoea
Loss of appetite
Feeling or being sick
Rash
Tiredness
Swelling of face, arms and, or legs
Feeling short of breath
Visual problems such as seeing circles, spots and shadows
As AZD2014 and selumetinib have not been taken together before, there may be side effects we don't know about yet. It is possible that those side effects common to both drugs may be experienced more often or to a greater degree.
The trial team will monitor you regularly, treat side effects where possible and suggest ways to relieve them.
While taking these drugs you should not eat grapefruit or drink grapefuit juice, eat seville oranges or take St John's Wort. This is because it can interfere with the way AZD2014 and selumetinib work.
How to join a clinical trial
Please note: In order to join a trial you will need to discuss it with your doctor, unless otherwise specified.
Please note - unless we state otherwise in the summary, you need to talk to your doctor about joining a trial.
Supported by
Cancer Research UK
AstraZeneca
Experimental Cancer Medicine Centre (ECMC)
NIHR Clinical Research Network: Cancer
Queen Mary University of London
Other information
This is Cancer Research UK trial number CRUKDE/14/010.
CRUK internal database number:
Please note - unless we state otherwise in the summary, you need to talk to your doctor about joining a trial.
Around 1 in 5 people take part in clinical trials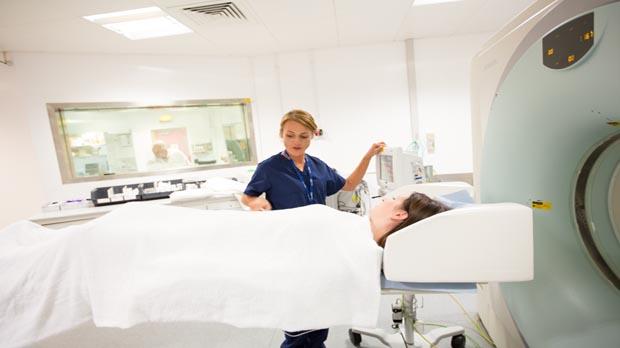 Around 1 in 5 people diagnosed with cancer in the UK take part in a clinical trial.