A trial comparing intraoperative cell salvage and blood transfusions for women having surgery for ovarian cancer (TIC TOC)
Please note - this trial is no longer recruiting patients. We hope to add results when they are available.
Intraoperative cell salvage (ICS) is a technique where any blood you lose during surgery can be collected, washed (filtered) and given back to you. 
In this trial doctors want to see if ICS is better than a blood transfusion from a donor at helping women recover from their ovarian cancer surgery. 
More about this trial
Surgery is one of the main treatments for ovarian cancer. During any operation it is common to lose some blood. Sometimes people need a blood transfusion during the operation. The blood will have been donated by a healthy volunteer and screened and processed.
Blood transfusions from a donor are generally very safe and have been used for many years. But there are some rare side effects that can happen including: 
an increased risk of wound or other infections
lung and kidney problems
There is also a risk of receiving the wrong blood type but again this is very rare. 
Intraoperative cell salvage (ICS) is already used in other types of surgery including some operations for ovarian cancer. There is some evidence that it might help you to recover after surgery. 
Doctors want to find out more about using ICS during surgery for ovarian cancer and to see if it is better than having a blood transfusion at helping women recover from their ovarian cancer surgery. They also want to see which method is best value for money. 
To find all this out they need to do a large clinical trial

. But first the doctors are going to do a small feasibility trial to help them decide if a larger clinical trial is possible. 
Who can enter
The following bullet points list the entry conditions for this trial. Talk to your doctor or the trial team if you are unsure about any of these. They will be able to advise you. 
You may be able to join this trial if all of the following apply. You
You cannot join this trial if any of these apply. You
Have any other type of cancer
Have a disease that affects your red blood cells such as sickle cell anaemia or thalassemia
Are pregnant
Are not willing to have a blood transfusion from a donor for any reason
Trial design
Doctors hope that 60 women will take part in this feasibility trial. 
The trial is randomised. The people taking part are put into treatment groups by a computer. Neither you nor your doctor will be able to decide which group you are in. 
You have a 50% chance of being in 1 of 2 groups:
intraoperative cell salvage (ICS)
donor blood transfusion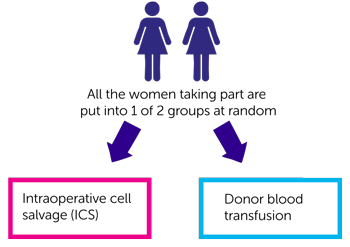 If you agree to take part you will not know whether you have ICS or a donor blood transfusion during your surgery. This is a blind trial

.
If you are in the ICS group you have intraoperative cell salvage even if you only lose a small amount of blood during your surgery. 
In the donor blood transfusion group your surgeon will follow standard practice and you'll only have a blood transfusion if they think this is necessary. 
Taking part will not change the type of operation you have or any other aspect of your care. Should you need a blood transfusion as part of your recovery following your operation this will be a donor blood transfusion. 
A research nurse will call you about 30 days after you go home to see how you are and to ask a few questions. 
6 weeks after your operation you are sent a questionnaire to complete and a pre paid envelope to send it back to the trial team. 
3 months after this you are sent another questionnaire. Some of these questions will also be about any contact you have had with the hospital, your GP, district nurses or other services since you have been home.   
If you are among the first people to join the trial you are sent up to 2 additional questionnaires to complete. These are sent at 3 month intervals. 
Feedback interviews
To help the doctors plan a larger clinical trial they would like to know more about your experiences of taking part.  They will ask some women to have a chat with a researcher in the trial team. 
It is up to you if you want to take part in these interviews. You can still take part in the trial. If you do agree to take part the researcher will contact you directly with more information about the interviews. 
Hospital visits
You have no additional visits to the hospital if you take part in this trial. Your care before and after your operation is the same as it would be if you were not in the trial.
Side effects
The side effects from having a donor blood transfusion include: 
an increased risk of wound or other infections
lung and kidney problems
These side effects are rare. 
With intraoperative cell salvage (ICS) there is a low risk of cancer cells being put back into the bloodstream. This risk is low because of the special filter used during the process of recycling your blood. 
ICS can also temporarily lower your blood pressure but this is monitored closely during your operation and can be quickly corrected. 
The trial team will discuss all the possible risks and side effects with you before you agree to take part. 
How to join a clinical trial
Please note: In order to join a trial you will need to discuss it with your doctor, unless otherwise specified.
Please note - unless we state otherwise in the summary, you need to talk to your doctor about joining a trial.
Supported by
NIHR Research for Patient Benefit (RfPB) Programme
Peninsula Clinical Trials Unit at Plymouth University
Royal Cornwall Hospitals NHS Trust
CRUK internal database number:
Please note - unless we state otherwise in the summary, you need to talk to your doctor about joining a trial.
Cara took part in a clinical trial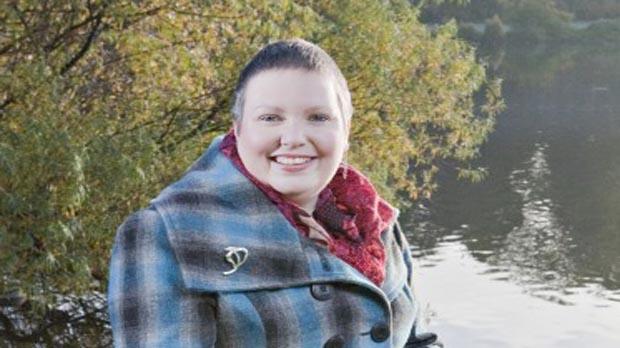 "I am glad that taking part in a trial might help others on their own cancer journey."