A study looking at a device that may help to find and manage polyps in the bowel during a cancer screening test (The B-ADENOMA study)
Please note - this trial is no longer recruiting patients. We hope to add results when they are available.
Cancer type:
Bowel (colorectal) cancer
This is a study to see if a new device called Endocuff Vision makes it easier to find polyps during a cancer screening test using a flexible tube. This test is called a sigmoidoscopy.
Polyps

 are growths inside the bowel. Most bowel cancers start when a type of polyp called an adenoma

 becomes cancerous.
More about this trial
Screening means testing people for early stages of an illness before they have any symptoms. Bowel scope screening uses a thin flexible tube with a tiny camera on the end to look at the inside of your large bowel. Doctors also call this test a flexi scope or flexible sigmoidoscopy (flexi-sig).
The test looks for polyps. These are most likely to grow in the lower bowel. It can also find cancers if they have already developed and is likely to pick them up at an early stage.
A specially trained nurse or doctor (colonoscopist) puts the tube, called a colonoscope, into your back passage and looks at the lower part of the large bowel. The nurse or doctor gently pumps some gas into the bowel to open it up so they can see more clearly.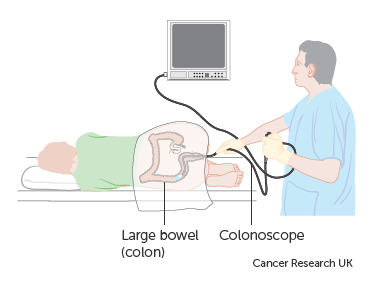 They usually remove the polyps they find straight away, using a thin wire loop passed through the scoping tube. Removing these growths reduces your risk of bowel cancer.
The results of the screening test can also help your team decide if you need to come back for another bowel examination (colonoscopy

) in the future.
This study is looking at a new device called the Endocuff Vision. The doctor or nurse can attach it to the end of the colonoscope to make it easier to see and remove polyps. It helps by holding back the folds of the bowel to give a clear view.
Previous research has shown that it helps to find adenomas. And colonoscopists that have used the device before feel that the polyp removal is easier with the Endocuff on the tube.
The aim of this study is to find out if:
the Endocuff Vision helps colonoscopists find polyps as part of a bowel cancer screening test
there are differences in any discomfort people have during the test and how long that lasts when using the Endocuff Vision, compared with standard sigmoidoscopies
Who can enter
The following bullet points list the entry conditions for this study. Talk to your doctor or the study team if you are unsure about any of these. They will be able to advise you.
Who can take part
You may be able to join this trial if all of the following apply. You:
have a referral for a flexible sigmoidoscopy screening test at one of the hospitals taking part
are aged between 55 to 61 years​
Who can't take part
You cannot join this study if any of these apply. You:
can't have a flexible sigmoidoscopy for any reason
have (or may have) a blockage in your large bowel (this is known as bowel obstruction)
have the symptoms of a bowel blockage, without any obstruction that doctors can find - this is called a pseudo obstruction
are known to have bowel cancer or a polyposis syndrome such as familial adenomatous polyposis (FAP)
are known to have a narrowing of your bowel (a stricture)
are known to have active inflammation of your bowel (ulcerative colitis, Crohn's colitis, diverticulitis, infective colitis) – if you have had problems with colitis in the past you still might be able to take part
have an area of bowel that would make it difficult to do the test, due to pockets forming on the bowel wall (severe diverticular segment)
take medicines to stop blood clots forming such as clopidogrel or warfarin and are not able to stop them before the procedure
are pregnant
Trial design
The researchers would like 3,222 people to take part. Everyone will have been invited for a screening flexible sigmoidoscopy test at one of the 18 hospitals taking part.
This is a randomised study. You are put into 1 of 2 groups by a computer. Neither you or the study team can decide which group you are in.
Half the people taking part will have a flexible sigmoidoscopy using the Endocuff Vision. The other half will have a flexible sigmoidoscopy as normal.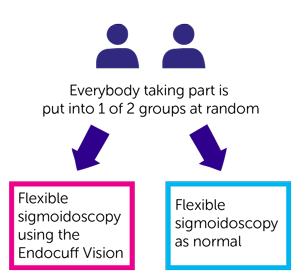 Before your flexible sigmoidoscopy a member of the research team records:
your age and gender
if you have had any surgery to your tummy area (abdomen) before
if you needed any extra enemas  to help empty your bowel before the test
During and after the test, the study team look at:
how far the scope tube reached in your bowel
how long it takes to remove the scope tube after your test
any polyps that are found
if there were any problems during your test
The team record how comfortable you seem during the test.
The study team ask you about any discomfort or pain you had during the colonoscopy. And they will give you a questionnaire to fill in the next day, asking about your experience of having this procedure. You can return this by post.
The team will look at your medical notes to find the results of the flexible sigmoidoscopy. They also do this to see if you need any further colonoscopy tests in the future.
You are part of the study for 14 days after your flexible sigmoidoscopy. A member of the research team might contact you 14 days after your test to make sure you haven't had any problems.
The study team will contact your GP in the unlikely case you needed to go into a different hospital after your test. This is to make sure they don't miss any problems you might have had from the flexible sigmoidoscopy.
All information the study team collects about you is confidential

.
Hospital visits
Taking part in this study does not involve any extra hospital visits.
Any follow up appointment you have will be part of your routine care and not as part of the study.
Side effects
Attaching the Endocuff Vision to the end of the colonoscope slightly increases the width of the tube. This might make it more uncomfortable for a few seconds when the colonscopist puts the tube into your back passage. Previous trials have not shown this to be a particular problem.
Some people have particularly twisty bowels or you might have a condition where small pockets form in the wall of the bowel (diverticulosis). This can mean that the colonoscope with the Endocuff Vision attached might not be able to pass through your bowel. In this situation, the colonoscopist will take the camera out of the bowel and remove the Endocuff Vision. They then restart the procedure.
There is a very small possibility that the Endocuff Vision becomes dislodged during the test. The colonoscopist would remove the Endocuff if this happens.
The Endocuff Vision may cause very minor grazes to the bowel wall. A study using an earlier version of the Endocuff showed these grazes in less than 1 in 3 people, and none caused any significant harm.
How to join a clinical trial
Please note: In order to join a trial you will need to discuss it with your doctor, unless otherwise specified.
Please note - unless we state otherwise in the summary, you need to talk to your doctor about joining a trial.
Supported by
ARC Medical Design Ltd
South Tyneside NHS Foundation Trust
CRUK internal database number:
Please note - unless we state otherwise in the summary, you need to talk to your doctor about joining a trial.
Alan took part in a clinical trial for bowel cancer patients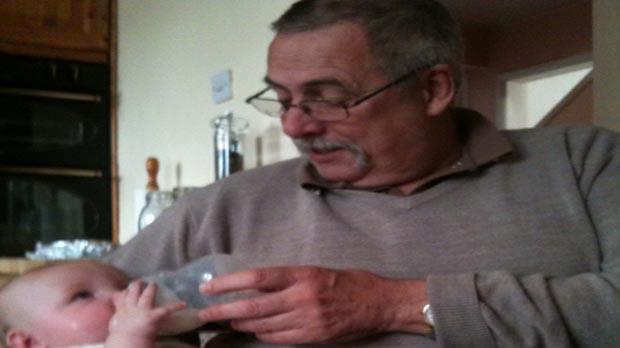 "I think it's essential that people keep signing up to these type of trials to push research forward."