A study looking at targeted radiotherapy as part of a stem cell transplant for amyloidosis (TRALA)
Please note - this trial is no longer recruiting patients. We hope to add results when they are available.
Amyloidosis is a condition affecting the bone marrow. If you have amyloidosis, your bone marrow

makes abnormal plasma cells

. These abnormal plasma cells make an abnormal protein (amyloid) that can build up in your body tissues and affect the way your organs work. Some people with myeloma may have or develop amyloidosis. 
This study is for people who have a type of amyloidosis called systemic amyloid light-chain (AL) amyloidosis. This is the most common type of amyloidosis.  
More about this trial
Chemotherapy or high dose chemotherapy and a stem cell transplant can both be used to treat AL amyloidosis. 
With a stem cell transplant you have very high doses of chemotherapy, sometimes with whole body radiotherapy. This intensive treatment damages or destroys the abnormal cells in your bone marrow.  
The bone marrow contains the cells from which all your blood cells are made. These are called stem cells

. Stem cells in the blood (peripheral blood stem cells) can be collected and stored. 
After the high dose treatment you have a drip (transfusion) containing stem cells so that you can start making healthy blood cells again. You usually have stem cells from your own blood (peripheral blood stem cell rescue or autologous stem cell transplant). 
In this study doctors want to look at using targeted radiotherapy in place of high dose chemotherapy. Targeted radiotherapy means that the radiation is given directly to your bone marrow. This destroys the abnormal cells in the same way as high dose chemotherapy does. 
You have the radiation from a radiolabelled antibody (anti CD66 radiolabelled with Yttrium 90). You have this as a single treatment into your vein. 
This treatment has been used alongside chemotherapy for people with different types of blood cancer. But this is the first time it is being used for people with amyloidosis. 
The aims of this study are to:
see how safe it is to use targeted radiotherapy as part of your stem cell transplant
learn more about the side effects
see how well it works
Who can enter
The following bullet points list the entry conditions for this study. Talk to your doctor or the study team if you are unsure about any of these. They will be able to advise you. 
You may be able to join this study if all of the following apply. 
You have just been diagnosed with systemic AL amyloidosis or it has come back after previous treatment (recurrent systemic AL amyloidosis)
You have a number of abnormal plasma cells in your blood that can be measured
You have a body organ that is not functioning properly because of your systemic AL amyloidosis
You are suitable to have an autologous stem cell transplant. For example your kidneys, liver and heart work well enough and you are well enough to carry out all your normal activities, apart from heavy physical work (performance status of 0 or 1) 
You have enough stem cells for 2 transplants (the doctors will check this)
Your bone marrow produces enough stem cells (bone marrow cellularity greater than 20%) 
You are aged 18 years or older
Women wanting to take part in the study must be willing to use reliable contraception if there is any chance they could become pregnant. 
You cannot join this study if any of these apply. You
Have amyloidosis that is a non AL type or an unknown type 
Have symptoms of myeloma that are not caused by amyloidosis
Have amyloidosis that affects only 1 body organ, such as the bladder
Have a small collection of amyloid protein that does not significantly affect your body organs, such as carpal tunnel syndrome 
Have moderate to severe liver problems caused by amyloidosis
Have a serious heart problem
Have human anti murine antibodies (HAMA) in your blood
Are sensitive to any of the drugs used in this study
Have another cancer apart from basal cell carcinoma of the skin that has been removed by surgery or in situ carcinomas
Are taking part in another trial looking at an experimental treatment
Are pregnant or breastfeeding
Trial design
This is a phase1/2a study. Doctors need up to 18 people to take part.
Everyone taking part has their stem cells collected as normal. This is not part of the study.
As part of the study you first have a visit to the hospital to work out how much radiation you should have. You have a different radiolabelled drug (anti CD66 radiolabelled with Indium-111) to have this test. This is your dosimetry and imaging visit.
About 1 week later you have your radiation treatment with the radiolabelled drug (anti CD66 radiolabelled with Yttrium-90).
You have both the radiolabelled drugs as an injection into a vein. Before you have the drugs the doctors will give you some other medication to prevent a reaction to the radiolabelled antibody. These are tablets.
You might be asked to have a bone marrow biopsy between 1 to 14 days after having the Yttrium-90. This is to help the doctors learn more about how the radiation works on the abnormal plasma cells. You do not have to agree to this biopsy if you don't want to, you can still take part in the study. 
Hospital visits
As you have AL amyloidosis you will have been seen at the National Amyloidosis Centre (NAC) at the Royal Free Hospital in London. As part of your appointment you have
a physical examination
blood tests
heart trace (ECG [Gloss/ECG])
bone marrow test
The study doctors use the results of these tests to see if you are suitable to have the targeted radiotherapy. 
Both the dose finding test (dosimetry and imaging) and the targeted radiotherapy take place at either the Royal Free Hospital in London or Southampton General hospital. They are both done in the hospital's nuclear medicine department. 
You are able to go home after both the dose finding test and the targeted radiotherapy. The staff will give you information about the radiation you have had and any precautions you'll need to make. 
After the dose finding test 
You need to have a scan
the day afterwards
3 days afterwards (this is optional so you may not have this scan)
4 days afterwards
After your radiation treatment with Yttrium-90
7 days before your transplant you go to your transplant centre. This is because your blood cells that fight infection (neutrophils

) are likely to be at their lowest. You have antibiotics to help prevent an infection.  
You then have your stem cell transplant as you would normally. 
You see the study doctors 30 days after your transplant. At these visits you have
a physical examination
blood tests
bone marrow test
100 days after your transplant you see the study and have the same tests as above.
Side effects
There is a risk of a reaction to any radiolabelled antibody. This includes having
a high temperature (fever)
chills
aches
low blood pressure 
difficulty breathing
a skin rash
You have medication before the radiolabelled antibody to reduce the chances of having a reaction. 
We have information about the side effects of a stem cell transplant.
How to join a clinical trial
Please note: In order to join a trial you will need to discuss it with your doctor, unless otherwise specified.
Please note - unless we state otherwise in the summary, you need to talk to your doctor about joining a trial.
Supported by
Amyloidosis Research Fund (UCL)
Bloodwise
NIHR Clinical Research Network: Cancer
University of Southampton NHS Foundation Trust
CRUK internal database number:
Please note - unless we state otherwise in the summary, you need to talk to your doctor about joining a trial.
Cara took part in a clinical trial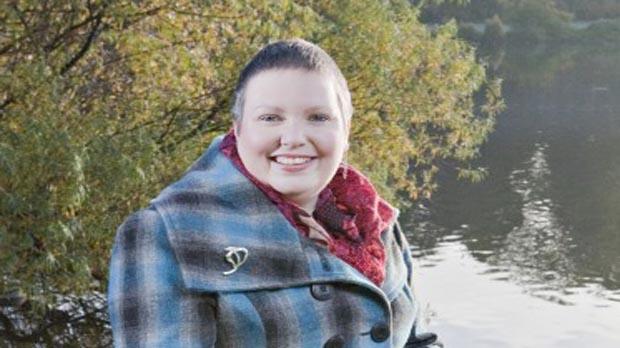 "I am glad that taking part in a trial might help others on their own cancer journey."