A study looking at biodegradable stents and radiotherapy for cancer of the oesophagus (BioStent)
Coronavirus (COVID-19)
We know that this is an especially worrying time for people with cancer and their family and friends. We have separate information about coronavirus and cancer. Please read that information alongside this page. We will update that information as guidance changes.
Please note - this trial is no longer recruiting patients. We hope to add results when they are available.
This study is looking at stents that dissolve and radiotherapy to treat problems with swallowing caused by cancer of the food pipe (oesophagus).
More about this trial
The most common symptom of oesophageal cancer is difficulty swallowing due to the cancer blocking the food pipe.
If you can't have treatment aiming to cure your cancer, you may have a tube called a stent put in to open up your oesophagus. These metal tubes are widely used and quickly improve swallowing. But they can have side effects including pain. And they can sometimes slip or become blocked. If this happens, you may need to have the stent removed or replaced.
Treatment with radiotherapy can also improve swallowing, often for longer than stents. But the improvement is slower to start, and swallowing may get worse before it gets better.
Researchers are looking at dissolvable (biodegradable) stents. They are put in the same way as metal stents but dissolve within 3 to 4 months. Doctors already use biodegradable stents for narrowing of the oesophagus that isn't caused by cancer.
In this study, they are looking at biodegradable stents followed by a short course of radiotherapy for people with oesophageal cancer who have difficulty swallowing. The researchers hope the stent will give rapid relief and the radiotherapy will give longer term relief while avoiding some of the side effects of metal stents.
The aims of the study are to find out how well this treatment plan works and what people think of it. The researchers want to see if it works well enough to plan a larger trial comparing biodegradable stents and radiotherapy with the current treatment using metal stents.
Who can enter
You may be able to join this study if all of the following apply. You
Can't have surgery, radiotherapy or a combination of chemotherapy and radiotherapy with the aim of curing your cancer
Are having problems swallowing and a stent and radiotherapy would be suitable treatments for you
Are well enough to take part (the study team can discuss this with you)
Are at least 18 years old
You cannot join this study if any of these apply. You
Have already had surgery to try to cure your cancer
Have had chemotherapy in the last 4 weeks
Have had radiotherapy to the area where your cancer is
Can't have radiotherapy for some reason
Have a type of cancer called small cell cancer or a neuroendocrine tumour
Have a tumour that is more than 12cm long or is in the top 2cm of your oesophagus (your doctors can confirm this)
Have a feeding tube in place (unless you can have this removed before joining the study)
Have an opening (a fistula) connecting your food pipe (your oesophagus) and your wind pipe
Are pregnant
Trial design
Everybody taking part in this study will have a dissolvable (biodegradable) stent and radiotherapy. You have radiotherapy every day (Monday to Friday) for 1 to 2 weeks. You start radiotherapy within 2 weeks of having the stent put in.
If you are also going to have chemotherapy, there will be a gap of at least 2 weeks between your last dose of radiotherapy and your first dose of chemotherapy.
The study team will ask you to fill out some questionnaires asking about your symptoms, your quality of life, anxiety and depression. They will ask you to complete these
When you agree to join the study
After you've had the stent put in, but before you start radiotherapy
About 4 months after having the stent fitted
If you are having your treatment in Southampton, the study team may also ask you to take part in 2 interviews. During the interviews, a researcher will ask how you felt about taking part in the study. They will also ask you to nominate someone who helps care for you at home to take part in the interviews and discuss how the treatment affects daily life. This is because friends and relatives often have an important role in supporting people with oesophageal cancer during treatment.
The first interview will take place just after you have the stent put in. The second one will be about 4 months later. With your permission, the researcher will make an audio recording of the interviews. But it will not be possible to identify you in any results from the study.
If either you, or the person you nominate, don't want to take part in the interviews, you don't have to. And you don't have to nominate a friend or relative if you don't want to. You can still take part in the main study.
Hospital visits
You see the study team before you start treatment. You have a physical examination and an assessment with a dietician

.
The study team will arrange for you to have the biodegradable stent put in. You then have a CT scan to plan your radiotherapy. You have radiotherapy treatment every day for 1 to 2 weeks.
You see the study team again
Just before you start having radiotherapy
6 weeks after having the stent put in
About 4 months after having the stent put in
They will then check how you are every 3 months for up to a year. But you don't have to go to hospital for this. They can contact you by phone or send questionnaires that you fill in and return by post.
If you take part in the interviews, these will be somewhere convenient for you. Usually this will be in your own home, but if you prefer, the interviews can take place at the hospital. They will last between 45 minutes and an hour.
Side effects
The researchers hope that the treatment will be as good as or better than having a metal stent, which is the standard treatment

. But it is possible that the study treatment may not work as well or that there may be more side effects. If the treatment doesn't work, you may need to have metal stent put in later on.
How to join a clinical trial
Please note: In order to join a trial you will need to discuss it with your doctor, unless otherwise specified.
Please note - unless we state otherwise in the summary, you need to talk to your doctor about joining a trial.
Supported by
Experimental Cancer Medicine Centre (ECMC)
NIHR Clinical Research Network: Cancer
NIHR Research for Patient Benefit (RfPB) Programme
University Hospital Southampton NHS Foundation Trust
University of Southampton
Questions about cancer? Contact our information nurses
CRUK internal database number:
Please note - unless we state otherwise in the summary, you need to talk to your doctor about joining a trial.
Around 1 in 5 people take part in clinical trials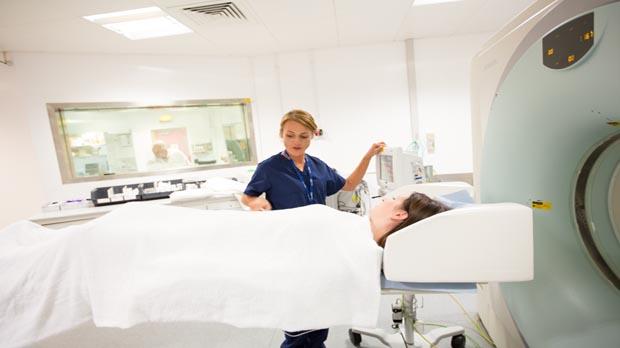 Around 1 in 5 people diagnosed with cancer in the UK take part in a clinical trial.