A study of AZD5363 for advanced cancer
Please note - this trial is no longer recruiting patients. We hope to add results when they are available.
This study is looking at a new drug called AZD5363. It is for people who have a solid tumour

that has continued to grow despite all other standard treatments

.
 
More about this trial
Normally, cells in the body divide and grow in an organised way. But in cancer cells, some important proteins which help control cell growth start to behave abnormally. So the cells start to grow and divide more quickly.
In this study, researchers are looking at a drug called AZD5363 which has not been given to people before. Everyone in this study will have AZD5363.
There are now 4 parts to this study. Part A looked at how well the body copes with AZD5363, and how quickly it is absorbed into the bloodstream. People taking part had different doses at different times. Part B looked for the same things in a new group of people using the best dose level from part A.
The study is now running 2 extra parts called part C and part D. These will look at how well the body copes with the drug, and if there are any signs that the treatment is affecting the cancer in people with a change to genes called AKT1 or PIK3CA.
The main aims of the study are to
See how safe AZD5363 is
Find out about possible side effects
Learn how your cancer responds to the drug
Look at what AZD5363 does in the body
Who can enter
Please note that part A and part B are now closed. These parts recruited people with any solid tumour (apart from lymphoma

) that had got worse or come back despite having standard treatment

, or where there wasn't a standard treatment available.
You may be able to join part C if you have cancer of the ovary, cervix or womb, or breast cancer that is ER positive

or HER2 positive.
You may be able to join part D if you have one of the cancers listed above with a change to a gene called AKT1 - you can ask your doctor about this.
As well as the above
You have either had all the standard treatment you can, and your cancer has continued to grow or come back, or there is no standard treatment available
Your hospital has stored a sample of your cancer removed when you were diagnosed - you can check this with your doctor
Your cancer has not got worse in the last 2 weeks
You have satisfactory blood tests
You have at least one area of cancer that can be seen easily by doctors on a CT scan, MRI scan or X-ray, and the team will be able to monitor this through the study
You are well enough to carry out all your normal activities, apart from heavy physical work (performance status of 0 or 1)
You are willing to use 2 types of reliable contraception if there is any chance that you or your partner could become pregnant
You are at least 18 years old
You cannot enter this study if you
Have had any other anti cancer medication in the last 3 weeks
Have had treatment with nitrosourea chemotherapy or mitomycin C in the last 6 weeks
Have taken any study drugs in another clinical trial in the last 30 days
Have taken certain medications that can affect body substances called CYP enzymes in the last 2 weeks, or 3 weeks if you have taken St John's Wort (you can ask your doctor about this)
Have had radiotherapy to treat a large area in the last 4 weeks
Are still having side effects from previous cancer treatment (apart from hair loss)
Have spinal cord compression or cancer that has spread to your brain (if you do not have symptoms and have not needed steroids in the last 4 weeks you can still take part)
Have any condition that affects how your body uses sugar, for example diabetes – you can check this with your doctor
Have low blood pressure that is uncontrolled (your readings are lower than 90 over 50)
Have any condition which would stop you being able to swallow or absorb the study medication
Have serious heart problems
Are allergic or sensitive to anything in AZD5363, or similar drugs
Have had major surgery in the last 4 weeks (if you had minor surgery to put in a central line or portacath, you can still take part)
Have hepatitis B, hepatitis C or HIV
Have any other condition that would make you unwell if you took part, or affect the results of the study - you can check this with your doctor
Are pregnant or breastfeeding
Have already been treated with AZD5363 in this study
Trial design
Everyone taking part will have AZD5363. It is a capsule that you take by mouth.
People in part C or part D of the study take AZD5363 twice a day for 4 days each week.
You should try to take your AZD5363 doses 12 hours apart. And not eat or drink anything except water for 2 hours before and 1 hour afterwards. But on the days you have a test to measure levels of AZD5363 in your blood, you should take the capsule to hospital with you and take it after your blood test. The team will ask you to record the study medication you take in a diary throughout the study.
You will have regular blood tests, urine tests and heart tests, and scans every 6 to 12 weeks. Your study doctor will give you more information about which tests you will have each time, and how long they will take.
For as long as you are taking AZD5363, you should avoid being in the sun too much, and using sun beds.
The team will ask if you would like to take part in some extra studies, which involve giving a sample of cancer tissue (a biopsy).
You would give a sample before you start treatment, and another after about 2 weeks of treatment, to see how AZD5363 may affect your cancer cells. If and when your cancer starts to get worse, the team would ask for another sample. They may look at this sample to measure what is happening, predict what will happen to the cancer, or to look at the side effects of AZD5363.
You do not have to take part in these extra studies if you don't want to. You can still take part in the main study.
You take the study medication for as long as the treatment is helping you and so long as you are coping with any side effects. If you need to stop taking the medication, you may still continue to see the study team - they will tell you long this would be for.
When you have finished taking part in the main study, your study doctor will discuss with you the next part of your treatment.
The team will contact you a month after you finish, and may phone you every 3 months to see how you are getting on.
Hospital visits
Before you join the study, you will see the doctor and have some tests. These tests include
Height, weight and blood pressure
Physical examination
3 heart traces (ECGs )
Heart ultrasound (echo ) or a scan to show how well your heart is pumping blood around the body (MUGA scan )
Blood and urine tests
Taking a sample of your cancer (if you are taking part in the tumour biopsy part of the study)
When you take your very first dose of AZD5363, you will have a number of tests including
Blood pressure
Physical examination
3 ECGs (repeated 5 times)
Blood and urine tests (around 20 blood tests and 10 urine tests)
Taking a couple of small samples of hair from your eyebrows
At the start of the study, when you have a large number of blood tests, the doctor will put a small plastic needle into a vein in your arm, to take the blood from this. So you will not be pricked lots of times with a needle.
In this study, each 3 week period is called a cycle of treatment.   Everyone will visit the hospital on the first day of their first cycle of treatment. During the first cycle of treatment, you will need to test your urine for sugar twice a week. The team will show you how to do this. You will see the study team several times during the first cycle of treatment. The team will tell you more about this.
You then see the doctor on the first day of each following cycle of treatment, and have some blood and urine tests and one or more ECGs. You may have extra heart tests if your doctor thinks you need them.
Every 6 to 12 weeks you will also have a CT scan or MRI scan to record the size of your cancer.
When you finish the study, you will see the doctor and have more blood and urine tests and an ECG or MUGA scan. You will also have another CT scan or MRI scan.
If you decide to take part in the biopsy studies, you will give a sample of tissue when you start the study and again during the first cycle of treatment. And, once more if your cancers starts to get worse.
Side effects
AZD5363 is a new drug, but more than 90 people have already had the drug in this study. The side effects include
Changes to the levels of sugar, insulin and fat in your blood
Skin rash
Diarrhoea
Change to the strength of your heartbeat and blood pressure
Changes to your liver and how it works
Changes to some of the glands that control hormone levels in your body (thyroid , pituitary and adrenal glands )
Changes to how your womb and ovaries work (if you are a woman), or to your testicles (if you are a man), which may affect your chance of having children
There may be some side effects the team do not know about. This is one of the reasons for the study. The team will follow you closely to check for side effects.
When you have your eyebrows plucked you may have pain, redness and rarely, infection.
How to join a clinical trial
Please note: In order to join a trial you will need to discuss it with your doctor, unless otherwise specified.
Please note - unless we state otherwise in the summary, you need to talk to your doctor about joining a trial.
Supported by
AstraZeneca
Experimental Cancer Medicine Centre (ECMC)
CRUK internal database number:
Please note - unless we state otherwise in the summary, you need to talk to your doctor about joining a trial.
Charlie took part in a trial to try new treatments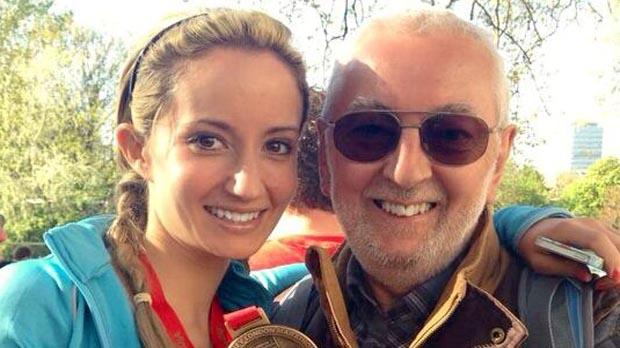 "I think it's really important that people keep signing up to these type of trials to push research forward."