Learn about cancer awareness with our training programme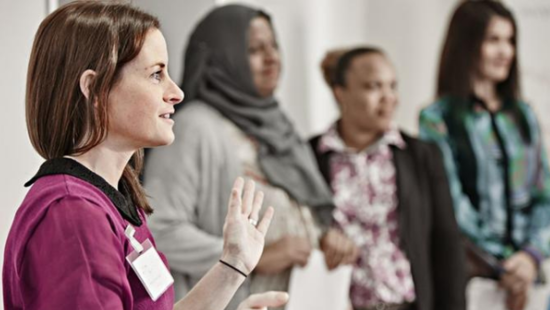 Get in touch
Would you like to learn more about how to talk about cancer, reducing risk and early diagnosis?
You can ask a question and chat to a member of the team by phone or email.
020 3469 8111  
    talkcancer@cancer.org.uk
Feel confident talking to people about ways to reduce the risk of cancer, spotting cancer early and national cancer screening, through Cancer Research UK's, Talk Cancer training programme. The Talk Cancer training is created by nurses, with workshop content always backed up by the latest cancer evidence. The cancer awareness workshops will help you:
understand the key messages around cancer awareness
talk to people about how they could reduce their risk of getting cancer
help people understand the importance of spotting cancer early and the screening programmes available
appreciate and address the fears and barriers faced by people when talking about cancer
have effective, supportive conversations about cancer and health
encourage people to take positive action for their health, use local services and see their doctor with any concerns
Learn how to talk about cancer as a group
Our cancer awareness training programme features four workshops available for groups (people within the same organisation or community).
Talk Cancer – our standard cancer awareness training workshop
Talk Cancer for Pharmacy – our cancer awareness training workshop with content tailored for pharmacists and their teams
Train the Presenter – an extension of our cancer awareness training workshop where we train people in how to deliver a scripted presentation focussing on cancer awareness and how to manage audience questions and discussion  
Talk Cancer in Any Language - our standard cancer awareness training workshop interpreted into any language, including British Sign Language. If you provide the interpreters, we can work with you to tailor the workshop content to be relevant and culturally sensitive to your community.
Our dedicated team will listen to your groups needs and will recommend a cancer awareness workshop suitable for you.
You can contact the Talk Cancer team to find out more about the cancer awareness training by calling 02034698111 or emailing talkcancer@cancer.org.uk.
You can also get a free cancer awareness workshop if you are an eligible group. The Talk Cancer programme aims to help reduce health inequalities by making the training accessible to groups who play a pivotal role in reaching people who are at greater risk of developing cancer. There are 40 funded workshops available each year and you can get a free cancer awareness workshop if you can help reach people who need the training the most.
Learn how to talk about cancer as an individual
If you don't have a group to book a workshop with, we also offer our Talk Cancer, cancer awareness workshop, online, to individuals for free. You can register below for our next scheduled online workshop.
Talk Cancer individual sign-up workshop: Thursday 12th October 2023 10:00am-12:00pm BST.
*Places for each session are limited, but more online workshop dates will be added based on demand. We try to accommodate multiple people from the same organisation, but if there are more than 2 people, we may not be able to have everyone attend and would instead recommend a private workshop.
 Can't make this time? Don't worry - you can join the register of interest for any future online workshops, and we'll be in touch as they are scheduled.
 It's free to take part in an individual sign-up workshop, as we'd like to encourage as many people as possible to have supportive conversations about cancer and health. However, we are providing the opportunity to make a voluntary donation to Cancer Research UK. Your donations will help us to continue beating cancer and ensure people affected by cancer get the support they need during these uncertain times. You can donate now on the link below, or there will also be an opportunity to donate in the registration form and at the end of the workshop.
What our trainees think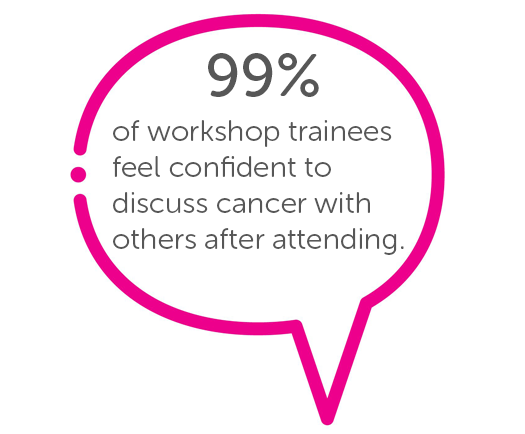 "I think when we were first told about the cancer training I thought "oh god, it's all going to be morbid and boring", but it was good fun to do and it was upbeat and made us aware that people are surviving more. That's why I would recommend people to go on it - it's changed my view from a negative outlook to a positive one."
You can learn how our cancer awareness training programme has helped people feel more confident in talking about cancer, reducing risks and early cancer detection here.
Join the cancer conversation
Interact with fellow cancer champions and grow your confidence to talk about cancer. You can keep your knowledge fresh with regular updates on cancer awareness topics such as reducing cancer risk and the importance of early diagnosis through our Twitter, Facebook Community Group and newsletter.
Cancer Awareness workplace health programme for employees
Our Cancer Awareness in the Workplace programme is designed and delivered by Cancer Research UK to support your employees to reduce their risk of cancer and take positive action for their health. Check out the Cancer Awareness in the Workplace webpage to find out how your employees can benefit from our impactful cancer awareness programme.
Are you looking for information on a cancer diagnosis or support?
Although we signpost to key support services in our workshops, our cancer awareness training does not cover diagnosing possible signs or symptoms of cancer or how to support someone affected by cancer. If you or someone close to you has been affected by cancer and you've got questions, you can talk to our cancer information nurses or call them on freephone 0808 800 4040 from 9am to 5pm, Monday to Friday. 
You can also visit our about cancer pages, written specially for patients and their loved ones, covering all aspects of cancer or chat online and share information and experiences with others living with cancer in our online community, cancer chat.  
Talk Cancer were made a finalist at the Royal Society of Public Health's, Health and Wellbeing awards 2022. We were in the Community Development category and made a finalist for our interpreted workshop project.
Being a finalist showcases the importance of how the interpreted workshops improve the health of the community in a way that contributes to long lasting change.