Cervical screening
Cervical screening is available to anyone with a cervix between the ages of 25 to 64 in the UK. The screening test facilitates the identification of changes in the cervix which, if left untreated, could develop into cancer.  
Cervical screening saves at least 2,000 lives each year in the UK [1] and we can expect to see some further impact on lives saved where human papillomavirus (HPV) primary testing has been implemented [2]
There are a few key questions or misunderstandings that can arise around who is eligible to take part in cervical screening and to help with this we have updated our section on eligibility in the Cervical Good Practice Guide Feb 22 to help health professionals provide the right information to patients.
References:
 Landy, R., Pesola, F., Castañón, A. et al. Impact of cervical screening on cervical cancer mortality: estimation using stage-specific results from a nested case–control study. Br J Cancer 115, 1140–1146 (2016). https://doi.org/10.1038/bjc.2016.290

Castanon A, Landy R, Sasieni P. By how much could screening by primary human papillomavirus testing reduce cervical cancer incidence in England?. J Med Screen. 2017;24(2):110-112. doi:10.1177/0969141316654197
Cervical screening in Wales extended to every 5 years
CRUK article explaining why Wales have extended their screening intervals.
Overview of cervical screening programmes
HPV primary screening is now embedded in primary care across England, Scotland and Wales*. This means that instead of taking a sample of cells from the cervix and sending them to a lab for testing, samples will be tested for HPV first. Only those that are HPV positive will be examined for changes in the cervical cells.
*Northern Ireland have committed to the introduction, but at present there's no clear timescale
Human papillomavirus (HPV) is a common infection. Most sexually active people come into contact with HPV during their lifetime. But for most, the virus causes no harm and the infection clears on its own. However, in some cases, HPV infection can lead to cell changes that can progress into cervical cancer. 99.8% of all cervical cancer cases in the UK are caused by the HPV infection. [1]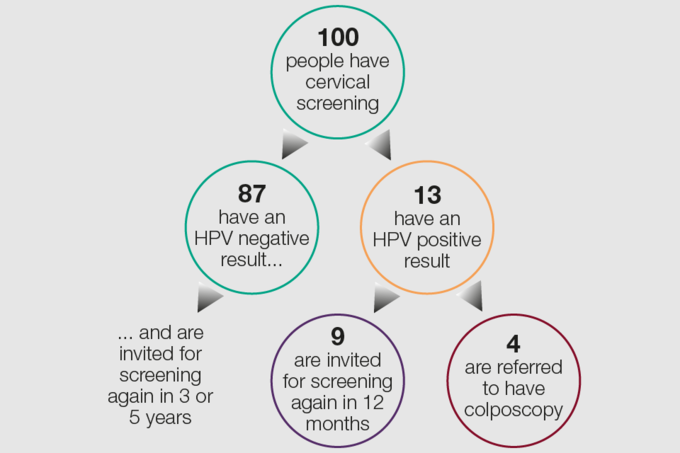 Diagram showing the results for every 100 people who have cervical screening https://www.gov.uk/government/publications/cervical-screening-description-in-brief/cervical-screening-helping-you-decide--2
You can read more about HPV and the HPV vaccination here.
It has been estimated that HPV primary testing in England could reduce the number of cervical cancers in women aged 25–64 by 23.9%, saving even more lives and helping to avoid unnecessary procedures for women.[2]
References
1 Brown, K.F., Rumgay, H., Dunlop, C. et al. The fraction of cancer attributable to modifiable risk factors in England, Wales, Scotland, Northern Ireland, and the United Kingdom in 2015. Br J Cancer 118, 1130–1141 (2018). https://doi. org/10.1038/s41416-018-0
2 Castanon A, Landy R, Sasieni P. By how much could screening by primary human papillomavirus testing reduce cervical cancer incidence in England?. J Med Screen. 2017;24(2):110-112. doi:10.1177/0969141316654197
There has been a decline over the past 10 years in the number of people taking up their offer of cervical screening.  Lower attendance is particularly evident in the youngest as well as the oldest age groups and in under-represented groups such as those from lower socio-economic and ethnic minority communities. [1]
You can find the stats for individual nations here:
References
Marlow, L., McBride, E., Varnes, L. et al. Barriers to cervical screening among older women from hard-to-reach groups: a qualitative study in England. BMC Women's Health 19, 38 (2019). https://doi.org/10.1186/ s12905-019-0736-z
The latest evidence, barriers, and resources to support participation of cervical screening, through informed choice
There are a range of suggested approaches that you could use to help remove any barriers to participation. Although cervical screening is a familiar procedure for primary care staff for most people it is not a routine process, so it is important to consider discussing cervical screening in conversation.
It is useful to find out what other practices in your area may be doing in case there is an opportunity to work together, or to share good practice. Also consider different options for reminding patients of their cervical screening appointment
Sending a targeted text message, endorsed by the GP has seen an increase in uptake [1]
Making a proactive telephone call
Sending a targeted letter to someone who is overdue or who has never attended an appointment.
For some, barriers to participation may be exacerbated by Covid-19 and health professionals may need to consider how they can proactively raise awareness of screening invitations and any new practice processes to encourage informed participation. See CRUK's screening recovery guide for health professionals, for some useful tips for how you can support people to access cancer screening services.
CRUK explain how health professionals have an important role to play in supporting people to make an informed choice to access cancer screening in a PHE blog. Read more here.
Professor Sir Mike Richards' screening review (England) recommended that there should be widespread implementation of initiatives which have been shown to improve uptake. This is particularly important for cervical screening, where the evidence base for interventions designed to increase uptake is growing.
Let us know if you are aware of or are involved in projects that could provide further evidence of good practice.
References
1 Marlow, L., McBride, E., Varnes, L. et al. Barriers to cervical screening among older women from hard-to-reach groups: a qualitative study in England. BMC Women's Health 19, 38 (2019). https://doi.org/10.1186/ s12905-019-0736-z
There are several barriers that may prevent those eligible from engaging with the cervical screening programme.
Understanding who is not attending screening and the barriers preventing them from participating is important when looking at ways to support engagement with the programme. The reasons for non-attendance may be complex and several factors may be at play.  It is important to address the different barriers to enable everyone to attend screening if they want to.
Some of these barriers may include:
Feeling of embarrassment
Intending to go but not getting around to it
Fear of finding the procedure painful (incl. post-menopausal women)6
Worry about what the test might find
Previous negative screening experience
Finding it difficult to arrange a convenient appointment time
Perceived low risk of cancer or not needing screening, e.g. not currently sexually active or in a lesbian relationship (1)
Lack of awareness and knowledge of the purpose and benefits of the test which can lead to fear or lack of trust (2)
Worry about being perceived as promiscuous
Fear due to previous assault or abuse
Unable to access information due to language or mode of delivery
Some groups with lower participation include (3):
those aged 25–29 and those above 50
those living in areas of high deprivation
those with a learning or physical disability
ethnic minority communities – note disparity varies by ethnic minority group
lesbian and people who are bisexual (1)
the transgender community (4)
You can read more about barriers to cervical screening here.
References
 Saunders CL, Massou E, Waller J, Meads C, Marlow LA, Usher-Smith JA. Cervical screening attendance and cervical cancer risk among women who have sex with women. J Med Screen. 2021 Jan 21:969141320987271.
Waller J, Bartoszek M, Marlow L, Wardle J. Barriers to cervical cancer screening attendance in England: a population-based survey. J Med Screen. 2009;16(4):199-204. doi: 10.1258/jms.2009.009073. PMID: 20054095.
Chorley, A. J., Marlow, L. A. V., Forster, A. S., Haddrell, J. B., and Waller, J. (2017) Experiences of cervical screening and barriers to participation in the context of an organised programme: a systematic review and thematic synthesis. Psycho-Oncology
Berner, A. M., Connolly, D., Pinnell, I., Wolton, A., MacNaughton, A., Challen, C., Nambiar, K. Z., Bayliss, J., Barrett, J. and Richards, C. (2021) Attitudes of Trans Men and Non-binary People to UK Cervical Screening. British Journal of General Practice.
Cancer Research UK have developed a resource to share good practice with health professionals. The guide provides details of tried and tested interventions that could be used in practice, to support people, and provide them with the relevant information for them to make an informed choice about participating in cervical screening. 
Cervical Good Practice Guide Feb 22
To help people understand what happens at a cervical screening appointment you can share this short video found on our about cervical screening page.
Safety netting, quality improvements and future optimisation of cervical screening