How we are keeping you safe
Find out what we are doing to keep you safe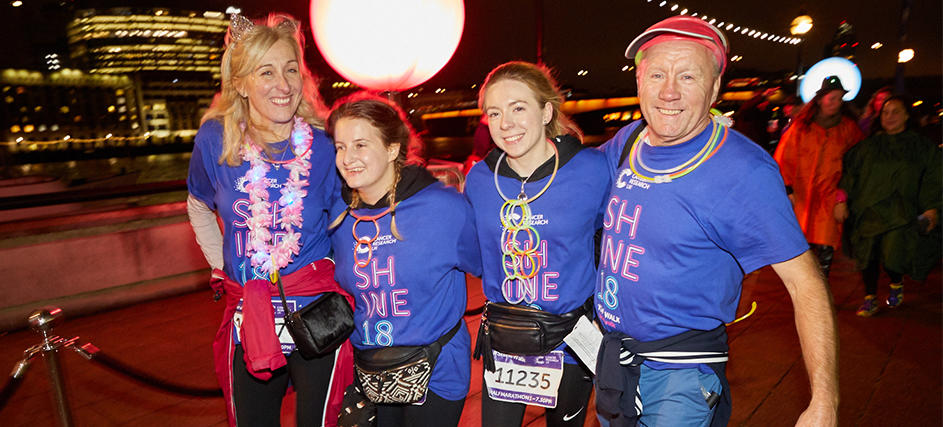 As always at our events the health and safety of our participants, staff and volunteers is our top priority.
We will continue to monitor the situation closely and keep you updated with our planning, much of which will focus on how we deliver a safe event in the context of all necessary COVID-19 guidelines and precautions.
It may be that events look a little different this year but we are working proactively with our venues and suppliers to deliver a great experience on site.
We'll continue to review and update this page in line with government guidelines.
Here's how we'll keep you safe on the night
We'll be doing everything we can to keep you safe on the night, here's how:
We'll be splitting participants into waves to reduce congestion on the course

There will be hand sanitiser provided at your event, which we encourage you to use before and after your walk.

We'll be encouraging all participants to wear a face mask when they join the start queue and wear it up until they reach the start line.

To keep our event safe and socially distanced, there won't be a warm-up but we have some warm-up ideas for you which you can do before you start your walk

Spectators will be allowed at our Shine events across England and Wales, however unfortunately for 2021, we are not allowed spectators at our events in Scotland and Northern Ireland.

Most Shine events across England, Wales and Northern Ireland will be able to register participants on the day, however, you may have to wait so that you can join a start time that has space for you. This means you won't necessarily be able to join a start time with your friends and family. Our events in Scotland will not be offering participants to sign up on the day. Our best advice is to 

sign up for your nearest Shine event

 in advance to avoid disappointment. 

We are only offering a bag drop at London Shine Night Walk (for small and essential items only) - all other Shine Night Walk events will not have a bag drop facility.
What you can do to keep safe:
Sign up for your Shine Night Walk in advance, as events in Scotland will not be offering participants to sign up on the day.

Please bring your own bottle of water on the night

Please arrive no earlier than 30 minutes before your start time

Please bring your face mask. We also suggest bringing a spare one just in case

Please refrain from hugging other walkers when you finish - you can still congratulate each other!

Please respect social distancing before, during, and after your walk

When you have finished your walk, please move away from the finish line so it is safe for other participants when they cross over the line

All participants and volunteers are required to self-assess for COVID-19 symptoms prior to attending, and not to attend if at all symptomatic. Local public health advice is that even those without symptoms should make use of free Lateral Flow Device tests where possible, to ensure people aren't spreading the virus without realising.

If you have any symptoms of COVID-19 or have been in close contact with someone that has symptoms please do not attend your event. Check your symptoms here.
We'll continue to review and update this page in line with government guidelines (last updated 23 July 2021)