Junk Free
Its time for Ads to be junk free
Being overweight doesn't mean that you'll definitely develop cancer. But if you are overweight you are more likely to get cancer than if you are a healthy weight. Find out about the causes of obesity, explore the link between obesity and cancer, and find our top tips about being healthier.
For right now. For the future. End junk food advertising to kids
After years of campaigning, in May 2021 the UK Government announced tough new restrictions for junk food adverts on TV and online. Through the new Health and Care Bill, Health Secretary Sajid Javid pledged to introduce a 9pm watershed on junk food adverts to kids on TV, as well as a total online ban. It means that:
New regulations will apply to food and drink products of most concern to childhood obesity.

Foods such as honey, olive oil, avocados and marmite are excluded from the restrictions.

Restrictions will apply to businesses with 250 or more employees, meaning small and medium businesses will be able to continue advertising.
Ads work – that's why companies spend so much money on them. Millions of pounds are spent on TV and online advertising every year influencing us to eat foods high in fat, sugar and salt (HFSS). Studies have shown that junk food ads appear up to 9 times every hour at children's peak viewing times. Being able to remember seeing one junk food ad on TV a day could lead to consuming an extra 18,000 calories in a year - or almost 350 calories a week.
Children who are obese are 5 times more likely to struggle with their weight as adults, increasing their risk of 13 different types of cancer. And the more junk food ads young people see, the more they eat – for some, that could be over 500 extra snacks throughout the year.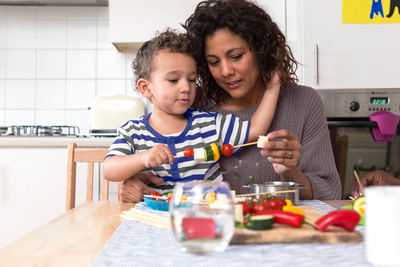 As a parent, I want to make sure that my child lives a full and healthy life. The junk food business needs to take responsibility for not encouraging children to become addicted to unhealthy food. ​ Junk Free campaigner
Well, I'm always on YouTube or something. It's got adverts and it's always there. Child
Don't let them bin the ban
Industry won't stop its fight to bin the ban. But the UK Government's own impact assessment estimates that TV and online restrictions could remove up to 7.2 billion calories from children's diets per year in the UK which, over the coming years, could reduce the number of obese children by more than 20,000.
Tough new restrictions on junk food adverts are what Cancer Research UK supporters have long been calling for. A 9pm watershed on HFSS food and drink advertising on TV and significantly restricting such advertising online will help maintain healthy diets and so tackle overweight and obesity, the second biggest preventable cause of cancer. The UK Government will have Cancer Research UK's full support as this important legislation is pushed through Parliament in the coming months.  

Malcolm Clark, Cancer Research UK Senior Policy Manager