Scotland, pledge to leave a gift in your Will
Jo from Dundee has pledged to leave a gift in his Will to Cancer Research UK
"I am leaving a legacy because we have been fighting cancer as a family since my wife Sue was diagnosed in 1993. I will continue to fight cancer until I pass away, so why not continue to fight cancer when I am gone?
Sue was diagnosed with a very rare cancer called a phaeochromocytoma and the cancer had spread to her bones.   We were told that she had six months to live which was very hard as our children were aged 16, 14 and the twins were 12.  
Fortunately, Sue was able to have treatment and that allowed her to live a normal life, bringing up the children and going back to work. Sue sadly passed away on the 23rd December 2003.  
In 2010, we found out that the faulty SDH-B gene that had caused Sue's phaeochromocytoma was hereditary and my twins Jennie and James have it. They continue to be screened on a regular basis. 
I am passionate about helping beat cancer and I hope that my Legacy gift will help find a way of treating people around the world."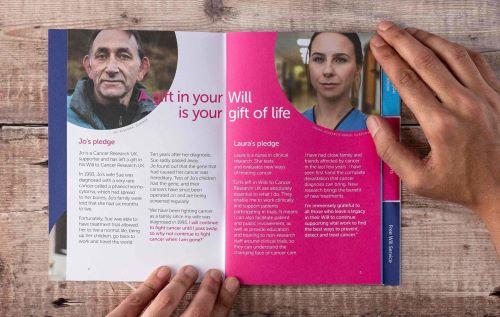 1 in 2 people will get cancer in their lifetime*. Our research saves lives.  We've come a long way, but we cannot rest while people still suffer. That's why we're committed to ensuring 3 in 4 people in the UK diagnosed with cancer will survive for 10 years or more by 2034 and, beyond that, even more. 
Cancer Research UK receives no government funding, and gifts in Wills account for over a third of our life-saving research. Without them we simply would not be able to undertake all the vital research we do which could one day beat cancer.
Make a pledge right now to leave a gift in your Will and together we will beat cancer for future generations.
To find out more get your free gifts in Wills guide or contact your local Community Legacy Manager
(*born after 1960)