North West, pledge to leave a gift in your Will
Barry and his wife Sue have pledged to leave a gift in their Will to Cancer Research UK
"It all started in 1997 when we lost Sue's mum to what we suspected was breast cancer.  18 months later, Sue's father died of prostate cancer. Shortly after her father's death, Sue's younger sister Jen found an abscess in her ear, which turned out to be aggressive cancer. In June 2000 she sadly passed away.  
That same year, Sue was diagnosed with breast cancer. Sue had a lumpectomy to remove the cancer, followed by radiotherapy. After this treatment, she was given the all-clear.  
We've decided to leave a gift in our Will to Cancer Research UK, as we just thought we must do something. 
We attended a tour at the Cancer Research UK Institute in Manchester. We met some of the researchers and saw the work they were doing first-hand. We genuinely believe that Sue's life was saved due to the drugs she had access to thanks to Cancer Research UK.  
Cancer Research UK is producing treatments that are saving people. Recently we doubled the amount we are leaving in our legacy and we would give more if we could."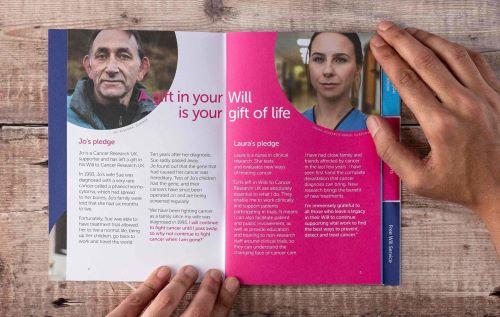 1 in 2 people will get cancer in their lifetime*. Our research saves lives.  We've come a long way, but we cannot rest while people still suffer. That's why we're committed to ensuring 3 in 4 people in the UK diagnosed with cancer will survive for 10 years or more by 2034 and, beyond that, even more. 
Cancer Research UK receives no government funding, and gifts in Wills account for over a third of our life-saving research. Without them we simply would not be able to undertake all the vital research we do which could one day beat cancer.  
 
Make a pledge right now to leave a gift in your Will and together we will beat cancer for future generations. 
To find out more order your free gifts in Wills guide or get in touch with your local Community Legacy Manager 
*(born after 1960)