A trial looking at enzalutamide for early stage breast cancer (ARB)
Please note - this trial is no longer recruiting patients. We hope to add results when they are available.
This trial is investigating whether the hormone treatment enzalutamide is a useful treatment for women with breast cancer before they have surgery. 
It is for women with one of the following
breast cancer that has oestrogen receptors (oestrogen receptor positive)
breast cancer that has androgen receptors, but doesn't have receptors for the hormones progesterone and oestrogen, or for the protein HER2 (triple negative breast cancer)
More about this trial
Androgens are a group of hormones made in both men and women. Enzalutamide is a hormone therapy that targets androgens. It is already used to treat men with prostate cancer. Doctors want to find out if it would be useful for women with triple negative breast cancer.
Some triple negative breast cancers have androgen receptors on the surface of the cancer cells (called androgen positive). And most oestrogen positive breast cancers also have androgen receptors. 
The receptors allow the cancer cells to use androgen to grow. Enzalutamide blocks the androgens from signalling to the cancer cells to grow. 
Another type of hormone therapy called exemestane is sometimes used to shrink oestrogen positive breast cancer before surgery. Doctors want to know whether adding enzalutamide to exemestane will shrink it further.
The aims of the trial are to
find out if enzalutamide can slow or shrink the growth of androgen positive triple negative breast cancer 
learn more about the side effects of enzalutamide
find out whether enzalutamide and exemestane is better than exemestane alone for oestrogen positive breast cancer
Who can enter
The following bullet points list the entry conditions for this trial. Talk to your doctor or the trial team if you are unsure about any of these. They will be able to advise you. 
You may be able to join this trial if you have one of the following 
You have breast cancer that is oestrogen receptor (ER) positive and you are post menopausal
Your breast cancer has androgen receptors, but doesn't have receptors for the hormones progesterone and oestrogen, or for the protein HER2 (triple negative breast cancer)
As well as the above, all of the following apply. You
Have invasive breast cancer
Have a breast cancer of any size that can be felt on examination by your doctor, or a cancer that measures at least 1 cm by ultrasound or MRI scan 
Are well enough to be up and about for at least half the day (performance status 0, 1 or 2) 
Have satisfactory blood test results
Are at least 18 years old
You cannot join this trial if any of these apply. You
Have had hormone therapy in the last 4 weeks including any drug that targets androgens or stop androgens from being made in the body
Are having or have had any other treatment for your breast cancer 
Are having any experimental drugs. You must have finished taking part in any other trial investigating new drugs 4 weeks before joining this trial
Have had a fit (seizure) or you have lost consciousness for any reason in the last year 
Have had a mini stroke (TIA or trans ischemic attack) in the last year
Have certain heart problems, for example a heart attack in the last 6 months or you have a significant irregular heart rhythm
Have had treatment for another cancer in the last year. You can take part if you have had another cancer, including another primary breast cancer and it was successfully treated over a year ago
Are allergic to the drugs used in this trial
Have any other serious medical condition or mental health problems that the trial team think could affect you taking part
Trial design
This is a phase 2 trial. Doctors need about 180 women who have oestrogen positive (ER positive) breast cancer to take part. And 55 women who have androgen positive (AR positive) triple negative breast cancer.
Oestrogen (ER) positive breast cancer
This part of the trial is randomised. The people taking part are put into 1 of 2 treatment groups by a computer. Neither you nor your doctor will be able to decide which group you are in.  
one group has enzalutamide and exemestane
the other group has exemestane alone
Twice as many people are in the group having enzalutamide and exemestane.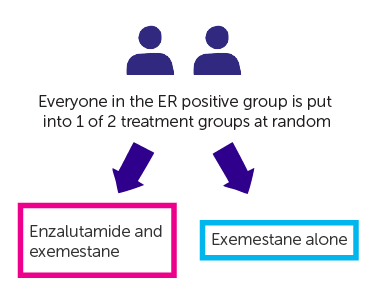 You have enzalutamide and exemestane as capsules. 
If you have the 2 drugs together, you take 
4 capsules of enzalutamide 
2 capsules of exemestane
You have these every day at the same time. 
If you have exemestane alone, you take 1capsule at the same time each day. 
Enzalutamide decreases the body's ability to take up exemestane. So people in the group taking enzalutamide need to take twice as much exemestane. This way, people in both groups are getting similar amounts of exemestane. 
Androgen (AR) positive breast cancer 
You take 4 enzalutamide capsules at the same time every day. 
Everyone
Everyone has treatment for between 15 and 29 days. This depends on when you are due to have either your surgery or start chemotherapy. 
You have the surgery or chemotherapy as recommended by your doctor.
Hospital visits
Before treatment starts, the trial team look at a sample of your cancer removed when you had a biopsy

. If a sample is not available, you need to have a biopsy as part of the trial. This would be similar procedure to the biopsy you had when you were first diagnosed with breast cancer. 
You go to hospital to see the trial doctor and have some blood tests before you start treatment. The doctor will ask you about any other medical conditions and any medicines you are taking.
As well as routine blood tests, you have some blood samples taken for research at the beginning and end of treatment. The researchers use these samples to
test hormone levels before and after treatment
look at the pattern of DNA in your blood to find out if this has anything to do with how the treatment works
Where possible, these will be taken at the same time as your routine blood tests.
After treatment
When you have surgery, the surgeon will collect some tissue samples from your cancer during your operation. The trial team will look at these to find how the drugs have affected the cancer. 
Your doctor may recommend that you have chemotherapy before your surgery. If so, you have an extra biopsy once you have finished treatment in this trial and before you start chemotherapy
You have your final appointment with the trial team about 1 month after you have finish treatment as part of this trial. The doctor will ask you about side effects and check on your general health.
Side effects
The most common side effects of enzalutamide include
headache
dizziness
tiredness (fatigue)
anxiety
joint or muscle pain
high blood pressure (you have your blood pressure checked regularly)
The most common side effects of exemestane include 
hot flushes
joint or muscle pain
We have more information about
How to join a clinical trial
Please note: In order to join a trial you will need to discuss it with your doctor, unless otherwise specified.
Please note - unless we state otherwise in the summary, you need to talk to your doctor about joining a trial.
Supported by
Astellas Pharma
Experimental Cancer Medicine Centre (ECMC)
NIHR Clinical Research Network: Cancer
Queen Mary University of London
CRUK internal database number:
Please note - unless we state otherwise in the summary, you need to talk to your doctor about joining a trial.
Caroline took part in a clinical trial for breast cancer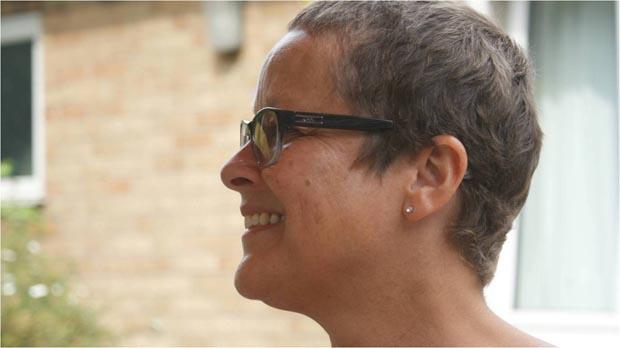 "I had treatment last year and I want to give something back."