A study to find out more about the side effects of radiotherapy for non small cell lung cancer (CART)
Coronavirus (COVID-19)
We know that this is an especially worrying time for people with cancer and their family and friends. We have separate information about coronavirus and cancer. Please read that information alongside this page. We will update that information as guidance changes.
Please note - this trial is no longer recruiting patients. We hope to add results when they are available.
Cancer type:
Non small cell lung cancer
This study is looking at the side effects of radiotherapy in people with non small cell lung cancer (NSCLC).
Doctors can treat NSCLC with radiotherapy alone or radiotherapy and chemotherapy. They know that a few people can develop heart problems after they have finished treatment and researchers want to find out more about this.
In the past doctors were not able to look at the heart in detail but now, with new MRI scans, they can.
The aims of this study are to
Use MRI scans to learn more about the heart following radiotherapy for non small cell lung cancer
Find out the best time to have MRI scans, this may lead to a further study with more people
You will not have any direct benefit from taking part in this study, and it is unlikely to change your treatment plan in any way. But the results of the study will help people with cancer in the future.
Who can enter
You may be able to enter this trial if you
Have non small cell lung cancer (NSCLC) that doctors plan to treat with radiotherapy, with or without chemotherapy
Are well enough to carry out all your normal activities, apart from heavy physical work (performance status 0 or 1)
Have had a PET scan that shows your lung cancer has not spread
Are willing to use reliable contraception during treatment if there is any chance that you or your partner could become pregnant
Are at least 18 years old
You cannot enter this trial if you
Have had serious heart problems in the last 30 days
Are pregnant or breastfeeding
Trial design
This pilot study will recruit people who can attend the British Heart Foundation Glasgow Cardiac Research Centre for MRI scans.
If you take part, you have 4 MRI scans of your heart during and after your lung cancer treatment.
Hospital visits
You will see the doctors and have the following tests before you start radiotherapy
Physical examination
Blood tests
Heart trace (ECG )
These tests will be repeated
Between 3 and 7 days after you start your lung cancer treatment
6 weeks after you finish treatment
6 months after you finish treatment
There are no additional study visits as the MRI scans will be at the same time as your routine visits.
Side effects
When you have the MRI scan a dye is injected into your vein. This dye can feel hot, cold or painful, but this is rare and doesn't last long. Some people may have an allergic reaction to the dye, but this is very rare.
How to join a clinical trial
Please note: In order to join a trial you will need to discuss it with your doctor, unless otherwise specified.
Please note - unless we state otherwise in the summary, you need to talk to your doctor about joining a trial.
Supported by
Beatson Oncology Centre Fund
British Heart Foundation Glasgow Cardiovascular Research Centre
Cancer Research UK Clinical Trials Unit
Beatson West of Scotland Cancer Centre
Experimental Cancer Medicine Centre (ECMC)
Glasgow Clinical Research Facility
NHS Greater Glasgow and Clyde
Questions about cancer? Contact our information nurses
CRUK internal database number:
Please note - unless we state otherwise in the summary, you need to talk to your doctor about joining a trial.
Around 1 in 5 people take part in clinical trials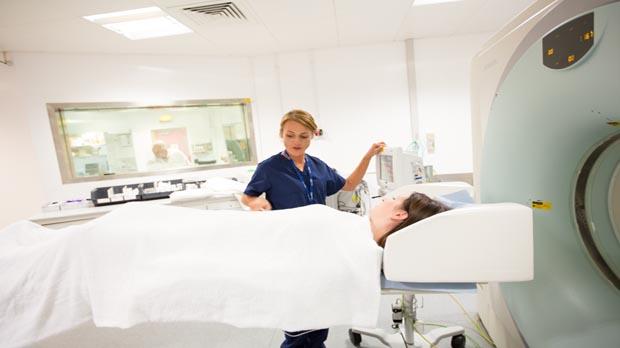 Around 1 in 5 people diagnosed with cancer in the UK take part in a clinical trial.