Learn about cancer awareness with our training programme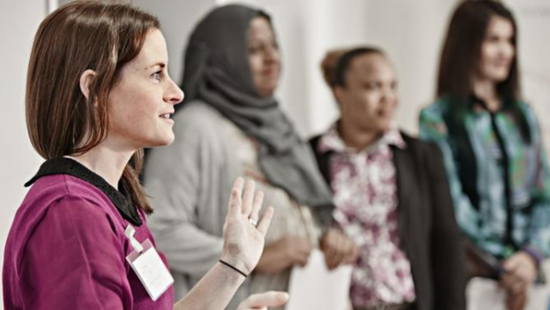 Get in touch
Would you like to learn more about how to talk about cancer, reducing risk and early diagnosis?
You can ask a question and chat to a member of the team by phone or email.
020 3469 8111  
    talkcancer@cancer.org.uk
Feel confident talking to people about ways to reduce the risk of cancer, spotting cancer early and national cancer screening, through Cancer Research UK's, Talk Cancer training programme. The Talk Cancer training is created by nurses, with workshop content always backed up by the latest cancer evidence. The cancer awareness workshops will help you:
understand the key messages around cancer awareness
talk to people about how they could reduce their risk of getting cancer
help people understand the importance of spotting cancer early and the screening programmes available
appreciate and address the fears and barriers faced by people when talking about cancer
have effective, supportive conversations about cancer and health
encourage people to take positive action for their health, use local services and see their doctor with any concerns
Learn how to talk about cancer as a group
Our cancer awareness training programme features three workshops available for groups (people within the same organisation or community).
Talk Cancer – our standard cancer awareness training workshop
Talk Cancer for Pharmacy – our cancer awareness training workshop with content tailored for pharmacists and their teams
Train the Presenter – an extension of our cancer awareness training workshop where we train people in how to deliver a scripted presentation focussing on cancer awareness and how to manage audience questions and discussion  
Our dedicated team will listen to your groups needs and will recommend a cancer awareness workshop suitable for you.
You can contact the Talk Cancer team to find out more about the cancer awareness training by calling 02034698111 or emailing talkcancer@cancer.org.uk.
You can also get a free cancer awareness workshop if you are an eligible group. The Talk Cancer programme aims to help reduce health inequalities by making the training accessible to groups who play a pivotal role in reaching people who are at greater risk of developing cancer. There are 40 funded workshops available each year and you can get a free cancer awareness workshop if you can help reach people who need the training the most.