Linda and David, Joint Volunteers of the Month – April 2016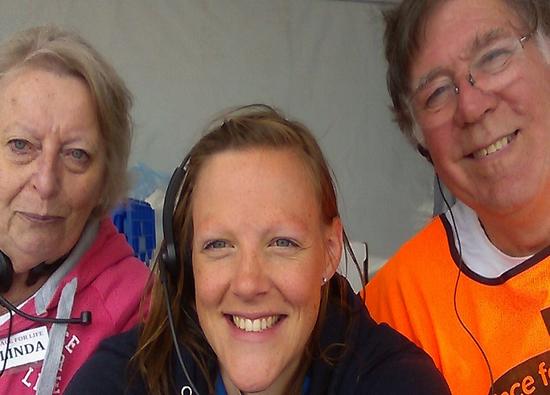 Linda and David Masters – Event Volunteers
Linda and David (pictured left and right) have been volunteering at Cancer Research UK events in their local area for many years, supporting Race for Life, Pretty Muddy and most recently, the Snowflake Run.
Here's what Linda and David's nominator, Ruth Chamings (pictured centre), Area Event Manager, had to say about them:
"I've lost count of the number of years David and Linda have been volunteering with the charity!  They originally started at their local Plymouth Race for Life and have gone on to become an integral part of that event, as well as taking on numerous other opportunities to support the charity.
David course manages one of our most challenging closed-road events and Linda co-ordinates more than 70 volunteers in various roles. They both lead busy family lives but will always make time to attend meetings before the events and support the promotion of the event using their local contacts. They're always first onsite with us at 4.30 in the morning and last to leave at the end of the day.
As our range of events have developed, Linda and David haven't hesitated to offer their support at new initiatives in Plymouth, including the first Pretty Muddy last summer and the first ever Snowflake Run Series in February 2016. They've also travelled as far afield as Exeter, Cornwall and even London to support Cancer Research UK events!
Linda and David are superstar volunteers and I can't thank them enough."
Here's what David and Linda had to say about volunteering with Cancer Research UK:
David – "Through volunteering I have made several new friends who share my ideals and have learnt that you don't need to be paid with cash to gain a reward. The sooner we beat this very nasty disease, which affects everyone on this Earth, the better. I am proud that the small things that I, and others like me, do, will eventually eradicate Cancer.
Linda - "Just do it. You will become a member of a remarkable group of people all coming together to help CRUK and having fun at the same time. The buzz you get from the events is amazing and if you sign up once you will probably do it again."
Congratulations Linda and David!
Do you know a volunteer who has been particularly brilliant recently?
Feeling inspired to volunteer at an event?